Parks, Adele
Most widely held works by Adele Parks
Lust for life
by
Adele Parks
( Book )
25 editions published between
2003
and 2014 in 7 languages and held by 529 WorldCat member libraries worldwide
Martha and Eliza's lives are going in opposite directions: Martha's got the husband, the kids, and the money, while Eliza lives in a one-bedroom flat with her musician boyfriend Greg. When Eliza ditches Greg and turns up on her sister's doorstep, she expects to find solace in the comfort of Martha's warm, loving home
Playing away : a novel
by
Adele Parks
( Book )
30 editions published between
2000
and 2014 in 8 languages and held by 523 WorldCat member libraries worldwide
Connie Green's life seems to be perfect until she begins an affair with John
Whatever it takes
by
Adele Parks
( Book )
12 editions published between
2012
and 2013 in
English
and held by 504 WorldCat member libraries worldwide
Adele Parks' emotionally powerful and unputdownable new novel asks the question: are there limits as to what you'd do for love? Eloise Hamilton is a Londoner born and bred, so it is a momentous day when she reluctantly agrees to uproot to Dartmouth, leaving behind her perfect world so her husband can finally live in his. There are compensations, however. Her mother-in-law Margaret will welcome her with open arms, and besides, she can still rely on best friend Sara to be her lifeline to London. Yet, both Margaret and Sara are facing their own difficulties, and thrust into unexpected turmoil, Eloise finds she is the one holding everything together for her loved ones -- and by an ever-weakening thread. As her world implodes with the strain of being responsible for all around her, someone is bound to be overlooked. And the damage might be irreparable
Larger than life : a novel
by
Adele Parks
( Book )
22 editions published between
2002
and 2012 in 4 languages and held by 490 WorldCat member libraries worldwide
Georgina has loved Hugh Carter, and only him, since she was eighteen. She is now 32 and Hugh has finally moved in with her. All goes well until one little miscalculation leaves her pregnant. After 14 years of seeing the world through a Hugh-tinted filter can George start to make up her mind?
About last night
by
Adele Parks
( Book )
18 editions published between
2011
and 2014 in
English
and
Czech
and held by 483 WorldCat member libraries worldwide
For thirty years, best friends Stephanie and Philippa have been practically inseparable. There's nothing they would not do for one another. Until a few simple words change everything. 'I need you to say that I was with you.' Steph, eternally solid, considerate and dependable, is begging her best friend to lie to the police as she's desperately trying to conceal two shocking secrets to protect her family. Pip, self-consigned to the role of scatty, frivolous hot-head is overwhelmed; she's normally the one asking for help in a crisis although never anything as catastrophic as this. Both women have always believed that friendship is built on mutual selflessness, compromise and trust. Are those beliefs now to be tested beyond endurance?
The state we're in
by
Adele Parks
( Book )
23 editions published between
2013
and 2016 in 6 languages and held by 429 WorldCat member libraries worldwide
What are the odds that the stranger sitting next to you on a plane is destined to change your life? Especially when they appear to be your opposite in every way. She's a life-long optimist, looking for her soul mate in every man she meets; he's a resolute cynic - cruel experience has taught him never to put his faith in anyone. People can surprise you. In the time it takes to fly from London to Chicago, each finds something in the other that they didn't even realise they needed. Their pasts are such that they can never make one another happy and it's when they get off the plane that their true journey begins
If you go away
by
Adele Parks
( Book )
15 editions published between
2015
and 2017 in
English
and
Czech
and held by 417 WorldCat member libraries worldwide
Glamorous debutantes, heartbreak and discovering just what is worth fighting for in the new historical novel from Sunday Times bestseller Adele Parks. 1914. Vivian, a young, impassioned debutante is hurried into a pedestrian marriage to cover a scandal. War breaks out on her wedding day - domestically and across Europe. Quick to escape the disappointment of matrimony, her traditionalist husband immediately enlists and Vivian has no alternative than to take up the management and running of his estate - after all, everyone is required to do their bit. Even pretty, inadequately-educated young wives. Howard, a brilliant young playwright rushes to the front to see for himself the best and the worst of humanity; he cannot imagine what the horror might be. In March 1916, when conscription becomes law, it is no longer enough for him to report on the War, it's a legal requirement that he joins the ranks. Howard refuses, becoming one of the most notorious conscientious objectors of the time. Disarmingly handsome, famous, articulate and informed, he's a threat to the government. Narrowly escaping a death sentence by agreeing to take essential work on Vivian's farm, it's only then Howard understands what is worth fighting for
Game over : a novel
by
Adele Parks
( Book )
37 editions published between
2001
and 2012 in 10 languages and held by 407 WorldCat member libraries worldwide
Cynical about love, marriage, and relationships, Cas Perry comes up with an idea for a new reality TV show, Sex with an Ex, but her attitudes toward romance take a new turn when she meets Darren, a highly principled, handsome man who believes in fidelity, marriage, love, and commitment
Young wives' tales
by
Adele Parks
( Book )
28 editions published between
2004
and 2014 in 5 languages and held by 402 WorldCat member libraries worldwide
Lucy stole Rose's 'happily ever after' because she wanted Rose's husband, Peter. But as Peter's interest diminishes and Lucy's domestic responsibilities increase, Lucy wonders if the 'happily ever after' is all a big con. Rose is now a devoted single mum but her twin boys seem to need her less and less and without them she wonders what she amounts to. They both envy Connie, who is happily married and effortlessly balancing two kids with a fulfilling career until, that is, a dangerous old flame flickers back into view at the school gates and threatens her marriage
Love lies
by
Adele Parks
( Book )
17 editions published between
2009
and 2012 in 4 languages and held by 393 WorldCat member libraries worldwide
Fern is staring 30 in the face and can't ignore the love lies any longer. Life with Adam was amazing once. She believes a romantic wedding should be the next step but Adam just won't propose. Then a chance meeting with Scottie Taylor - the UK's sexiest pop star - proves to be love at first sight for them both, so when he proposes in front of a sell-out crowd at Wembley Stadium, there's only one answer. Yes! Suddenly Fern is living the dream in LA and a wedding planner is arranging designer fittings. But isn't it all happening too fast? Why is she homesick for a rented flat in Clapham? How do you know whether love is telling the truth?
more
fewer
Audience Level
0

1
Kids
General
Special
Audience level: 0.65 (from 0.42 for Husbands / ... to 0.76 for Whatever i ...)
Related Identities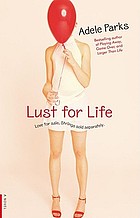 Covers
Alternative Names
Adele Parks écrivaine britannique

Adele Parks escritora británica

Adele Parks schrijfster uit Verenigd Koninkrijk

Parks, Adele, 1969-

Pārksa, Adele

Pārksa, Adele, 1969-

Адел Паркс

ادل پارکس

Languages