Bowen, Wayne H. 1968-
Most widely held works about Wayne H Bowen
Most widely held works by Wayne H Bowen
Spaniards and Nazi Germany : collaboration in the new order
by
Wayne H Bowen
( )
16 editions published in
2000
in
English
and held by 2,054 WorldCat member libraries worldwide
"This study shows that Naziphiles within the Spanish Falange, Spain's fascist party, made a concerted effort to bring their nation into World War II, and that only the indecisiveness of dictator Francisco Franco and diplomatic mistakes by the Nazis prevented them from succeeding." "Bowen demonstrates that while Spain was neutral in World War II, its policies clearly favored the Axis, at least in the early stages of the war. Franco, who had emerged victorious from the Spanish Civil War in 1939 largely because of support from Adolf Hitler and Benito Mussolini, even carefully considered entering World War II on the side of Nazi Germany."
Spain during World War II
by
Wayne H Bowen
( )
14 editions published in
2006
in
English
and held by 1,763 WorldCat member libraries worldwide
"Examines how the Francisco Franco regime achieved its goals of state survival and internal order following the divisive Spanish Civil War. Bowen argues that even the most pro-Axis elements within Spain were more concerned with domestic politics, the potential for civil unrest, and poverty than with wartime events in Europe"--Provided by publisher
Spain and the American Civil War
by
Wayne H Bowen
( )
12 editions published between
2011
and 2014 in
English
and held by 1,743 WorldCat member libraries worldwide
"[The author's] in-depth study reveals how the situations, personalities, and histories of both Spain and the Confederacy kept both parties from establishing a closer relationship, which might have provided critical international diplomatic support for the Confederate States of America and a means through which Spain could exact revenge on the United States of America"--Jacket
The history of Saudi Arabia
by
Wayne H Bowen
( )
19 editions published between
2007
and 2016 in
English
and held by 1,725 WorldCat member libraries worldwide
Traces the history of Saudi Arabia, from its pre-Islamic origins, through the rise of the House of Saud, to issues facing the country today
A military history of modern Spain : from the Napoleonic era to the international war on terror
by
Wayne H Bowen
( )
12 editions published in
2007
in
English
and held by 1,285 WorldCat member libraries worldwide
"In its nine chapters, each written by an expert on the period covered, A Military History of Modern Spain takes a critical and anaytical look at the Spanish military through the 19th and 20th centuries. Among the topics addressed: the Napoleonnic Wars, the loss of Spain's North American empire to the newly emerging United States of America, the military's activities in Morocco including the Rif Rebellion (1921-27), and the Spanish Civil War and Franco regime. Contributors explore the role of the Spanish army in World War II (Spain was officially neurtal as it had been in World War I), post-war de-colonialism as Spain shed its African empire, and Spain's integration into the Western defense community
Truman, Franco's Spain, and the Cold War
by
Wayne H Bowen
( )
4 editions published in
2017
in
English
and held by 660 WorldCat member libraries worldwide
"President Harry S. Truman harbored an abiding disdain for Spain and its government. During his presidency (1945-1953), the State Department and the Department of Defense lobbied Truman to form an alliance with Spain to leverage that nation's geostrategic position, despite Francisco Franco's authoritarian dictatorship. Truman's negative views on Spain developed from his Baptist upbringing and youth during the Spanish-American War and his first term in the US Senate. As a Freemason and Protestant, Truman struggled to overcome his bias against a regime that persecuted those with similar affiliations, and whose politics were set against the liberal democracy, the workers and farmers the "Man from Independence" championed throughout his career. The eventual alliance between the two countries came only after years of argument for such a shift by nearly the entire US diplomatic and military establishment. Truman begrudgingly accepted an agreement with the Spanish government years of pressure, and with the overarching need for allied during the Cold War. This delay increased the financial cost of the 1953 defense agreements with Spain, undermined US planning for the defense of Europe, and caused dysfunction over foreign policy at the height of the Cold War. Truman never reconciled to this accommodation, continuing to consider Spain, its history, and culture with a mix of apathy and derision. This important book tells the story of Truman's hostility to Spain and its impact on this military, diplomatic, and commercial relationship, the history of the early Cold War, and the extent of presidential leadership in strategic foreign policy shifts."--Inside jacket flap
Undoing Saddam : from occupation to sovereignty in northern Iraq
by
Wayne H Bowen
( Book )
3 editions published in
2007
in
English
and held by 2 WorldCat member libraries worldwide
"Undoing Saddam tells the story of northern Iraq during the transition from U.S. occupation to local sovereignty. During 2004, U.S. and Iraqi government forces faced numerous challenges: insurrection; reconstruction; the creation of a new government; and how to portray the nation, its people, and the government's actions accurately. Wayne H. Bowen was a U.S. Army Reserve civil affairs officer in charge of higher education and antiquities in the provinces of Nineveh, Dohuk, and Erbil, where he played a critical role in promoting peace and stability. He managed reconstruction projects, served as a key intermediary between Iraqi educational leaders and U.S. forces, and assisted in the search for weapons of mass destruction." "Undoing Saddam goes beyond the attacks and violence to detail the day-to-day problems of rebuilding a nation, including constructing schools, digging wells, completing roads, and building new power plants. Bowen also examines functioning village, city, and provincial councils as they endeavor to practice democracy. Based on Bowen's diary, this book presents the daily fight to build a new Iraq despite terrorist attacks, ethnic conflict, and missteps by the Coalition Provisional Authority and U.S. forces. Undoing Saddam will be of interest to everyone interested in the Iraqi occupation and reconstruction efforts."--Jacket
more
fewer
Audience Level
0

1
Kids
General
Special
Audience level: 0.06 (from 0.00 for Spain duri ... to 1.00 for Spaniards ...)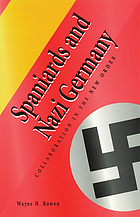 Covers
Alternative Names
Boxen, Wayne 1968-..

Wayne H. Bowen historiador estadounidense

Languages