Laruelle, Marlène
Most widely held works by Marlène Laruelle
Mapping Central Asia : Indian perceptions and strategies
by
Sébastien Peyrouse
( )
12 editions published between
2011
and 2016 in
English
and held by 1,185 WorldCat member libraries worldwide
With renewed American involvement in Afghanistan, Pakistan's growing fragility, and China's rise in power in the post-Soviet space, Central Asia-South Asia relations have become central to understanding the future of the Eurasian continent. Mapping Central Asia identifies the trends, attitudes, and ideas that are key to structuring the Central Asia-South Asia axis in the coming decade. Structured around four parts, we are skillfully guided through the importance of the historical links between the Indian sub-continent and Central Asia; the regional and global context in which the developing of closer relations between India and Central Asia has presented itself since the disappearance of the Soviet Union, the precise domains of Indo-Central Asian cooperation and study three conflict zones that frame Indo-Central Asian relations: the Kashmir question; and, the situation in Afghanistan; and fear of destabilization in Xinjiang. The international line-up of established scholars convincingly demonstrate the fundamental necessity to define the Indian approach on these issues and provide cutting-edge insights on the tools needed to understand the solutions for the decade to come
Migration and social upheaval in the face of globalization in Central Asia
by
Marlène Laruelle
( )
14 editions published in
2013
in
English
and
Undetermined
and held by 909 WorldCat member libraries worldwide
Since the start of the 1990s, Central Asia has been the main purveyor of migrants in the post-Soviet space. These massive migrations impact issues of governance; patterns of social adaptation; individual and collective identity transformations; and gender relation in Central Asia
Eurasianism and the European Far Right : Reshaping the Europe-Russia Relationship
by
Marlène Laruelle
( )
12 editions published between
2015
and 2017 in
English
and held by 621 WorldCat member libraries worldwide
"The 2014 Ukrainian crisis has highlighted the pro-Russia stances of some European countries, such as Hungary and Greece, and of some European parties, mostly located at the far-right of the political spectrum. This book offers a unique insight on the main far-right actors and ideological trends that push, on both sides, for reshaping the Europe-Russia relations and for the emergence of a new pan-European illiberal ideology"--Provided by publisher
Between Europe & Asia : the origins, theories, and legacies of Russian Eurasianism
by
Mark Bassin
( )
8 editions published in
2015
in
English
and held by 512 WorldCat member libraries worldwide
Between Europe and Asia analyzes the origins and development of Eurasianism, an intellectual movement that proclaimed the existence of Eurasia, a separate civilization coinciding with the former Russian Empire. The essays in the volume explore the historical roots, the heyday of the movement in the 1920s, and the afterlife of the movement of the Soviet and post-Soviet periods. The first study to offer a multifaceted account of Eurasianism's influences beyond Russia. The Eurasionists blended their search for primordial essence of Russian culture with the radicalism of Europe's interwar period. In reaction to the devastation and dislocation of the wars and revolutions, they celebrated the Orthodox Church and the Asian connections of Russian culture, while rejecting Western individualism and democracy. The movement sought to articulate a non-European, non-Western modernity and to underscore Russia's role in the colonial world. As the authors demonstrate, Eurasianism was akin to many fascist movements in interwar Europe and has now become one of the sources of the rhetoric of nationalist mobilization in Vladimir Putin's Russia. -- from back cover
Russian Eurasianism : an ideology of empire
by
Marlène Laruelle
( Book )
12 editions published between
2008
and 2012 in
English
and held by 377 WorldCat member libraries worldwide
"Using a wide range of sources, including academic and quasi-academic journals, pamphlets, books, and personal interviews, Marlene Laruelle discusses the impact of the ideology of Eurasianism on geopolitics, interior policy, foreign policy, and culturalist philosophy."--Jacket
China and India in Central Asia : a new "great game"?
( Book )
12 editions published between
2010
and 2011 in
English
and held by 306 WorldCat member libraries worldwide
China and India growing interests in Central Asia disrupt the traditional Russian/U.S. "Great Game" at the heart of the old continent. Though for the moment India is unable to equally compete against the Chinese presence in post/Soviet Central Asia, New Delhi is well established in Afghanistan and has begun to cast its eyes more markedly toward the north to the shores of the Caspian Sea. In the years to come, both Asian powers are looking to redeploy their rivalry on the Central Asian and Afghan theaters on a geopolitical, but also political and economic level
Russia's Arctic strategies and the future of the Far North
by
Marlène Laruelle
( )
12 editions published between
2013
and 2015 in
English
and held by 305 WorldCat member libraries worldwide
This book offers the first comprehensive examination of Russia's Arctic strategy, ranging from climate change issues and territorial disputes to energy policy and domestic challenges. As the receding polar ice increases the accessibility of the Arctic region, rival powers have been manoeuvering for geopolitical and resource security. Geographically, Russia controls half of the Arctic coastline, 40 percent of the land area beyond the Circumpolar North, and three quarters of the Arctic population. In total, the sea and land surface area of the Russian Arctic is about 6 million square kilometres. Economically, as much as 20 percent of Russia's GDP and its total exports is generated north of the Arctic Circle. In terms of resources, about 95 percent of its gas, 75 percent of its oil, 96 percent of its platinum, 90 percent of its nickel and cobalt, and 60 percent of its copper reserves are found in Arctic and Sub-Arctic regions. Add to this the riches of the continental shelf, seabed, and waters, ranging from rare earth minerals to fish stocks. After a spike of aggressive rhetoric when Russia planted its flag in the Arctic seabed in 2007, Moscow has attempted to strengthen its position as a key factor in developing an international consensus concerning a region where its relative advantages are manifest, despite its diminishing military, technological, and human capacities
In the name of the nation : nationalism and politics in contemporary Russia
by
Marlène Laruelle
( Book )
17 editions published between
2009
and 2016 in
English
and held by 289 WorldCat member libraries worldwide
This text deconstructs the equation of nationalism with the extreme right in Russia. Nationalism now extends throughout all of the country and can not be seen as a phenomenon confined to the margins of society. This study rejects the interpretation that understands Kremlin-backed patriotism as simply part of a fascist trend in Russia
The "Chinese question" in Central Asia : domestic order, social change and the Chinese factor
by
Marlène Laruelle
( Book )
11 editions published between
2011
and 2013 in
English
and held by 243 WorldCat member libraries worldwide
Since the early 2000s, the People's Republic of China has become an increasingly key player in the fortunes of Central Asia, both diplomatically and strategically, particularly through the Shanghai Cooperation Organization. Economically, China has become one of the largest traders and investors in Kazakhstan, Kyrgyzstan, Uzbekistan, Tajikistan, and Turkmenistan, drastically diminishing Russia's long-time dominance and the influence of the United States and Europe. Treating China as an external factor in the domestic ordering of Central Asia, this volume uniquely analyzes the changes that have revolutionized the systems and societies of Central Asia. It reveals how China has become a subject of public debate and academic and expert research, and it follows the new cultural mediators, petty traders, lobbyists, migrants, and diasporas that have emerged in conjunction with the country's rise. China's ascendance has also triggered a number of anxieties and phobias across Central Asia, and the authors show how its dominance has brought Sinophobia and Sinophilia into closer relation
more
fewer
Audience Level
0

1
Kids
General
Special
Audience level: 0.34 (from 0.02 for Mapping Ce ... to 0.91 for L'Asie cen ...)
Related Identities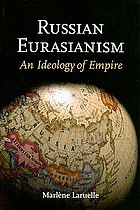 Covers
Alternative Names
Lari︠u︡elʹ, Marlen

Larjuėlʹ, Marlen 1972-

Larûèl', Marlen.

Laruelle, Marlen

Laruelle, Marléne

Laruelle, Marlene 1972-

Laurelle, Marléne 1972-

Marlène Laruelle autora francesa

Marlene Laruelle Frans historica

Marlène Laruelle French historian

Marlène Laruelle historiadora francesa

Marlène Laruelle istorică franceză

Ларюэль, Марлен

Ларюэль, Марлен, 1972-

Марлен Ларюель

Languages