Khanna, Sanjeev
Most widely held works by Sanjeev Khanna
Approximation, randomization, and combinatorial optimization : algorithms and techniques : 7th International Workshop on Approximation Algorithms for Combinatorial Optimization Problems, APPROX 2004, and 8th International Workshop on Randomization and Computation, RANDOM 2004, Cambridge, MA, USA, August 22-24, 2004 : proceedings
by
Klaus Jansen
( )
4 editions published in
2004
in
English
and held by 28 WorldCat member libraries worldwide
This book constitutes the joint refereed proceedings of the 7th International Workshop on Approximation Algorithms for Combinatorial Optimization Problems, APPROX 2004 and the 8th International Workshop on Randomization and Computation, RANDOM 2004, held in Cambridge, MA, USA in August 2004. The 37 revised full papers presented were carefully reviewed and selected from 87 submissions. Among the issues addressed are design and analysis of approximation algorithms, inapproximability results, approximation classes, online problems, graph algorithms, cuts, geometric computations, network design and routing, packing and covering, scheduling, game theory, design and analysis of randomised algorithms, randomized complexity theory, pseudorandomness, derandomization, probabilistic proof systems, error-correcting codes, and other applications of approximation and randomness
Joseph Conrad : his mind and art
by
Sanjeev Khanna
( Book )
2 editions published in
2008
in
English
and held by 7 WorldCat member libraries worldwide
Joseph Conrad, 1857-1924, English novelist
A complete classification of the approximability of maximization problems derived from boolean constraint satisfaction
by
Sanjeev Khanna
( Book )
2 editions published in
1997
in
English
and held by 6 WorldCat member libraries worldwide
Abstract: "In this paper we study the approximability of boolean constraint satisfaction problems. A problem in this class consists of some collection of 'constraints' (i.e., functions f: [0,1][superscript k] -> [0,1]); an instance of a problem is a set of constraints applied to specified subsets of n boolean variables. Schaefer earlier studied the question of whether one could find in polynomial time a setting of the variables satisfying all constraints; he showed that every such problem is either in P or is NP-complete. We consider optimization variants of these problems in which one either tries to maximize the number of satisfied constraints (as in MAX 3SAT or MAX CUT) or tries to find an assignment satisfying all constraints which maximizes the number of variables set to 1 (as in MAX CUT or MAX CLIQUE). We completely classify the approximability of all such problems. In the first case, we show that any such optimization problem is either in P or is MAX SNP-hard. In the second case, we show that such problems fall precisely into one of five classes: solvable in polynomial-time, approximable to within constant factors in polynomial time (but no better), approximable to within polynomial factors in polynomial time (but no better), not approximable to within any factor but decidable in polynomial time, and not decidable in polynomial time (unless P = NP). This result proves formally for this class of problems two results which to this point have only been empirical observations; namely, that NP-hard problems in MAX SNP alwyas turn out to be MAX SNP-hard, and that there seem to be no natural maximization problems approximable to within polylogarithmic factors but no better."
On diameter verification and boolean matrix multiplication
by
Julien Basch
( Book )
2 editions published in
1995
in
English
and held by 5 WorldCat member libraries worldwide
Abstract: "We present a practical algorithm that verifies whether a graph has diameter 2 in time O (n/logn). A slight adaptation of this algorithm yields a boolean matrix multiplication algorithm which runs in the same time bound; thereby allowing us to compute transitive closure and verification of the diameter of a graph for any constant d in O (n/logn) time
On syntactic versus computational views of approximability
by S Khanna
( Book )
1 edition published in
1995
in
English
and held by 4 WorldCat member libraries worldwide
Abstract: "We attempt to reconcile the two distinct views of approximation classes: syntactic and computational. Syntactic classes such as MAX SNP permit structural results and have natural complete problems, while computational classes such as APX allow us to work with classes of problems whose approximability is well-understood. Our results provide a syntactic characterization of computational classes, and give a computational framework for syntactic classes. We compare the syntactically defined class MAX SNP with the computationally defined class APX, and show that every problem in APX can be 'placed' (i.e., has approximation preserving reduction to a problem) in MAX SNP. Our methods introduce a general technique for creating approximation-preserving reductions which show that any 'well' approximable problem can be reduced in an approximation-preserving manner to a problem which is hard to approximate to corresponding factors. We demonstrate this technique by applying it to the classes RMAX(2) and MIN F+[pi]₂(1) which have the clique problem and the set cover problem, respectively, as complete problems. We use the syntactic nature of MAX SNP to define a general paradigm, non- oblivious local search, useful for developing simple yet efficient approximation algorithms. We show that such algorithms can find good approximations for all MAX SNP problems, yielding approximation ratios comparable to the best-known for a variety of specific MAX SNP-hard problems. Non-oblivious local search provably out-performs standard local search in both the degree of approximation achieved and the efficiency of the resulting algorithms."
Approximation algorithms for the largest common subtree problem
by
Sanjeev Khanna
( Book )
1 edition published in
1995
in
English
and held by 4 WorldCat member libraries worldwide
Abstract: "The largest common subtree problem is to find a largest tree which occurs as a common subgraph in a given collection of trees. Let n denote the number of vertices in the largest tree in the collection. We show that in the case of bounded degree trees, it is possible to achieve an approximation ratio of O(n(log log n)/logn). For unbounded degree trees, we give an algorithm with approximation ratio O(n(log log n)/logn) when the trees are unlabeled. An approximation ratio of O(n(log log n)/logn) is also achieved for the case of labeled unbounded degree trees provided the number of distinct labels is O(log[superscript 0(1)]n)."
more
fewer
Audience Level
0

1
Kids
General
Special
Audience level: 0.66 (from 0.39 for Approximat ... to 0.99 for On certifi ...)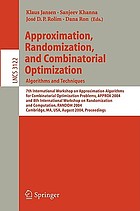 Languages
Covers