Giovannini, Enrico
Most widely held works by Enrico Giovannini
Understanding economic statistics : an OECD perspective
by
Enrico Giovannini
( Book )
20 editions published between
2008
and 2010 in
English
and
Czech
and held by 502 WorldCat member libraries worldwide
"The aim of this book is to help the reader to better understand how to use economic statistics in general and OECD statistics in particular."
I conti degli italiani
( Book )
4 editions published in
1997
in
Italian
and held by 40 WorldCat member libraries worldwide
The Statistical Measurement of Services
by
Enrico Giovannini
( )
3 editions published in
2005
in
English
and held by 37 WorldCat member libraries worldwide
Services are increasingly important in modern economies contributing about 68% of world economy value added in 2002 and, although at a much lower level, are increasingly traded internationally (see Table 1). These patterns of increasing importance of services are observed in the generality of both "developed" and "developing" economies, although there are economies which show exceptions to the trend. This paper discusses the policy needs to understand the impact of services on the performance of modern economies, some of the most pressing measurement problems, and it summarises recent actions undertaken by international organisations and expert groups to address these issues. It concludes that:- development work on services prices and volumes is fundamental to measurement of growth and needs to continue; there is a need to engage more countries in the development of their service statistics; international organisations should enhance co-ordination of interagency technical assistance and co-operation in this area; and from the national perspective, a wider implementation of a range of international standards is encouraged
Handbook on constructing composite indicators : methodology and user guide
( )
4 editions published in
2005
in
English
and held by 37 WorldCat member libraries worldwide
This Handbook aims to provide a guide for constructing and using composite indicators for policy makers, academics, the media and other interested parties. While there are several types of composite indicators, this Handbook is concerned with those which compare and rank country performance in areas such as industrial competitiveness, sustainable development, globalisation and innovation. The Handbook aims to contribute to a better understanding of the complexity of composite indicators and to an improvement of the techniques currently used to build them. In particular, it contains a set of technical guidelines that can help constructors of composite indicators to improve the quality of their outputs. It has been prepared jointly by the OECD (the Statistics Directorate and the Directorate for Science, Technology and Industry) and the Applied Statistics and Econometrics Unit of the Joint Research Centre of the European Commission in Ispra, Italy. Primary authors from the JRC are Michela Nardo, Michaela Saisana, Andrea Saltelli and Stefano Tarantola. Primary authors from the OECD are Anders Hoffmann and Enrico Giovannini. Editorial assistance was provided by Candice Stevens, Gunseli Baygan and Karsten Olsen. The research is partly funded by the European Commission, Research Directorate, under the project KEI (Knowledge Economy Indicators), Contract FP6 No. 502529. In the OECD context, the work has benefitted from a grant from the Danish government. The views expressed are those of the authors and should not be regarded as stating an official position of either the European Commission or the OECD
Statistical Developments and Strategies in the Context of E-Government
by
Brian Finn
( )
3 editions published in
2003
in
English
and held by 28 WorldCat member libraries worldwide
This working paper has been written as a contribution to the OECD e-government project launched in 2001, which explores how governments can best exploit information and communication technologies (ICT) to enhance good governance principles and achieve public policy goals. The paper highlights the way in which the collection, compilation and dissemination of statistics has changed dramatically as NSOs have taken advantage of the opportunities afforded by ICT advances. In this regard, it describes changes that have occurred in national statistical offices (NSOs) in response to growing citizen demand and outlines both developments that have been made possible and necessary by recent technological advances in software, communications and computing. In addition, the paper shows that statistical institutions have a significant role to play in e-government developments, having often been given a major role in national e-government initiatives. Finally, it shows that the drive towards
Framework to Measure the Progress of Societies
( )
3 editions published in
2010
in
English
and held by 28 WorldCat member libraries worldwide
Over the last three decades, a number of frameworks have been developed to promote and measure well-being, quality of life, human development and sustainable development. Some frameworks use a conceptual approach while others employ a consultative approach, and different initiatives to measure progress will require different frameworks. The aim of this paper is to present a proposed framework for measuring the progress of societies, and to compare it with other progress frameworks that are currently in use around the world. The framework does not aim to be definitive, but rather to suggest a common starting point that the authors believe is broad-based and flexible enough to be applied in many situations around the world. It is also the intention that the framework could be used to identify gaps in existing statistical standards and to guide work to fill these gaps
Statistics and Politics in a "Knowledge Society"
by
Enrico Giovannini
( )
2 editions published in
2007
in
English
and held by 26 WorldCat member libraries worldwide
Several studies have analysed the characteristics of the knowledge society, as well as its impact on the production of "official" statistics. In this paper we will not enter into this debate, but we will try to analyse the role of statistics in building a knowledge society and improving the democratic control of policy makers. This issue is especially important because the development of information and communication technologies (ICT) dramatically reduced the cost of producing statistics: therefore, nowadays a huge number of organisations is able to produce statistical figures and indices, frequently picked up by media, just for advocacy purposes and this contributes to create a sense of "confusion" often reported by citizens about the real state of the economy and of the society. This "noise" does not help at all citizens to make the best possible choices, including the electoral ones, and this is not a good thing for the functioning of economic markets and the democracy. The paper initially analyses the relationships between information, expectations and economic theory, as well as the nexus between information and political sciences. In the second part, various approaches to the measurement of societal progress and the role of "key indicators" are presented and analysed. Moreover, theoretical models and empirical evidence about what citizens know on societal progress are discussed. Finally, the OECD project on the measurement of societal progress is presented
Le statistiche economiche
by
Enrico Giovannini
( Book )
6 editions published between
2006
and 2015 in
Italian
and held by 26 WorldCat member libraries worldwide
A Framework to Measure the Progress of Societies
( )
1 edition published in
2010
in
English
and held by 26 WorldCat member libraries worldwide
Over the last three decades, a number of frameworks have been developed to promote and measure well-being, quality of life, human development and sustainable development. Some frameworks use a conceptual approach while others employ a consultative approach, and different initiatives to measure progress will require different frameworks. The aim of this paper is to present a proposed framework for measuring the progress of societies, and to compare it with other progress frameworks that are currently in use around the world. The framework does not aim to be definitive, but rather to suggest a common starting point that the authors believe is broad-based and flexible enough to be applied in many situations around the world. It is also the intention that the framework could be used to identify gaps in existing statistical standards and to guide work to fill these gaps
more
fewer
Audience Level
0

1
Kids
General
Special
Audience level: 0.72 (from 0.62 for Understand ... to 0.98 for I mercati ...)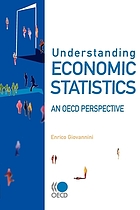 Covers
Alternative Names
Enrico Giovannini economist

Enrico Giovannini economista e statistico italiano

Enrico Giovannini Italiaans econoom

Enrico Giovannini italienischer Politiker

Enrico Giovannini italiensk ekonom

Enrico Giovannini italiensk økonom

Джованнини, Энрико

죠반니니, 엔리코

ジョバンニーニ, エンリコ

Languages