Wright, Robert E. (Robert Eric) 1969-
Most widely held works by Robert E Wright
The first Wall Street : Chestnut Street, Philadelphia, and the birth of American finance
by
Robert E Wright
( )
11 editions published between
2005
and 2010 in
English
and held by 1,988 WorldCat member libraries worldwide
"This capital helped make Philadelphia home to the Bank of the United States, the U.S. Mint, an active securities exchange, and several banks and insurance companies - all clustered in or around Chestnut Street. But as the decades passed, the district would slowly lose its appeal, and here Wright charts how New York began to lure financial institutions away from Philadelphia, attracting a whole new generation of financiers to Manhattan. By the late 1820s, only the powerful second Bank of the United States upheld Philadelphia's financial stature. But when Andrew Jackson vetoed its charter, he sealed the fate of Chestnut Street forever - and of Wall Street too."
Broken buildings, busted budgets : how to fix America's trillion-dollar construction industry
by
Barry B LePatner
( )
11 editions published between
2007
and 2008 in
English
and held by 1,927 WorldCat member libraries worldwide
Across the nation, construction projects large and small?from hospitals to schools to simple home improvements?are spiraling out of control. Delays and cost overruns have come to seem?normal,? even as they drain our wallets and send our blood pressure skyrocketing. In Broken Buildings, Busted Budgets, prominent construction attorney Barry B. LePatner builds a powerful case for change in America?s sole remaining?mom and pop? industry?an industry that consumes 1 .23 trillion and wastes at least 1 20 billion each year. With three decades of experience representing clients that include eminent a
Hamilton unbound : finance and the creation of the American Republic
by
Robert E Wright
( )
5 editions published in
2002
in
English
and held by 1,410 WorldCat member libraries worldwide
Modern financial theories enable us to look at old problems in early American Republic historiography from new perspectives. Concepts such as information asymmetry, portfolio choice, and principal-agent dilemmas open up new scholarly vistas. Transcending the ongoing debates over the prevalence of either community or capitalism in early America, Wright offers fresh and compelling arguments that illuminate motivations for individual and collective actions, and brings agency back into the historical equation. Wright argues that the Colonial rebellion was in part sparked by destabilizing Briti
One nation under debt : Hamilton, Jefferson, and the history of what we owe
by
Robert E Wright
( Book )
13 editions published in
2008
in
English
and held by 1,389 WorldCat member libraries worldwide
The United States was born in debt, a debt so deep that it threatened to destroy the young nation. Thomas Jefferson considered the national debt a monstrous fraud on posterity, while Alexander Hamilton believed debt would help America prosper. Both, as it turns out, were right. This book explores the untold history of America's first national debt, arising from the immense sums needed to conduct the Revolution. Financial historian Wright recounts the key events that shaped the U.S. financial system and explains how the actions of our forefathers laid the groundwork for the debt we still carry today. --From publisher description
Bailouts : public money, private profit
by
Robert E Wright
( )
13 editions published between
2009
and 2012 in
English
and held by 1,057 WorldCat member libraries worldwide
"Today's financial crisis is the result of dismal failures on the part of regulators, market analysts, and corporate executives. Yet the response of the American government has been to bail out the very institutions and individuals that have wrought such havoc upon the nation. Are such massive bailouts really called for? Can they succeed?" "Robert E. Wright and his colleagues provide an unbiased history of government bailouts and a frank assessment of their effectiveness. Their book recounts colonial America's struggle to rectify the first dangerous real estate bubble and the British government's counterproductive response. It explains how Alexander Hamilton allowed central banks and other lenders to bail out distressed but sound businesses without rewarding or encouraging the risky ones. And it shows how, in the second half of the twentieth century, governments began to bail out distressed companies, industries, and even entire economies in ways that subsidized risk takers while failing to reinvigorate the economy. By peering into the historical uses of public money to save private profit, this volume suggests better ways to control risk in the future."--Jacket
Financial founding fathers : the men who made America rich
by
Robert E Wright
( Book )
6 editions published in
2006
in
English
and held by 929 WorldCat member libraries worldwide
"When you think of the founding fathers, you think of men like George Washington, Thomas Jefferson, and Benjamin Franklin - exceptional minds and matchless statesmen who led the colonies to a seemingly impossible victory over the British and established the constitutional and legal framework for our democratic government. But the American Revolution was about far more than freedom and liberty. It was about economics as well. Robert E. Wright and David J. Cowen here chronicle how a different group of founding fathers forged the wealth and institutions necessary to transform the American colonies from a diffuse alliance of contending business interests into one cohesive economic superpower. From Alexander Hamilton to Andrew Jackson, the authors focus on the lives of nine Americans in particular - some famous, some unknown, others misunderstood, but all among our nation's financial founding fathers."--Jacket
Corporation nation
by
Robert E Wright
( )
10 editions published between
2013
and 2014 in
English
and held by 775 WorldCat member libraries worldwide
From bank bailouts and corporate scandals to the financial panic of 2008 and its lingering effects, corporate governance in America has been wracked by crises. Amid a weakening system of checks and balances in which corporate executives have little incentive to protect shareholder interests, U.S. corporations are growing larger and more irresponsible at the same time. But dependence on corporate profit was crucial to the early republic's growth, success, and security: despite protests that incorporated business was an inefficient and potentially corrupting system, U.S. state governments chartered more corporations per capita than any other nation-including Britain-effectively making the United States a "corporation nation." Drawing on legal and economic history, Robert E. Wright traces the development and decline of corporate institutions in America, connecting today's financial failures to deteriorating corporate law. In the nineteenth century, checks and balances kept managerial interests aligned with those of stockholders, and public opinion grew supportive as corporations raised billions of dollars to finance infrastructure such as transportation networks, financial systems, and manufacturing operations. But many of these checks and balances were dismantled after the Civil War, creating a space for the managerial malfeasance that spiraled into economic crisis in the twenty-first century. Bolstered with archival and original data, including the first complete count of American business corporations before the Civil War, Corporation Nation makes a compelling argument for improved internal governance and more effective external government regulation. -- Provided by publisher
Guide to U.S. economic policy
( )
9 editions published in
2014
in
English
and held by 703 WorldCat member libraries worldwide
Guide to U.S. Economic Policy shows students and researchers how issues and actions are translated into public policies for resolving economic problems (like the Great Recession) or managing economic conflict (like the left-right ideological split over the role of government regulation in markets). Taking an interdisciplinary approach, the guide highlights decision-making cycles requiring the cooperation of government, business, and an informed citizenry to achieve a comprehensive approach to a successful, growth-oriented economic policy. Through 30 topical, operational, and relational essays, the book addresses the development of U.S. Economic policies from the colonial period to today; the federal agencies and public and private organizations that influence and administer economic policies; the challenges of balancing economic development with environmental and social goals; and the role of the U.S. In international organizations such as the IMF and WTO. Key Features: 30 essays by experts in the field investigate the fundamental economic, political, social, and process initiatives that drive policy decisions affecting the nation's economic stability and success.; Essential themes traced throughout the chapters include scarcity, wealth creation, theories of economic growth and macroeconomic management, controlling inflation and unemployment, poverty, the role of government agencies and regulations to police markets, Congress vs. the president, investment policies, economic indicators, the balance of trade, and the immediate and long-term costs associated with economic policy alternatives.; A glossary of key economic terms and events, a summary of bureaus and agencies charged with economic policy decisions, a master bibliography, and a thorough index appear at the back of the book
Genealogy of American finance
by
Robert E Wright
( )
13 editions published between
2014
and 2015 in
English
and held by 658 WorldCat member libraries worldwide
"In this ... book, readers learn how fifty financial corporations came to dominate the U.S. banking system and their impact on the nation's political, social, and economic growth. A story that spans more than two centuries of war, crisis, and opportunity, this account reminds readers that American banking was never a fixed enterprise but has evolved in tandem with the country. More than 225 years have passed since Alexander Hamilton created one of the nation's first commercial banks. Over time, these institutions have changed hands, names, and locations, reflecting a wave of mergers, acquisitions, and other restructuring efforts that echo changes in American finance. Some names, such as Bank of America and Wells Fargo, will be familiar to readers. The origins of others, including Zions Bancorporation, founded by Brigham Young and owned by the Mormon Church until 1960, are surprising. Exploring why some banks failed and others thrived, this book wonders, in light of the 2008 financial crisis, whether recent consolidations have reached or even exceeded economically rational limits. A key text for navigating the complex terrain of American finance, this volume draws a fascinating family tree for projecting the financial future of a nation"--Front jacket flap
more
fewer
Audience Level
0

1
Kids
General
Special
Audience level: 0.20 (from 0.03 for Hamilton u ... to 0.81 for Multiple j ...)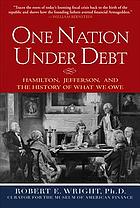 Covers
Alternative Names
Robert E. Wright Amerikaans historicus

Robert E. Wright historien américain

Wright, Robert 1969-

Wright, Robert E.

Wright, Robert Eric 1969-

라이트, 로버트 1969-

라이트, 로버트 E. 1969-

부특, 라백특 E 1969-

회특, 라백특 E 1969-

ライト, ロバート・E.

羅伯特·E·賴特

Languages