Jerrum, Mark
Overview
| | |
| --- | --- |
| Works: | 49 works in 138 publications in 1 language and 566 library holdings |
| Roles: | Author |
Most widely held works by Mark Jerrum
Counting, sampling and integrating : algorithms and complexity
by
Mark Jerrum
( Book )
11 editions published in
2003
in
English
and held by 206 WorldCat member libraries worldwide
"The subject of these notes is counting (of combinatorial structures) and related topics, viewed from a computational perspective. "Related topics" include sampling combinatorial structures (being computationally equivalent to approximate counting via efficient reductions), evaluating partition functions (being weighted counting), and calculating the volume of bodies (being counting in the limit)." "A major theme of the book is the idea of accumulating information about a set of combinatorial structures by performing a random walk (i.e., simulating a Markov chain) on those structures. (This is for the discrete setting; one can also learn about a geometric body by performing a walk within it.) The running time of such an algorithm depends on the rate of convergence to equilibrium of this Markov chain, as formalised in the notion of "mixing time" of the Markov chain. A significant proportion of the volume is given over to an investigation of techniques for bounding the mixing time in cases of computational interest." "These notes will be of value not only to teachers of postgraduate courses on these topics, but also to established researchers in the field of computational complexity who wish to become acquainted with recent work on non-asymptotic analysis of Markov chains, and their counterparts in stochastic processes who wish to discover how their subject sits within a computational context. For the first time this body of knowledge has been brought together in a single volume."--Jacket
Counting, Sampling and Integrating: Algorithm and Complexity
by
Mark Jerrum
( )
2 editions published in
2003
in
English
and held by 60 WorldCat member libraries worldwide
The subject of these notes is counting (of combinatorial structures) and related topics, viewed from a computational perspective. "Related topics" include sampling combinatorial structures (being computationally equivalent to approximate counting via efficient reductions), evaluating partition functions (being weighted counting), and calculating the volume of bodies (being counting in the limit). A major theme of the book is the idea of accumulating information about a set of combinatorial structures by performing a random walk (i.e., simulating a Markov chain) on those structures. (This is for the discrete setting; one can also learn about a geometric body by performing a walk within it.) The running time of such an algorithm depends on the rate of convergence to equilibrium of this Markov chain, as formalised in the notion of "mixing time" of the Markov chain. A significant proportion of the volume is given over to an investigation of techniques for bounding the mixing time in cases of computational interest. These notes will be of value not only to teachers of postgraduate courses on these topics, but also to established researchers in the field of computational complexity who wish to become acquainted with recent work on non-asymptotic analysis of Markov chains, and their counterparts in stochastic processes who wish to discover how their subject sits within a computational context. For the first time this body of knowledge has been brought together in a single volume
A sub-logarithmic communication algorithm for the completely connected optical communication parallel computer
by
Leslie Ann Goldberg
( Book )
3 editions published in
1992
in
English
and held by 13 WorldCat member libraries worldwide
Abstract: "In this paper we consider the problem of interprocessor communication on a Completely Connected Optical Communication Parallel Computer (OCPC). The particular problem we study is that of realizing an h-relation. In this problem, each processor has at most h messages to send and at most h messages to receive. It is clear that any 1-relation can be realized in one step on an OCPC. However, the best known p-processor OCPC algorithm for realizing an arbitrary h-relation for h> 1 runs in [theta](h+log p) expected time. (This algorithm is due to Valiant and is based on earlier work of Anderson and Miller.)
A mildly exponential approximation algorithm for the permanent
by
Mark Jerrum
( Book )
6 editions published in
1991
in
English
and held by 13 WorldCat member libraries worldwide
Abstract: "A new approximation algorithm for the permanent of an n x n 0,1-matrix is presented. The algorithm is shown to have worst-case time complexity exp(O(n[superscript 1/2] log²n)). Asymptotically, this represents a considerable improvement over the best existing algorithm, which has worst-case time complexity of the form e[superscipt theta(n)]."
Computational Pólya theory
by
Mark Jerrum
( Book )
4 editions published in
1995
in
English
and held by 13 WorldCat member libraries worldwide
Abstract: "A permutation group G of degree n has a natural induced action on words of length n over a finite alphabet [sigma], in which the image x[superscript g] of x under permutation g [element of] G is obtained by permuting the positions of symbols in x according to g. The key result in 'Pólya theory' is that the number of orbits of this action is given by an evaluation of the cycle-index polynomial P[subscript G](z₁, ..., z[subscript n]) of G at the point z₁ = ... = z[subscript n] = [absolute value of sigma]. In many cases it is possible to count the number of essentially distinct instances of a combinatorial structure of a given size by evaluating the cycle-index polynomial of an appropriate symmetry group G. We address the question 'to what extent can Pólya theory be mechanised?' There are compelling complexity-theoretic reasons for believing that there is no efficient, uniform procedure for computing the cycle-index exactly, but less is known about approximate evaluation, say to within a specified relative error. The known results -- positive and negative -- will be surveyed."
more
fewer
Audience Level
0

1
Kids
General
Special
Audience level: 0.75 (from 0.63 for Counting, ... to 0.86 for Design and ...)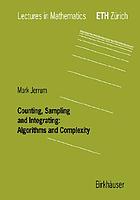 Covers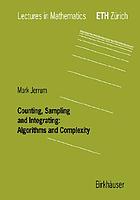 Alternative Names
Jerrum, Mark

Mark Jerrum britischer Informatiker

Mark Jerrum Brits informaticus

Mark Jerrum informático teórico del Reino Unido

Mark Jerrum Theoretical computer scientist

Languages