Arora, Sanjeev
Most widely held works by Sanjeev Arora
Computational complexity : a modern approach
by
Sanjeev Arora
( Book )
31 editions published between
2008
and 2016 in
English
and
Undetermined
and held by 552 WorldCat member libraries worldwide
This beginning graduate textbook describes both recent achievements and classical results of computational complexity theory. The book starts with a broad introduction to the field and progresses to advanced results
Approximation, randomization, and combinatorial optimization : algorithms and techniques : 6th International Workshop on Approximation Algorithms for Combinatorial Optimization Problems, APPROX 2003, and 7th International Workshop on Randomization and Approximation Techniques in Computer Science, RANDOM 2003, Princeton, NJ, USA, August 24-26, 2003 : proceedings
by
Sanjeev Arora
( Book )
18 editions published in
2003
in
English
and held by 367 WorldCat member libraries worldwide
This book constitutes the joint refereed proceedings of the 6th International Workshop on Approximation Algorithms for Optimization Problems, APPROX 2003 and of the 7th International Workshop on Randomization and Approximation Techniques in Computer Science, RANDOM 2003, held in Princeton, NY, USA in August 2003. The 33 revised full papers presented were carefully reviewed and selected from 74 submissions. Among the issues addressed are design and analysis of randomized and approximation algorithms, online algorithms, complexity theory, combinatorial structures, error-correcting codes, pseudorandomness, derandomization, network algorithms, random walks, Markov chains, probabilistic proof systems, computational learning, randomness in cryptography, and various applications
Probabilistic checking of proofs and hardness of approximation problems
by
Sanjeev Arora
( )
4 editions published in
1994
in
English
and held by 11 WorldCat member libraries worldwide
This dissertation establishes a surprising new characterization of NP, the class of languages for which membership proofs can be checked in polynomial time deterministically. The class NP is exactly the set of languages for which membership proofs can be checked by a probabilistic polynomial time verifier that examines a constant number of bits in the proof, and uses O(log n) random bits, where n is the size of the input
Approximation, Randomization, and Combinatorial Optimization. Algorithms and Techniques : 6th International Workshop on Approximation Algorithms for Combinatorial Optimization Problems, APPROX 2003 and 7th International Workshop on
by
Sanjeev Arora
( )
3 editions published in
2003
in
English
and held by 8 WorldCat member libraries worldwide
This book constitutes the joint refereed proceedings of the 6th International Workshop on Approximation Algorithms for Optimization Problems, APPROX 2003 and of the 7th International Workshop on Randomization and Approximation Techniques in Computer Science, RANDOM 2003, held in Princeton, NY, USA in August 2003. The 33 revised full papers presented were carefully reviewed and selected from 74 submissions. Among the issues addressed are design and analysis of randomized and approximation algorithms, online algorithms, complexity theory, combinatorial structures, error-correcting codes, pseudorandomness, derandomization, network algorithms, random walks, Markov chains, probabilistic proof systems, computational learning, randomness in cryptography, and various applications
Approximation schemes for the k-medians and related problems
by
Sanjeev Arora
( Book )
3 editions published in
1998
in
English
and held by 7 WorldCat member libraries worldwide
Abstract: "In the k-median problem we are given a set S of n points in a metric space and a positive integer k. We desire to locate k medians in space, such that the sum of the distances from each of the points of S to the nearest median is minimized. This paper gives an approximation scheme for the plane that for any c> 0 produces a solution of cost at most 1+1/c times the optimum and runs in time O(n[superscript O(c+1)]). The approximation scheme also generalizes to some problems related to k-median. Our methodology is to extend Arora's [1, 2] techniques for TSP, which hitherto seemed inapplicable to problems such as the k-median problem."
Improved low-degree testing and its applications
by
Sanjeev Arora
( Book )
3 editions published in
1997
in
English
and held by 7 WorldCat member libraries worldwide
Abstract: "NP=PCP(log n, 1) and related results crucially depend upon the close connection between the probability with which a function passes a low degree test and the distance of this function to the nearest degree d polynomial. In this paper we study a test proposed by Rubinfeld and Sudan [RS93]. The strongest previously known connection for this test states that a function passes the test with probability [delta] for some [delta]> 7/8 iff the function has agreement [symbol] [delta] with a polynomial of degree d. We present a new, and surprisingly strong, analysis which shows that the preceding statement is true for [delta] <<0.5. The analysis uses a version of Hilbert irreducibility, a tool of algebraic geometry. As a consequence we obtain an alternate construction for the following proof system: A constant prover 1-round proof system for NP languages in which the verifier uses O(log n) random bits, receives answers of size O(log n) bits, and has an error probability of at most [formula]. Such a proof system, which implies the NP-hardness of approximating Set Cover to within [omega](log n) factors, has already been obtained by Raz and Safra [RazS96]. Our result was completed after we heard of their claim. A second consequence of our analysis is a self tester/corrector for any buggy program that (supposedly) computes a polynomial over a finite field. If the program is correct only on [delta] fraction of inputs where [delta] = 1/[absolute value of F][superscript epsilon] <<0.5, then the tester/corrector determines [delta] and generates O(1/[delta]) values for every input, such that one of them is the correct output. In fact, our techniques yield something stronger: Given the buggy program, we can construct O(1/[delta]) randomized programs such that one of them is correct on every input, with high probability."
Ji suan fu za xing : Xian dai fang fa = Computational complexity
by
Sanjeev Arora
( Book )
1 edition published in
2016
in
Chinese
and held by 3 WorldCat member libraries worldwide
Ben shu fen wei san bu fen. Di yi bu fen jie shao le fu za xing li lun, Bao kuo fu za xing li lun de jing dian jie guo he yi xie xian dai zhuan ti. Di er bu fen tao lun le ge zhong ju ti ji suan mo xing shang de ji suan fu za xing xia jie. Di san bu fen zhu yao shi 1980 nian yi hou ren men zai fu za xing li lun fang mian huo de de jin zhan, Nei rong bao kuo ji shu fu za xing, Ping jun fu za xing, Nan du fang da, Qu sui ji hua he wei sui ji xing, PCP ding li de zheng ming yi ji zi ran zheng ming
more
fewer
Audience Level
0

1
Kids
General
Special
Audience level: 0.67 (from 0.60 for An investi ... to 0.99 for Hardness o ...)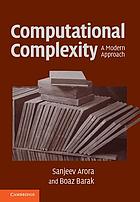 Covers
Alternative Names
Arora, S. 1968-

Sanjeev Arora.

Sanjeev Arora Amerikaans informaticus

Sanjeev Arora chercheur en informatique

Sanjeev Arora Theoretical computer scientist

Sanjeev Arora US-amerikanischer theoretischer Informatiker

সঞ্জীব আরোরা

സഞ്ജീവ് അറോറ

Languages