Anvil, Christopher
Most widely held works by Christopher Anvil
Pandora's planet
by
Christopher Anvil
( Book )
11 editions published between
1972
and 1984 in 4 languages and held by 195 WorldCat member libraries worldwide
War games
by
Christopher Anvil
( Book )
5 editions published between
2008
and 2010 in
English
and held by 134 WorldCat member libraries worldwide
War is a serious business . . .or is it? Christopher Anvil turns his sardonic outlook loose on the subject and considers various comic and scientific possiblities in this collection of stories
Interstellar patrol
by
Christopher Anvil
( Book )
7 editions published between
2003
and 2006 in
English
and held by 132 WorldCat member libraries worldwide
A new omnibus anthology chronicles the adventures of a starship crew trapped on a planet populated by battling gangs, surviving by pretending to be the Royal Legions from a distant world pursuing a powerful villain hiding on the planet, but their plans go awry when the real Royal flagship shows up
The trouble with humans
by
Christopher Anvil
( Book )
8 editions published between
2007
and 2010 in
English
and held by 131 WorldCat member libraries worldwide
"Humans-there's no understanding them, and no dealing with them either. Or even their planet. Pity the poor aliens, whose shape-changing ability should let them take over the planet Earth before the humans even know they're there-if it weren't for all that omnipresent pollution. Or consider another set of invaders, from a planet where the weather is always mild and the changing of the seasons is hardly noticeable. They land in force and their weapons are more powerful than those of the primitive humans-but they've never before had to deal with below-zero temperatures, flash floods or tornados-not to mention volcanoes. Then there were the aliens who noticed how belligerent humans were, and gave them the 'gift' of TV-like devices which would show anything anywhere on Earth, which was sure to lead to war. Imagine how surprised the aliens were when the humans took the gadgets apart, improved them, and started spying on everything the aliens were up to, all over the galaxy. Humans don't make sense, they don't fight fair, and they're making aliens throughout interstellar space think seriously about pulling up stakes and moving to another galaxy!"--Publisher description
The trouble with aliens
by
Christopher Anvil
( Book )
4 editions published between
2006
and 2008 in
English
and held by 129 WorldCat member libraries worldwide
The power of illusion
by
Christopher Anvil
( Book )
4 editions published between
2009
and 2011 in
English
and held by 100 WorldCat member libraries worldwide
"The overwhelming power of massed starship armadas can be undone in a moment--by the subtle power of illusion, as demonstrated in this collection of stories by the master of humorous science fiction adventure ..."--Publisher's description
Interstellar patrol II : the federation of humanity
by
Christopher Anvil
( Book )
3 editions published between
2005
and 2007 in
English
and held by 99 WorldCat member libraries worldwide
Vaughan Roberts and his two companions had been trapped on a crime-ridden, chaotic planet until they bamboozled the population with a gigantic hoax-which brought them to the attention of the Interstellar Patrol, who were looking for a few good con men, capable of ingenious improvisation and adept at playing dirty tricks on the bad guys. The new recruits acquited themselves admirably, so they naturally were given more tough nuts to crack, including: Flummoxing an alien empire which has taken a number of human prisoners as reconnaisance for an invasion. This has a personal aspect, since the prisoners are from the planet which Roberts tricked into reforming. ... Stopping a plan by not-so-good Samaritans who are pretending to cure a planetary plague-which they introduced to the planet-with a "miracle" drug which creates an addiction to the same drug, which the schemers will be glad to continue supplying for ever-increasing sums ... Not only rescuing some Patrol personnel taken hostage by fanatics who plan to execute them one at a time until their leader is released, but convincing other fanatics throughout the galaxy that the consequences of threatening anyone in the Patrol are too terrible even to think about. . . .. Making sure that the rightful heir to a planet's throne escapes from captivity and overthrows the usurper. This time there's a complication: Roberts may be falling for the ruler's beautiful sister. ... And much more.
RX for chaos
by
Christopher Anvil
( Book )
8 editions published between
2008
and 2011 in
English
and held by 93 WorldCat member libraries worldwide
Considers the benefits and consequences of technological innovation in a volume that examines a new wonder drug that has the effect of making people happy all of the time, an advanced energy source that could free the country from dependence on foreign oil, and a strange device becomes the only hope of repelling an alien invasion
Strangers in paradise
by
Christopher Anvil
( Book )
6 editions published between
1969
and 1976 in
English
and
Spanish
and held by 50 WorldCat member libraries worldwide
Los primero moradores del Planeta Paraíso querían crear un Edén en el espacio profundo, que fuera modelo para los demás mundos. Pero el gran experimento fracasó. La gran capital del Paraíso se estaba pudriendo bajo los rayos del sol; sus calles se veían invadidas por monstruosas ratas y sus gobernantes corrompidos permanecían indiferentes.Ese fue el mundo extraño que encontraron los tres hombres de la Patrulla Interestelar después de que aterrizó desastrosamente su nave espacial en Paraíso. ¡Sin saberlo habían hecho una parada de emergencia en el propio Infierno!Amenazados primero por las plantas carnívoras y por descomunales gatos salvajes, los tres hombres lucharon fieramente para abrirse paso a través de la selva, sólo para que al salir tuvieran que hacer frente a un peligro mayor… ¡los habitantes del Paraíso!
Pandora's legions
by
Christopher Anvil
( Book )
2 editions published in
2002
in
English
and held by 47 WorldCat member libraries worldwide
more
fewer
Audience Level
0

1
Kids
General
Special
Audience level: 0.38 (from 0.27 for Pandora's ... to 0.97 for Terra ...)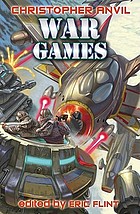 Covers
Alternative Names
Christopher Anvil Amerikaans romanschrijver (1925-2009)

Christopher Anvil écrivain américain

Christopher Anvil escriptor estatunidenc

Christopher Anvil escritor estadounidense

Christopher Anvil US-amerikanischer SF-Schriftsteller

Crosby, Harry C.

Crosby, Harry C. Jr

کریستوفر انویل نویسنده آمریکایی

クリストファー・アンヴィル

Languages