Hamburg, Margaret A.
Most widely held works about Margaret A Hamburg
Nomination of Margaret A. Hamburg : hearing of the Committee on Health, Education, Labor, and Pensions, United States Senate, One Hundred Eleventh Congress, first session, on nomination of Margaret A. Hamburg, M.D., of the District of Columbia, to be commissioner of the Food and Drug Administration, May 7, 2009

by

United States

( Book )
Most widely held works by Margaret A Hamburg
Microbial threats to health : emergence, detection, and response
by
Institute of Medicine (U.S.)
( Book )
13 editions published in
2003
in
English
and held by 477 WorldCat member libraries worldwide
Infectious diseases are a global hazard that puts every nation and every person at risk. The recent SARS outbreak is a prime example. Knowing neither geographic nor political borders, often arriving silently and lethally, microbial pathogens constitute a grave threat to the health of humans. Indeed, a majority of countries recently identified the spread of infectious disease as the greatest global problem they confront. Throughout history, humans have struggled to control both the causes and consequences of infectious diseases and will continue to do so into the foreseeable future. Following up on a high-profile 1992 report from the Institute of Medicine, Microbial Threats to Health examines the current state of knowledge and policy pertaining to emerging and re-emerging infectious diseases from around the globe. It examines the spectrum of microbial threats, factors in disease emergence, and the ultimate capacity of the United States to meet the challenges posed by microbial threats to human health. From the impact of war or technology on disease emergence to the development of enhanced disease surveillance and vaccine strategies," Microbial Threats to Health contains valuable information for researchers, students, health care providers, policymakers, public health officials, and the interested public
Epidemic!
( Visual )
3 editions published between
2000
and 2009 in
English
and held by 17 WorldCat member libraries worldwide
Quick to spread and develop resistance to medical intervention, new strains of microbes pose a growing threat to global health. How does overuse of antibiotics actually encourage more lethal strains of diseases believed to be conquered? How can the media successfully inform the public without causing panic? And should personal rights be curtailed during epidemics? This Fred Friendly Seminar, moderated by Harvard Law School's Arthur Miller, examines the biological, ecological, and cultural factors influencing the causes, spread, and control of infectious diseases. Panelists include Nobel Laureate Joshua Lederberg; David Kessler, former chairman of the FDA; Robert Moellering, Jr., of Harvard Medical School; C. J. Peters, of the Centers for Disease Control and Prevention; and others
Global climate change and extreme weather events : understanding the contributions to infectious disease emergence : workshop summary
by Institute of medecine of the national academies (Washington)
( Book )
2 editions published in
2008
in
Undetermined
and
English
and held by 1 WorldCat member library worldwide
Long before the germ theory of disease was described, late in the nineteenth century, humans knew that climatic conditions influence the appearance and spread of epidemic diseases. Ancient notions about the effects of weather and climate on disease remained embedded in our collective consciousness through expressions such as "cold" for rhinovirus infections, "malaria: derived from the Latin for bad air; and the common complaint of feeling "under the weather." Today, evidence is mounting that the earth's climate is changing at a faster rate than previously appreciated, leading researchers to view the longstanding relationships between climate and disease with new urgency and from a global perspective. On December 4 and 5, 2007, the Forum on Microbial Threats hosted a public workshop in Washington, DC to consider the possible infectious disease impacts of global climate change and extreme weather events on human, animal, and plant health, as well as their expected implications for global and national security
[Breast implants] [Breen vs. Williams]
( Visual )
1 edition published in
1992
in
English
and held by 1 WorldCat member library worldwide
U.S. Surgeon General Antonia Novello, Dr. Nancy Dickey of the American Medical Association, and Dr. Margaret Hamburg, N.Y. City health commissioner, discuss several topics on Crier & Co.: breast implants, privacy issues and AIDS testing, and the health implications of an aging population
Microbial evolution and co-adaptation : a tribute to the life and scientific legacies of Joshua Lederberg : workshop summary
by Institute of Medicine (U.S.)
( Book )
1 edition published in
2008
in
Undetermined
and held by 1 WorldCat member library worldwide
"Dr. Joshua Lederberg - scientist, Nobel laureate, visionary thinker, and friend of the Forum on Microbial Threats - died on February 2, 2008. It was in his honor that the Institute of Medicine's Forum on Microbial Threats convened a public workshop on May 20-21, 2008, to examine Dr. Lederberg's scientific and policy contributions to the marketplace of ideas in the life sciences, medicine, and public policy. The resulting workshop summary, Microbial Evolution and Co-Adaptation, demonstrates the extent to which conceptual and technological developments have, within a few short years, advanced our collective understanding of the microbiome, microbial genetics, microbial communities, and microbe-host-environment interactions."
Emerging Microbial Threats to Health in the 21st Century
( )
1 edition published in
2003
in
English
and held by 0 WorldCat member libraries worldwide
In 2001, an Institute of Medicine committee was charged to identify, review, and assess the current state of knowledge and policy responses pertaining to emerging microbial threats to health. Re-visiting the 1992 Institute of Medicine report, Emerging Infections: Microbial Threats to Health in the United States, the committee re-examined factors in emergence including: human demographics and behavior; microbial adaptation and change; technology and industry; economic development and land use; international travel and commerce; and breakdown of public health measures. Previously unrecognized factors were identified and evaluated for their impact on the emergence of infectious diseases. The committee assessed the capacity of the United States to respond to emerging microbial threats by identifying recommendations for domestic and international public health actions to strengthen the detection, response and prevention of emerging microbial threats
Vector- borne diseases : understanding the environmental, human health, and ecological connections : workshop summary
( )
1 edition published in
2008
in
English
and held by 0 WorldCat member libraries worldwide
And assessment -- Vector-borne disease emergence and resurgence. Overview -- The global threat of emergent/reemergent vector-borne diseases / Duane J. Gubler -- Why we do not understand the ecological connections between the environment and human health: the case for vector-borne disease / Durland Fish -- Ecology of emerging vector-borne plant diseases / Rodrigo P.P. Almeida -- Ecology of dsiease: the intersection of human and animal health / Kenneth J. Linthicum [and others] -- Climate change and health: global to local influences on disease risk / Jonathan A. Patz and Sarah H. Olson -- Climate change and vector-borne disease: update on climate effects on Lyme disease and West Nile Virus in North America / Jonathan A. Patz and Christopher K. Uejio -- Vector-borne disease detection and control. Overview -- Longitudinal field studies will guide a paradigm shift in dengue prevention / Thomas W. Scott and Amy C. Morrison -- Innovative decision support and vector control approaches to control denge / Lars Eisen and Barry J. Beaty -- West Nile virus / Lyle R. Petersen
Germs go global : why emerging infectious diseases are a threat to America
( )
1 edition published in
2008
in
English
and held by 0 WorldCat member libraries worldwide
This issue brief examines what is currently known about a range of emerging infectious diseases and why they are potential threats to Americans. It also reviews the tools--surveillance, diagnostics, vaccines, and therapeutics--that exist or are in development and explores government incentives for enhancing them. Finally, it recommends increased action to protect the nation from deadly and debilitating infectious diseases
more
fewer
Audience Level
0

1
Kids
General
Special
Audience level: 0.24 (from 0.04 for Microbial ... to 1.00 for Emerging M ...)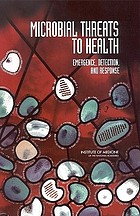 Alternative Names
Margaret A. Hamburg politica e medico statunitense

Margaret Hamburg Amerikaans arts

Margaret Hamburg US-amerikanische Ärztin und Regierungsbeamte

مارغريت هامبورغ

Languages
Covers