Kremer, Michael 1964-
Most widely held works about Michael Kremer
Most widely held works by Michael Kremer
Strong medicine : creating incentives for pharmaceutical research on neglected diseases
by
Michael Kremer
( Book )
10 editions published in
2004
in
English
and held by 560 WorldCat member libraries worldwide
"Vaccines offer the best hope for controlling diseases and could dramatically improve health in poor countries. But developers have little incentive to undertake the costly and risky research needed to develop vaccines. This is partly because the potential consumers are poor, but also because governments drive down prices." "In Strong Medicine, Michael Kremer and Rachel Glennerster offer an innovative yet simple solution to this worldwide problem: "Pull" programs to stimulate research. Here's how such programs would work. Funding agencies would commit to purchase viable vaccines if and when they were developed. This would create the incentives for vaccine developers to produce usable products for these neglected diseases. Private firms, rather than funding agencies, would pick which research strategies to pursue. After purchasing the vaccine, funders could distribute it at little or no cost to the afflicted countries."--Jacket
Economic transformation, population growth and the long-run world income distribution
by
Marcos Chamon
( )
19 editions published in
2006
in
English
and held by 462 WorldCat member libraries worldwide
This paper considers the long-run evolution of the world economy in a model where countries' opportunities to develop depend on their trade with advanced economies. As developing countries become advanced, they further improve trade opportunities for the remaining developing countries. Whether or not the world economy converges to widespread prosperity depends on the population growth differential between developing and advanced economies, the rate at which countries develop, and potentially on initial conditions. A calibration using historical data suggests that the long-run prospects for lagging developing regions, such as Africa, likely hinge on the sufficiently rapid development of China and India
Incentives to learn
by
Michael Kremer
( )
20 editions published between
2004
and 2012 in
English
and
Undetermined
and held by 185 WorldCat member libraries worldwide
"The authors report results from a randomized evaluation of a merit scholarship program for adolescent girls in Kenya. Girls who scored well on academic exams received a cash grant and had school fees paid. Girls eligible for the scholarship showed significant gains in academic examination scores (average gain 0.15 standard deviations). There was considerable sample attrition and no significant program impact in the smaller of the two program districts, but in the other district girls showed large gains (average gain 0.22-0.27 standard deviations), and these gains persisted one full year following the competition. There is also evidence of positive program externalities on learning-boys (who were ineligible for the awards) also showed sizable average test gains. Both student and teacher school attendance increased in the program schools. "--World Bank web site
Creating markets for new vaccines
by
Michael Kremer
( Book )
24 editions published in
2000
in
English
and held by 131 WorldCat member libraries worldwide
Several programs have been proposed to improve incentives for research on vaccines for malaria, tuberculosis, and HIV, and to help increase accessibility of vaccines once they are developed. For these programs to spur research, potential vaccine developers must believe that the sponsor will not renege on the commitment once research costs have been sunk. Given appropriate legal language, the key determinant of credibility will be eligibility and pricing rules, rather than whether funds are physically placed in separate accounts. Requiring candidate vaccines to meet basic technical requirements would help ensure that funds were spent only on effective vaccines. Requiring developing countries to contribute co-payments would help ensure that they felt that the vaccines were useful given the conditions in their countries. Purchases under a vaccine purchase program could be the conditions in their countries. Purchases under a vaccine purchase program could be governed by a market exclusivity provision similar to that in the U.S. Orphan Drug Act. A program could start by offering a modest price and increasing it if it proved inadequate to spur research. If donors pledge approximately $250 million per year for each vaccine for ten years, vaccine purchases would cost approximately $10 per year of life saved. No funds would be spent or pledges called unless a vaccine were developed
Elephants
by
Michael Kremer
( Book )
18 editions published between
1996
and 2000 in
English
and held by 123 WorldCat member libraries worldwide
Existing models of open-access resources are applicable to non-storable resources, such as fish. Many open-access resources, however, are used to produce storable goods. Elephants, rhinos, and tigers are three prominent examples. Anticipated future scarcity of these resources will increase current prices, and current poaching. This implies that, for given initial conditions, there may be rational expectations equilibria leading both to extinction and to survival. Governments may be able to eliminate extinction equilibria by promising to implement tough anti-poaching measures if the population falls below a threshold. Alternatively, they, or private agents, may be able to eliminate extinction equilibria by accumulating a sufficient stockpile of the storable good
Patent buy-outs : a mechanism for encouraging innovation
by
Michael Kremer
( Book )
13 editions published in
1997
in
English
and held by 120 WorldCat member libraries worldwide
In 1839, the French government purchased the patent on the Daguerreotype process and placed it in the public domain. This paper examines a mechanism under which governments would use an auction to estimate the private value of patents and then offer to buy out patents at this private value, times a fixed markup. The markup would correspond to the estimated typical ratio of the social and private values of inventions -- perhaps two. Most patents purchased would be placed in the public domain, but in order to induce bidders to reveal their valuations patents would be sold to the highest bidder. Such patent buy-outs could eliminate monopoly price distortions and incentives for wasteful reverse engineering, while raising private incentives for original research closer to their social value. However, patent buy-outs are potentially vulnerable to collusion. Patent buy-outs may be particularly appropriate for pharmaceuticals
Does favorable tax-treatment of housing reduce equipment investment?
by
Ben Broadbent
( Book )
13 editions published in
1997
in
English
and held by 115 WorldCat member libraries worldwide
It is often argued that low tax rates on owner-occupied housing divert investment from equipment. This paper demonstrates that if people are heterogeneous in their propensity to save, and if there are constraints on borrowing, favorable tax treatment of owner-occupied housing up to a certain value increases equipment investment. This is because low housing taxes encourage renters to become owner-occupiers, and this leads existing owner-occupiers to shift their portfolio of other assets from rental housing to equipment
Wage inequality and segregation by skill
by
Michael Kremer
( Book )
17 editions published between
1995
and 1996 in
English
and held by 113 WorldCat member libraries worldwide
Evidence from the US, Britain, and France suggests that recent growth in wage inequality has been accompanied by greater segregation of high- and low-skill workers into separate firms. A model in which workers of different skill-levels are imperfect substitutes can simultaneously account for these increases in segregation and inequality either through technological change, or, more parsimoniously, through observed changes in the skill-distribution
How much does sorting increase inequality?
by
Michael Kremer
( Book )
15 editions published in
1996
in
English
and held by 111 WorldCat member libraries worldwide
Social commentators from William Julius Wilson to Charles Murray have argued that increased sorting of people into internally homogeneous" neighborhoods,schools, and marriages is spurring long-run inequality. Cali- bration of a formal model suggests that these fears are misplaced. In order to increase the steady-state standard deviation of education by one percent, the correlation between neighbors' education would have to double, or the correlation between spouses' education would have to increase by one-third. In fact, both correlations have declined slightly over the past few decades. Sorting has somewhat more significant effects on intergenerational mobility than on inequality."
more
fewer
Audience Level
0

1
Kids
General
Special
Audience level: 0.51 (from 0.11 for Finance an ... to 0.72 for Incentives ...)
Related Identities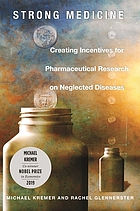 Covers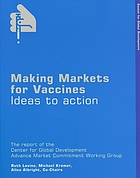 Alternative Names
Kremer, Michael R. 1964-

Kremer, Michael Robert 1964-

Michael Kremer American economist

Michael Kremer Amerikaans econoom

Michael Kremer amerikansk ekonom

Michael Kremer amerikansk økonom

Michael Kremer economista estadounidense

Michael Kremer économiste américain

Michael Kremer US-amerikanischer Ökonom

Майкл Кремер

Languages