Damour, Thibault
Overview
| | |
| --- | --- |
| Works: | 102 works in 218 publications in 5 languages and 3,053 library holdings |
| Genres: | Biography History Conference papers and proceedings Essays Interviews |
| Roles: | Author, Author of introduction, Editor, Translator, Interviewee, Author of afterword, colophon, etc., Contributor |
| Classifications: | QC16.E5, 081 |
Most widely held works about Thibault Damour
Most widely held works by Thibault Damour
Once upon Einstein
by
Thibault Damour
( Book )
17 editions published between
2005
and 2016 in 3 languages and held by 406 WorldCat member libraries worldwide
"It is well known that Einstein founded twentieth-century physics with his work on relativity and quanta. But what is really known of the essential ideas contributed by Einstein? How were they discovered? What should we retain today from the conceptual upheavals he initiated? Through a selection of concrete scenes taken from Einstein's life, this book offers a view into the formation of his theories, as well as reminders of the day-to-day applications of the ideas."--Jacket
Einstein, 1905-2005 : Poincaré Seminar 2005
by
Thibault Damour
( Book )
29 editions published between
2005
and 2006 in
English
and
German
and held by 161 WorldCat member libraries worldwide
The Poincare Seminar is held twice a year at the Institute Henri Poincare in Paris. The goal of this seminar is to provide information about general topics of great interest in physics. Both the theoretical and experimental results are covered, with some historical background. This volume is devoted to Einstein's 1905 papers and their legacy
Gravitation and experiment : Poincaré Seminar 2006
by
Thibault Damour
( Book )
18 editions published in
2007
in
English
and held by 99 WorldCat member libraries worldwide
This book starts with a detailed introduction to general relativity by world expert T. Damour. It includes a review of what may lie beyond by string theorist I. Antoniadis, and collects up-to-date essays on the experimental tests of this theory. Contrary to some beliefs, general relativity is now a theory extremely well confirmed by detailed experiments, including the precise timing of the double pulsar J0737-3039 explained by M. Kramer, member of the team which discovered it in 2003, and satellite missions such as Gravity Probe B described by leading team member J. Mester. The search for dete
The Twelfth Marcel Grossmann Meeting on recent developments in theoretical and experimental general relativity, astrophysics and relativistic field theories : proceedings of the MG12 Meeting on General Relativity, UNESCO headquarters, Paris, France, 12-18 July 2009
by Marcel Grossmann Meeting
( Book )
17 editions published between
2011
and 2012 in
English
and held by 43 WorldCat member libraries worldwide
Marcel Grossmann Meetings are formed to further the development of General Relativity by promoting theoretical understanding in the fields of physics, mathematics, astronomy and astrophysics and to direct future technological, observational, and experimental efforts. In these meetings are discussed recent developments in classical and quantum gravity, general relativity and relativistic astrophysics, with major emphasis on mathematical foundations and physical predictions, with the main objective of gathering scientists from diverse backgrounds for deepening the understanding of spacetime structure and reviewing the status of test-experiments for Einstein's theory of gravitation. The range of topics is broad, going from the more abstract classical theory, quantum gravity and strings, to the more concrete relativistic astrophysics observations and modeling. The three volumes of the proceedings of MG12 give a broad view of all aspects of gravitational physics and astrophysics, from mathematical issues to recent observations and experiments. The scientific program of the meeting includes 29 plenary talks stretched over 6 mornings, and 74 parallel sessions over 5 afternoons. Volume A contains plenary and review talks ranging from the mathematical foundations of classical and quantum gravitational theories including recent developments in string theories, to precision tests of general relativity including progress towards the detection of gravitational waves, to relativistic astrophysics including such topics as gamma ray bursts, black hole physics both in our galaxy, in active galactic nuclei and in other galaxies, neutron stars, pulsar astrophysics, gravitational lensing effects, neutrino physics and ultra high energy cosmic rays. The rest of the volumes include parallel sessions on dark matter, neutrinos, X-ray sources, astrophysical black holes, neutron stars, binary systems, radiative transfer, accretion disks, alternative gravitational theories, perturbations of collapsed objects, analog models, black hole thermodynamics, cosmic background radiation and observational cosmology, numerical relativity and algebraic computing, gravitational lensing, variable "constants" of nature, large scale structure, topology of the universe, brane-world cosmology, early universe models and cosmic microwave background anisotropies, inhomogeneous cosmology, inflation, gamma ray burst modeling, supernovas and global structure. It also includes singularities, cosmic censorship, chaos, Einstein-Maxwell systems, inertial forces, gravitomagnetism, wormholes and time machines, exact solutions of Einstein's equations, gravitational waves, gravitational wave detectors and data analysis, precision gravitational measurements, history of relativity, quantum gravity and loop quantum gravity, Casimir effect, quantum cosmology, strings and branes, self-gravitating systems, gamma ray astronomy, cosmic rays, gamma ray bursts and quasars
Le mystère du monde quantique
by
Thibault Damour
( Book )
2 editions published in
2016
in
French
and held by 41 WorldCat member libraries worldwide
"Avec Bob et son chien, Rick, embarquez pour une joyeuse épopée dans les mystères du monde quantique ! La physique quantique est partout autour de nous, tant dans l'infiniment grand que dans l'infiniment petit. Mais ce qu'elle dit du monde qui nous entoure diffère de manière vertigineuse de ce qu'on observe et ressent au quotidien. Partez à la rencontre de ceux qui ont théorisé et créé la physique quantique : Planck, Einstein, le prince de Broglie, Heisenberg, Schrödinger, Bohr, Born, Everett..."
Les relativités : espace, temps, gravitation
by
Michel Le Bellac
( Book )
3 editions published in
2015
in
French
and held by 35 WorldCat member libraries worldwide
La 4e de couv. indique : "En 1905, la relativité restreinte bouleverse nos conceptions de l'espace et du temps : il n'existe pas de temps universel, et une conséquence spectaculaire est le paradoxe des jumeaux vérifié quotidiennement par le système GPS. Dix années après la relativité restreinte, la relativité générale interprète la gravitation comme une propriété géométrique de l'espace-temps. Il n'existe plus d'espace absolu où l'on pourrait disposer étoiles et galaxies et l'espace-temps est déformé au voisinage d'objets astrophysiques compacts. Dans un environnement de gravité forte, le temps diffère radicalement du temps usuel et la lumière peut faire du surplace ou même se retrouver piégée. Ce livre expose les concepts fondamentaux introduits par Einstein et il les confronte aux expériences les plus récentes en physique des particules élémentaires et en astrophysique. Le lecteur découvrira comment la relativité décrit ces objets étranges et fascinants que sont les étoiles à neutrons, les trous noirs ou les ondes gravitationnelles, et comment elle rend compte de l'histoire de l'Univers."
The curious history of relativity : how Einstein's theory of gravity was lost and found again
by
Jean Eisenstaedt
( Book )
2 editions published between
2007
and 2013 in
French
and held by 26 WorldCat member libraries worldwide
"Almost one hundred years after general relativity replaced Newton's theory of gravitation, The Curious History of Relativity tells the story of the events surrounding general relativity and the techniques employed by Einstein and the relativists to construct, develop, and understand his almost impenetrable theory. Jean Eisenstaedt, one of the world's leading experts on the subject, also discusses the theory's place in the evolution of twentieth-century physics. He describes the main stages in the development of general relativity: its beginnings, its strange crossing of the desert during Einstein's lifetime while under heated criticism, and its new life from the 1960s on, when it became vital to the understanding of black holes and the observation of exotic objects, and, eventually, to the discovery of the accelerating universe."--Jacket
Einstein
by
Françoise Balibar
( Recording )
3 editions published between
2004
and 2005 in
French
and held by 19 WorldCat member libraries worldwide
S'il est quelqu'un que l'on peut qualifier de génie, c'est certainement Einstein. Il a façonné la physique du XXème siècle. Non seulement ses découvertes ont permis l'avènement de notre univers technologique (électronique, laser, énergie nucléaire, etc.), mais surtout, il a profondément modifié notre conception du monde. Il y a un avant Einstein et un après Einstein qui se prolonge aujourd'hui puisque ses théories n'ont pas, pour l'essentiel, été démenties. Les auteurs retracent les contributions d'Einstein en les replaçant dans leur contexte historique, en montrant leur caractère novateur, voire révolutionnaire
more
fewer
Audience Level
0

1
Kids
General
Special
Audience level: 0.51 (from 0.02 for The Twelft ... to 0.96 for Albert Ein ...)
Related Identities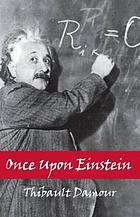 Alternative Names
Damour, T.

Thibault Damour Frans natuurkundige

Thibault Damour fransk fysikar

Thibault Damour fransk fysiker

Thibault Damour französischer theoretischer Physiker

Thibault Damour French physicist

Дамур, Тибо, 1951-

تیبائولت دامور فیزیک‌دان فرانسوی

チボー・ダムール

蒂博·達穆爾

Languages
Covers