Damour, Thibault
Overview
| | |
| --- | --- |
| Works: | 109 works in 246 publications in 5 languages and 3,202 library holdings |
| Genres: | History Biography Biographies Conference papers and proceedings Comic books, strips, etc Graphic novels Interviews Fiction Young adult works Science fiction comic books, strips, etc |
| Roles: | Author, Editor, Translator, Author of introduction, Conceptor, Interviewee, Author of afterword, colophon, etc., Other, Contributor, Commentator |
Most widely held works about Thibault Damour
Most widely held works by Thibault Damour
Once upon Einstein
by
Thibault Damour
( Book )
20 editions published between
2005
and 2017 in 4 languages and held by 430 WorldCat member libraries worldwide
"It is well known that Einstein founded twentieth-century physics with his work on relativity and quanta. But what is really known of the essential ideas contributed by Einstein? How were they discovered? What should we retain today from the conceptual upheavals he initiated? Through a selection of concrete scenes taken from Einstein's life, this book offers a view into the formation of his theories, as well as reminders of the day-to-day applications of the ideas."--Jacket
Einstein, 1905-2005 : Poincaré Seminar 2005
by
Thibault Damour
( Book )
32 editions published between
2005
and 2006 in
English
and
German
and held by 169 WorldCat member libraries worldwide
The Poincaré Seminar is held twice a year at the Institute Henri Poincaré in Paris. The goal of this seminar is to provide up-to-date information about general topics of great interest in physics. Both the theoretical and experimental results are covered, with some historical background. Particular care is devoted to the pedagogical nature of the presentation. This volume is devoted to Einstein's 1905 papers and their legacy. After a presentation of Einstein's epistemological approach to physics, and the genesis of special relativity, a centenary perspective is offered. The geometry of relativistic spacetime is explained in detail. Single photon experiments are presented, as a spectacular realization of Einstein's light quanta hypothesis. A previously unpublished lecture by Einstein, which presents an illuminating point of view on statistical physics in 1910, at the dawn of quantum mechanics, is reproduced. The volume ends with an essay on the historical, physical and mathematical aspects of Brownian motion. Contributing authors: Jacques Bros Thibault Damour Olivier Darrigol Bertrand Duplantier Albert Einstein Philippe Grangier Ugo Moschella Clifford M. Will Additional information (e.g. color versions of pictures) can be found at www.birkhauser.ch/3-7643-7435-7
Gravitation and experiment : Poincaré Seminar 2006
by
Thibault Damour
( Book )
18 editions published in
2007
in
English
and held by 100 WorldCat member libraries worldwide
This book starts with a detailed introduction to general relativity by world expert T. Damour. It includes a review of what may lie beyond by string theorist I. Antoniadis, and collects up-to-date essays on the experimental tests of this theory. Contrary to some beliefs, general relativity is now a theory extremely well confirmed by detailed experiments, including the precise timing of the double pulsar J0737-3039 explained by M. Kramer, member of the team which discovered it in 2003, and satellite missions such as Gravity Probe B described by leading team member J. Mester. The search for dete
Le mystère du monde quantique
by
Thibault Damour
( Book )
6 editions published between
2016
and 2017 in
French
and held by 65 WorldCat member libraries worldwide
"Avec Bob et son chien, Rick, embarquez pour une joyeuse épopée dans les mystères du monde quantique! La physique quantique est partout autour de nous, tant dans l'infiniment grand que dans l'infiniment petit. Mais ce qu'elle dit du monde qui nous entoure diffère de manière vertigineuse de ce qu'on observe et ressent au quotidien. Partez à la rencontre de ceux qui ont théorisé et créé la physique quantique : Planck, Einstein, le prince de Broglie, Heisenberg, Schrödinger, Bohr, Born, Everett ..."
Les relativités : espace, temps, gravitation
by
Michel Le Bellac
( Book )
3 editions published in
2015
in
French
and held by 50 WorldCat member libraries worldwide
La 4e de couv. indique : "En 1905, la relativité restreinte bouleverse nos conceptions de l'espace et du temps : il n'existe pas de temps universel, et une conséquence spectaculaire est le paradoxe des jumeaux vérifié quotidiennement par le système GPS. Dix années après la relativité restreinte, la relativité générale interprète la gravitation comme une propriété géométrique de l'espace-temps. Il n'existe plus d'espace absolu où l'on pourrait disposer étoiles et galaxies et l'espace-temps est déformé au voisinage d'objets astrophysiques compacts. Dans un environnement de gravité forte, le temps diffère radicalement du temps usuel et la lumière peut faire du surplace ou même se retrouver piégée. Ce livre expose les concepts fondamentaux introduits par Einstein et il les confronte aux expériences les plus récentes en physique des particules élémentaires et en astrophysique. Le lecteur découvrira comment la relativité décrit ces objets étranges et fascinants que sont les étoiles à neutrons, les trous noirs ou les ondes gravitationnelles, et comment elle rend compte de l'histoire de l'Univers."
The Twelfth Marcel Grossmann Meeting on recent developments in theoretical and experimental general relativity, astrophysics and relativistic field theories : proceedings of the MG12 Meeting on General Relativity, UNESCO headquarters, Paris, France, 12-18 July 2009
by Marcel Grossmann Meeting on General Relativity
( Book )
11 editions published between
2011
and 2012 in
English
and held by 33 WorldCat member libraries worldwide
Space-time from the spectral point of view / Chamseddine, Ali, H.; Connes, Alain -- The formation of black holes in general relativity / Christodoulou, Demetrios -- Matching conditions in relativistic astrophysics / Quevedo, Hernando -- Black holes as a source of information / Maldacena, Juan -- Black hole microstate counting and its macroscopic counterpart / Mandal, Ipsita; Sen, Ashoke -- Transplanckian string collisions: an update / Veneziano, Gabriele -- Ultraviolet divergences and scale-dependent gravitational couplings / Hamber, Herbert W -- The black hole stability problem for linear scalar perturbations / Dafermos, Mihalis; Rodnianski, Igor -- The global network of laser interferometer gravitational wave detectors / Reitze, David H. -- Analytical relativity of black holes / Damour, Thibault -- Detection of gravitational waves using pulsar timing / Manchester, Richard N. -- Relativistic spin-precession in binary pulsars / Kramer, Michael -- Supernovae and gamma-ray bursts: 10 years of observations Della Valle, Massimo -- Gamma-ray bursts as relativistic objects / Piran, Tsvi -- Fundamental physics from black holes, neutron stars and gamma-ray bursts / Ruffini, Remo -- The fascinating TeV sky / Aharonian, Felix -- Galaxy clusters and their central supermassive black holes: case of M87 / Churazov, Eugene ... [et al.] -- Intergalactic shock fronts / Markevitch, Maxim -- Studies of dark energy with x-ray observations of galaxy clusters / Vikhlinin, Alexey -- Bringing our galaxy's central supermassive black hole and its environs into focus with laser guide star adaptive optics / Ghez, Andrea M. ... [et al.] -- Dark energy from cosmic structure / Wiltshire, David L. -- Two hundred years of galactic studies in Tartu Observatory / Einasto, Jaan -- Shocks, cold fronts and supermassive black holes outbursts in clusters of galaxies / Jones, Christine -- Active galactic nuclei and gamma rays / Giebels, Berrie; Aharonian, Felix; Sol, Helene -- Black holes in higher dimensions (black strings and black rings) / Kunz, Jutta -- On the black hole species (by means of natural selection) / Rodriguez, Maria J. -- MHD processes near black holes and magnetorotational supernovae (review) / Moiseenko, Sergey -- Cosmological backreaction / Schwarz, Dominik J. -- Averaging space-time: where do we go from here? / Van Den Hoogen, Robert J. -- Quantum cosmology for the XXIst century: a debate / Bojowald, Martin; Kiefer, Claus; Vargas Moniz, Paulo -- Testing Lorentz invariance / Herrmann, Sven; Lammerzahl, Claus -- Second generation gravitational wave detectors / Harry, Gregory M. -- Thirty years of studies of integrable reductions of Einstein's field equations / Alekseev, George A
Das Geheimnis der Quantenwelt
by
Thibault Damour
( Book )
3 editions published between
2017
and 2018 in
German
and held by 28 WorldCat member libraries worldwide
Einstein et la relativité générale : les chemins de l'espace temps
by
Jean Eisenstaedt
( Book )
3 editions published between
2007
and 2013 in
French
and held by 26 WorldCat member libraries worldwide
La relativité générale reste une théorie difficile, mal comprise, hermétique. L'auteur présente de façon accessible à tout un chacun comment, dans quel contexte et au prix de quels efforts elle est née et a évolué depuis le début du XXe siècle. Il rentre dans le détail de l'histoire des techniques mathématiques, physiques et observationnelles, dans le cadre de l'évolution de la physique
more
fewer
Audience Level
0

1
Kids
General
Special
Audience level: 0.55 (from 0.01 for The Twelft ... to 0.93 for Das Geheim ...)
Related Identities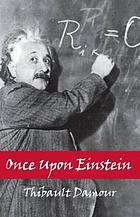 Alternative Names
Damour, T.

Thibault Damour físico francés

Thibault Damour fizician francez

Thibault Damour Frans natuurkundige

Thibault Damour fransk fysikar

Thibault Damour fransk fysiker

Thibault Damour französischer theoretischer Physiker

Thibault Damour French physicist

Thibault Damour physicien français

Дамур, Тибо, 1951-

تیبائولت دامور

تیبائولت دامور فیزیک‌دان فرانسوی

チボー・ダムール

蒂博·達穆爾

Languages
Covers