Miłoszewski, Zygmunt 1976-
Most widely held works about Zygmunt Miłoszewski
Most widely held works by Zygmunt Miłoszewski
A grain of truth
by
Zygmunt Miłoszewski
( Book )
51 editions published between
2011
and 2018 in 9 languages and held by 614 WorldCat member libraries worldwide
It is spring 2009, and prosecutor Teodor Szacki is no longer working in Warsaw--he has said goodbye to his family and to his career in the capital and moved to Sandomierz, a picturesque town full of churches and museums. Hoping to start a "brave new life," Szacki instead finds himself investigating a strange murder case in surroundings both alien and unfriendly. The victim is found brutally murdered, her body drained of blood. The killing bears the hallmarks of legendary Jewish ritual slaughter, prompting a wave of anti-Semitic paranoia in the town, where everyone knows everyone. The murdered woman's husband is bereft, but when Szacki discovers that she had a lover, the husband becomes the prime suspect. Before there's time to arrest him, he is found murdered in similar circumstances. In his investigation Szacki must wrestle with the painful tangle of Polish-Jewish relations and something that happened more than sixty years earlier
Entanglement
by
Zygmunt Miłoszewski
( Book )
50 editions published between
2007
and 2018 in 8 languages and held by 577 WorldCat member libraries worldwide
The morning after a grueling psychotherapy session in a Warsaw monastery, Henryk Telak is found dead. World-weary State Prosecutor Teodor Szacki feels that life has passed him by, but this case changes everything. His search for the killer unearths another murder that took place twenty years earlier-- and to facts that, for his own safety, he'd be better off not knowing
Rage
by
Zygmunt Miłoszewski
( Book )
22 editions published between
2014
and 2018 in 4 languages and held by 228 WorldCat member libraries worldwide
"All eyes are on famous prosecutor Teodor Szacki when he investigates a skeleton discovered at a construction site in the idyllic Polish city of Olsztyn. Old bones come as no shock to anyone in this part of Poland, but it turns out these remains are fresh, the flesh chemically removed. Szacki questions the dead man's wife, only to be left with a suspicion she's hiding something. Then another victim surfaces--a violent husband, alive but maimed--giving rise to a theory: someone's targeting domestic abusers. And as new clues bring the murderer closer to those Szacki holds dear, he begins to understand the terrible rage that drives people to kill. From acclaimed Polish crime writer Zygmunt Miloszewski comes a gritty, atmospheric page-turner that poses the question, what drives a sane man to murder."--Page [4] of cover
Bezcenny
by
Zygmunt Miłoszewski
( Book )
14 editions published between
2013
and 2018 in 3 languages and held by 85 WorldCat member libraries worldwide
Thriller. Lige efter krigen i 1945 begynder der jagten på de forsvundne kunstværker og skjulte naziskatte rundt om europæiske lande
Domofon
by
Zygmunt Miłoszewski
( Book )
17 editions published between
2005
and 2015 in
Polish
and
German
and held by 62 WorldCat member libraries worldwide
Makabryczne halucynacje, koszmary senne, dziwne glosy, tajemniczy lokatorzy i zagadkowe ofiary - Domofon, thriller rozgrywajacy sie na pozornie zwyczajnym warszawskim osiedlu, to frapujaca i przerazajaca, ale tez pelna humoru lektura. Do paskudnego bloku na Bródnie wprowadza sie dwoje mlodych ludzi, swiezo poslubieni Agnieszka i Robert, którzy przyjechali do stolicy z prowincji, by zaczac lepsze zycie. Ich pierwszy dzien w nowym miejscu nie zaczyna sie jednak zbyt dobrze: na zalanej krwia klatce schodowej lezy czlowiek bez glowy... Ale to dopiero poczatek koszmaru. Groza narasta, az w koncu blok doslownie zamyka sie, wiezac wewnatrz bezradnych mieszkanców. Czy to tylko zbiorowa histeria, czy tez dziala ciazaca na tym miejscu klatwa? Zagadke usiluje rozwiklac trójka bohaterów: Agnieszka, której maz ulega mrocznym silom czajacym sie w bloku, dziennikarz alkoholik Wiktor, który zmaga sie z wlasna traumatyczna przeszloscia, i sklócony z rodzicami maturzysta Kamil. Czego dowiedza sie o strasznym domu i o samych sobie?
Jak zawsze
by
Zygmunt Miłoszewski
( Book )
5 editions published in
2017
in
Polish
and held by 28 WorldCat member libraries worldwide
"Komedia ironiczno-romantyczna o parze, która dostała szansę przeżycia jeszcze raz swojej miłości. I o narodzie, który dostał szansę przeżycia jeszcze raz swojej historii. I o tym, co z tego wynikło."--Page 4 of cover
Ein Körnchen Wahrheit Teodor Szacki ermittelt weiter
by
Zygmunt Miłoszewski
( Book )
4 editions published in
2016
in
German
and
Undetermined
and held by 16 WorldCat member libraries worldwide
Staatsanwalt Szacki hat sich ins idyllische Sandomierz versetzen lassen. Da erschüttert der Mord an einer bekannten Bürgerin die Einwohner der Stadt. Die Tat ist wie ein Ritualmord gestaltet und heizt die antisemitisch gefärbte Stimmung an. - (EKZ)
Priceless
by
Zygmunt Miłoszewski
( Book )
1 edition published in
2018
in
English
and held by 13 WorldCat member libraries worldwide
"It begins with a tantalizing clue: a recent photograph taken of Raphael's Portrait of a Young Man - one of the most priceless masterworks ever plundered by the Nazis, which disappeared and was believed destroyed. Now, with proof of its existence, the Polish government wants it back. One wrong move and it could vanish forever. Because bound together with the missing artwork are secrets that have remained buried for a reason. That's why they've enlisted a woman with the right motives: Dr. Zofia Lorentz, a tenacious historian driven by academic pride and personal desire. Zofia isn't going at it alone. Her crack team of experts includes an ex-paramilitary tactical genius, a slick art dealer with black-market connections, and a beautiful aristocrat who is also a family outcast and one of the most ingenious art thieves in the world. From an isolated mansion in New York to Poland's Tatra Mountains to the frozen Scandinavian wilderness, they're following the trail of an increasingly elusive puzzle - right into a trap that is a cunning work of art in itself."--Page [4] of cover
El caso Telak
by
Zygmunt Miłoszewski
( )
3 editions published in
2015
in
Spanish
and held by 11 WorldCat member libraries worldwide
Miloszewski: recuerde ese nombre Un principio propio de Agatha Christie y un final digno de Dostoievski (Paris Match). Una novela adictiva, ganadora del Premio Nagroda Wielkiego Kalibru (Mejor Novela Negra del A©Þno).Un domingo de primavera, en un antiguo monasterio de Varsovia, se celebra una terapia de grupo. La tranquilidad dura poco tiempo ya que uno de los participantes aparece muerto con un asador clavado en el ojo. El fiscal Teodor Szacki asume las riendas de este Caso Telak , que casi acabar©Øa por superarlo y que lo distraer©Øa de la rutina de su trabajo, de las noticias de Varsovia y del mundo y de su mon©Øotono matrimonio. La mec©Øanica de la terapia de constelaciones es el punto de partida: Åpuede alguno de los participantes haber ca©Øido preso de su propia ficci©Øon?La cr©Øitica ha dicho... Excelente novela... Miloszewski es el ©Øultimo de los representantes de lujo de la novela negra... Sus apasionantes y a un mismo tiempo inteligentes y nada previsibles tramas de misterios criminales radiograf©Øian y desnudan los entresijos pol©Øiticos, econ©Øomicos y de poder de cada sociedad. Mercedes Monmany, ABC cultural Un estupendo thriller que no disimula su filiaci©Øon tanto con los whoddunits de Agatha Christie como con las enrevesadas tramas de Henning Mankell... Miloszewski, como su maestro Larsson, apoya su ficci©Øon en un personaje excepcional: el fiscal Teodor Szacki... Esta primera parte de una trilog©Øia me ha abierto el apetito para las siguientes entregas. Manuel Rodr©Øiguez Rivero, Babelia ÅC©Øomo se pronuncia Zygmunt Miloszewski? Algo as©Øi como "Simunt Milosequi" que en idioma de Noirlandia significa "estrella fulgurante". Es el responsable de una trilog©Øia que ha roto moldes. Carlos Sala, La Raz©Øon Esta Varsovia moderna pero marcada por su pasado y este atractivo pero cansado fiscal al l©Øimite del caos emocional ponen sobre la mesa lo que se cuece en novela negra polaca. Aviso: el corte est©Øa al punto de sal. Susana Paz, Regi©Øo 7 Miloszewski, la gran revelaci©Øon. El correo gallego He aqu©Øi una gran novela negra, un descubrimiento para saborear. Resulta imposible abandonar su lectura por lo bien dosificado que esta el suspense, la sorprendente estructura de mu©Þnecas rusas y lo apasionado, atractivo y diferente que resulta el protagonista. Eric Vernassiere, L'Express.fr, blog Les 8 plumes (Francia) El caso Telak no solo es una novela negra brillante. Tiene todo lo que uno le pide a un thriller. Abre con un asesinato y r©Øapidamente se convierte en una trama envolvente y ©Øagil con buenos personajes y vividas descripciones de la Varsovia actual. Pero es la vida personal insatisfactoria y el caos emocional de su protagonista lo que hace que las expectativas del lector se vean superadas. Oxford Times (Reino Unido) Uno de los libros m©Øas apasionantes publicados el a©Þno pasado y un retrato fascinante de la Polonia contempor©Øanea. Yann Plougastel, Le Monde (Francia) Un viento del este sopla por el c©Øirculo polar. Miloszewski, recuerde ese nombre. Un verdadero talento. La Voix du Nord (Francia) Si est©Øa buscando una novela negra europea, ponga El caso Telak al principio de su lista. El escenario es la Varsovia actual pero la atm©Øosfera a veces es gris y desoladora como en un thriller de esp©Øias de la Guerra Fr©Øia. Steve Glassman, Booklist (Estados Unidos) Una exquisita historia criminal contempor©Øanea. La literatura polaca tiene un nuevo maestro. Zygmunt Miloszewski es un gran escritor. Jerzy Pilch (Polonia) Teodor Szacki es una suerte de inspector Colombo polaco. El caso Telak es una novela negra que no se debe dejar de leer. Bernard Poirette, RTL
Priceless
by
Zygmunt Miłoszewski
( Recording )
1 edition published in
2018
in
English
and held by 8 WorldCat member libraries worldwide
A priceless masterpiece disappeared and believed to have been destroyed was noticed in a recent photograph
more
fewer
Audience Level
0

1
Kids
General
Special
Audience level: 0.44 (from 0.28 for Priceless ... to 0.98 for Uwikłanie ...)
Related Identities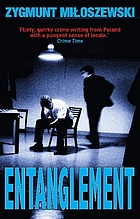 Covers
Alternative Names
Bracia Miłoszewscy.

Mìlašèŭskì, Zygmunt

Miloševski, Zigmunt

Miloševs'kij, Zigmunt.

Miłoszewski, Z. 1976-

Milŵšebsqiy, Ziygmẇnt.

Zygmunt Miłoszewski Journaliste et écrivain polonais, auteur de romans policiers

Zygmunt Miłoszewski Polish journalist and writer.

Zygmunt Miłoszewski polský spisovatel a novinář

Zygmunt Miłoszewski Pools journalist

Зигмунт Мілошевський

Милошевский, Зигмунд

Мілашэўскі, Зыгмунт

מילושבסקי, זיגמונט 1976-

ミウォシェフスキ, ジグムント

Languages