Macki, Erik J. 1969-
Most widely held works by Erik J Macki
Let sleeping dogs lie
by
Mirjam Pressler
( Book )
3 editions published between
2006
and 2007 in
English
and held by 500 WorldCat member libraries worldwide
After a school trip to Israel, Johanna discover's that her German grandfather acquired a clothing store during the Nazi regime according to the anti-Semitic laws of the Third Reich rather than starting it himself as her family has always stated. She struggles with whether to keep silent or to question her family's history
Farewell to freedom
by
Sara Bldel
( Book )
2 editions published in
2012
in
English
and held by 410 WorldCat member libraries worldwide
"A young woman's body is found on the street in Copenhagen's Vesterbro district, her throat slit, and the media is clamoring for the grisly details. Detective Louise Rick is investigating the gruesome murder when her friend, Camilla Lind, calls. Louise assumes it is because Camilla, a crime reporter on a morning paper, wants to be the first to hear of any juicy new developments. Instead, her distraught friend reveals that her ten year-old son found an abandoned baby on his way to school. As Louise digs deeper into the murder and the mysterious foundling, every clue uncovered points to organized human trafficking from Eastern Europe, run by ruthless gangsters who despise women and won't hesitate to kill anyone who gets in their way."-- From dust jacket
Only one life
by
Sara Bldel
( Book )
3 editions published in
2013
in
English
and held by 49 WorldCat member libraries worldwide
Inspector Louise Rick is called out to Holbraek Fjord when a young immigrant girl is found drowned, a piece of concrete tied around her waist and two mysterious circular patches on the back of her neck. Navigating the complex web of family and community ties in Copenhagen's tightly knit ethnic communities, Louise must find the remorseless predator, or predators, before it is too late
For every solution, a problem
by
Kerstin Gier
( Book )
1 edition published in
2013
in
English
and held by 27 WorldCat member libraries worldwide
In her early thirties with a nosediving career and no hope for her future, trashy-romance writer Gerri grabs a shoebox full of sleeping pills and a big bottle of vodka, ready to transition from ?tragic loser? to ?tragic loss.? With the final curtain about to drop, she isn't squeamish about letting people know what she really thinks of them, and dashes off scathing farewell letters. To her mother, for torturing her all of her life (and to thank her for the pills!) To her annoying, beautiful, blonde sisters. To her newly pregnant, tone-deaf friend. To her tasteless?if sexy?new editor-in-chief. To family. To friends. To everyone. But her toxic concoction doesn't take, and she wakes up to find the truth has not set her free, but instead has snagged her in glowering web. Is it possible to get along with people once they know your real opinion of them? Gerri is going to have to
Morgue drawer for rent
by
Jutta Profijt
( Book )
1 edition published in
2012
in
English
and held by 21 WorldCat member libraries worldwide
Wishing to return to his peaceful life and spend more time with his girlfriend, coroner Martin Gänsewein wants nothing more than to rid himself of his foulmouthed, undead sidekick, Pascha. Unfortunately, such things are easier said than done. When bodies at the local cemetery begin to turn up without organs, Martin and Pascha are once again forced into partnership to solve the case. With the stakes higher and body count greater, Martin realizes he has no hope of ever finding solace until he solves one last crime
Morgue drawer next door
by
Jutta Profijt
( Book )
2 editions published in
2012
in
English
and held by 17 WorldCat member libraries worldwide
As crime fighting teams go, Dr. Martin Gansewein and Pascha are an unlikely pair. Martin is a shy, scrupulous forensic pathologist who spends his days autopsying dead bodies, while Pascha is the gregarious ghost of a former car thief whose murder Martin reluctantly helped solve. After narrowly surviving that adventure, Martin wants nothing more than a little peace and quiet. Unfortunately, the good doctor is out of luck thanks to the arrival of Marlene, the spirit of a nun killed in a fire that ravaged her medieval convent and home. Though disappointed that his new sidekick isn't a leggy blonde, Pascha empathizes with Marlene---and suspects that the deadly fire was no accident. The ghosts are determined to uncover the truth, but they can't do it without Martin's help
For every solution, a problem
by
Kerstin Gier
( Recording )
2 editions published in
2013
in
English
and held by 17 WorldCat member libraries worldwide
In her early thirties with a nosediving career and no hope for her future, trashy-romance writer Gerri grabs a shoebox full of sleeping pills and a big bottle of vodka, ready to transition from "tragic loser" to "tragic loss." With the final curtain about to drop, she isn't squeamish about letting people know what she really thinks of them, and dashes off scathing farewell letters. To her mother, for torturing her all of her life (and to thank her for the pills!) To her annoying, beautiful, blonde sisters. To her newly pregnant, tone-deaf friend. To her tasteless -- if sexy -- new editor-in-chief. To family. To friends. To everyone. But her toxic concoction doesn't take, and she wakes up to find the truth has not set her free, but instead has snagged her in a glowering web. Is it possible to get along with people once they know your real opinion of them? Gerri is going to have to find a way to make things right with everyone...even if it kills her
Dust angel
by
Jutta Profijt
( Book )
1 edition published in
2013
in
English
and held by 15 WorldCat member libraries worldwide
Job weg, Freund weg und die Wohnung so gut wie weg. Aber Corinna (31) wäre nicht die Enkelin ihrer patenten westfälischen Oma, wenn sie sich nicht flugs an die Neugestaltung ihres Lebens machen würde, und zwar mit einer genialen Geschäftsidee: Sie gründet die äSchmutzengelä - ein Dienstleistungsunternehmen, das gestressten Managern und unbeholfenen Muttersöhnchen die Organisation des lästigen Haushalts und der anstrengenden Freizeit abnimmt. Der Erfolg lässt nicht lange auf sich warten, die Aufträge purzeln nur so herein, alles läuft bestens. Bis zu dem Tag, an dem im Haus des peniblen Neukunden plötzlich ein Toter liegt. Besorgt um das Image ihrer Firma beschliesst Corinna: Der muss weg! Doch wie und wohin?
Morgue drawer next door
by
Jutta Profijt
( Recording )
2 editions published in
2012
in
English
and held by 13 WorldCat member libraries worldwide
Forensic pathologist Dr. Martin Ga·nsewein wants a quiet life after solving the murder of Pascha, a former car thief. But then another ghost, Marlene, comes to the doctor. She was killed in a fire that ravaged her medieval convent and home. Pascha empathizes with Marlene and suspects that the deadly fire was no accident. Will Martin and his girlfriend Birgit help the ghosts solve this newest crime?
Morgue drawer : do not enter!
by
Jutta Profijt
( Book )
1 edition published in
2014
in
English
and held by 11 WorldCat member libraries worldwide
Pascha, the snarky ghost of a deceased twenty-five-year-old, finds himself stuck between this world and the next with no one to talk to aside from Martin, a coroner with the dubious gift of being able to hear the dead. Since Martin prefers his girlfriend's company to Pascha's, Pascha is stuck haunting hospital rooms and accident sites hoping to meet a spirit who will stay a while and keep him company. He gets more than he bargained for when four small children are gravely injured in a car accident and put into induced comas, letting their anxious little spirits out to roam. What's more, the young teacher who had been driving the totaled van seems to have disappeared into thin air. Pascha suddenly becomes not only a reluctant babysitter but an unlikely detective in this quirky, engrossing murder mystery from celebrated German author Jutta Profijt
more
fewer
Audience Level
0

1
Kids
General
Special
Audience level: 0.32 (from 0.24 for Morgue dra ... to 0.97 for Morgue dra ...)
Related Identities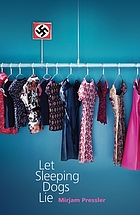 Languages
Covers