Murphy, Robert P. (Robert Patrick) 1976-
Most widely held works about Robert P Murphy
Most widely held works by Robert P Murphy
The politically incorrect guide to capitalism
by
Robert P Murphy
( Book )
9 editions published between
2007
and 2015 in 3 languages and held by 489 WorldCat member libraries worldwide
An irreverent look at capitalism that exposes common fallacies and offers simple explanations of complex issues related to capitalism and its role in the world's economy
The politically incorrect guide to the Great Depression and the New Deal
by
Robert P Murphy
( )
9 editions published between
2009
and 2015 in
English
and
Japanese
and held by 459 WorldCat member libraries worldwide
Provides irrefutable evidence that not only did government interference with the market cause the Great Depression (and our current economic collapse), but Herbert Hoover's and Franklin Delano Roosevelt's big government policies afterwards made it much longer and much worse.--From publisher description
Choice : cooperation, enterprise, and human action
by
Robert P Murphy
( )
7 editions published in
2015
in
English
and held by 307 WorldCat member libraries worldwide
"Government intervention in the institutions of money and banking sowed the seeds of the worldwide asset bubble in the early and mid-2000s, which could only result in a giant crash according to this line of thought. Once the crash had occurred, the recession was prolonged by yet more government intervention in the form of massive deficits, expansion of unemployment payments, and ever more regulations on businesses in the private sector. Only by returning to a genuinely free market, based on the classical liberal notions of private property, civil liberties, and peace among nations, can we return to the prosperity and steady improvement of living conditions that we had come to take for granted. Those who endorse the Austrian analysis believe it is crucial to spread this message, not just to academics, but to the intelligent layperson as well. That is the primary function of the present volume. It provides an introduction and an invitation to the most important work of arguably the most important Austrian economist"--
The politically incorrect guide to capitalism
by
Robert P Murphy
( )
10 editions published between
2006
and 2009 in
English
and held by 170 WorldCat member libraries worldwide
Participating in the economy is a part of everyday life; yet much of what is accepted as fact is wrong. Keynesian schoolteachers and the liberal media have filled the world with politically correct errors that Professor Robert Murphy sets straight in this newest edition to the P.I. series that pulls no punches
The politically incorrect guide to the Great Depression and the New Deal
by
Robert P Murphy
( )
11 editions published in
2009
in
English
and held by 131 WorldCat member libraries worldwide
Provides irrefutable evidence that not only did government interference with the market cause the Great Depression (and our current economic collapse), but Herbert Hoover's and Franklin Delano Roosevelt's big government policies afterwards made it much longer and much worse.--From publisher description
Tax payers and tax takers : is the trend of tax progressivity in the US emerging in Canada?
by
Jason Clemens
( )
4 editions published in
2013
in
English
and held by 50 WorldCat member libraries worldwide
The traditional definition of tax progressivity is being rewritten and this change could have serious ramifications for democratic decision-making. Up to now, tax progressivity has meant that, as an individual or household earned more income, they not only paid more in taxes but also paid a proportionately higher share of their income in taxes. The concept of tax progressivity is being fundamentally altered so that, rather than a progressively increasing tax burden, there is a fairly large and growing group of people who do not contribute to taxes in any meaningful way and another group of people, fairly small, that carry the overwhelming burden of taxes
Ocular circulation and neovascularization
by
David Benezra
( )
2 editions published in
1987
in
English
and held by 48 WorldCat member libraries worldwide
Neovascularization isanormalphaseoftissue repair mechanlsm. In theeye, however, sproutingofnewvessels withinavasculartissuesandtheirgreatertendencytobleed havedetrimentaleffectsonvision. Diabeticretinopathy, corneal neovascularization, age-related macular degeneration, retinal veinocclusion, andretinopathy of prematurity are major causes of blindness. In all, uncontrolled proliferationofnewvesselsistheunderlying pathologicalcauseleadingtotheinexorablelossofvision. Development of lasertechnologiesandtheir wide use in ophthalmology have broughtsomehopeforthetreqtment of these diseases. However, itbecameevident that direct closureofthenewvesselsand/orablationoflargepartsof thetissuearenotidealsolutionstotheproblem. Recent advances in molecular biology and genetic engineering have fosteredbasic knowledge regarding the growth factors and intercellular messengers and their association with theproliferationofnew blood vessels. These latter findings sparked a renewed interest in Michaelson's "X-factor" ofocular neovascularization and opened avenues for possible innovative therapeutic approaches. Therefore, the suggestion to organize an international gathering of clinicians and scientists interested in problems of ocular circulation and neovascularization was received with great enthusiasm. Unanimously, it wasdecidedtodedicatethe symposium to Professor I.C. Michaelson, theinnovativescientist, the greatclinician, theindefatigableteacher, andaboveall, thewonderfulhumanbeing. The meeting was highlighted by the outstanding atmosphere of friendshipandscientif·ic exchanges. This book mirrors the information delivered and includes a selectionofpapersfromthescientificprogram. Theorganizationofthismeetingandthepublicationof thebookwouldnothavebeenpossiblewithouttheharmonious teameffortsmadebytheInternational, ScientificandLocal Committees. I am thankful tothe chairpersons of the varioussessionsfortheirtime, keeninterestandendeavor for the realizationofahighscientific level. I also deeplyacknowledgethehelpand & upportofArnallPatz, Bob Murphy, BertGlaser, RobertFrank, LarryHjelmeland, Gordon Klintworth, Neville Welsh, Charles Riva, Alec Garner, DesmondArcher, EphraimFriedman, MyronYanoff, MosheLahav, Willem Manschot, Hans-WaltherLarsenand Masanobu Uyama. The powerful stimulus of Hanan Zauberman, Steve Ryan, GabrielCoscas, GiselleSoubrane, MosheIvry, YuvalYassur and Sue and Peter Ballenwasmost instrumental in the realizationofthese"dreams". Asalways, Iwasfortunate tohavetheinvaluablecollaborationofmyloyalassistants: Evelyne Cohen, Genia Maftzir, Israel Barzel, Arieh Zelikovitch, andJudithBenEzra. Thesmoothrunningofthe meeting andtimelyeditingofthebookcouldnothave been possible without theincalculablehelp and indefatigable typing and councilofJudithFisher, whoseconded me in selectingthepapersandeditingthebook
The economic costs of increased marginal tax rates in Canada
by
Robert P Murphy
( )
3 editions published in
2013
in
English
and held by 45 WorldCat member libraries worldwide
"At a superficial level, and considering only the top federal personal income tax rate, Canada appears to enjoy the lightest tax burden among the G7 countries and Australia. However, this appearance is deceptive. Canada places a relatively greater emphasis on provincial taxation than do other countries in its peer group. Another complication is that the personal income tax thresholds in Canada are typically lower than in the other reference countries, meaning that the top rate may not be decisive. In other words, it is misleading to look only at the top marginal rate when it kicks in at different rates around the world. In some coutries, like Canada, the top marginal tax rate begins at a low dollar amount whereas in other countries, the top rate begins at a very high dollar amount. In Canada's case, the federal top rate is low compared to other peer countries and the threshold at which that top rate kicks in is also low compared to other peer countries. Once adjustments for these two factors are made, Canada falls to somewhere in the middle of the group of peer countries, under scoring the need for provincial tax relief if Canada wishes to build on past reforms and its current success"--Page [8]
more
fewer
Audience Level
0

1
Kids
General
Special
Audience level: 0.31 (from 0.21 for The politi ... to 0.88 for Anti-Piket ...)
Related Identities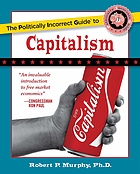 Covers
Alternative Names
Murphy, R. P. 1976-

Murphy, Robert

Murphy, Robert P.

Murphy, Robert Patrick

Murphy, Robert Patrick 1976-

Robert Murphy

Robert P. Murphy Amerikaans econoom

Robert P. Murphy amerikansk historikar og økonom

Robert P. Murphy amerikansk historiker och ekonom

Robert P. Murphy amerikansk historiker og økonom

Robert P. Murphy economista estadounidense

Robert P. Murphy economista statunitense

Robert P. Murphy économiste américain

רוברט מרפי כלכלן אמריקאי

رابرت پی. مورفی اقتصاددان آمریکایی

روبرت ميرفي عالم اقتصاد أمريكي

머피, 로버트

머피, 로버트 P

マーフィー, ロバート P.

羅伯特·墨菲

Languages