Mukherjee, Siddhartha
Most widely held works about Siddhartha Mukherjee
more
fewer
Most widely held works by Siddhartha Mukherjee
The emperor of all maladies : a biography of cancer
by
Siddhartha Mukherjee
( Book )
114 editions published between
1983
and 2017 in 17 languages and held by 4,893 WorldCat member libraries worldwide
A "biography" of cancer from its origins to the epic battle to cure, control, and conquer it. A combination of medical history, cutting-edge science, and narrative journalism that transforms the listener's understanding of cancer and much of the world around them. The author provides a glimpse into the future of cancer treatments and offers a bold new perspective on the way doctors, scientists, philosophers, and lay people have observed and understood the human body for millennia
A brief history of everyone who ever lived : the human story retold through our genes
by
Adam Rutherford
( Book )
4 editions published between
2017
and 2018 in
English
and held by 1,048 WorldCat member libraries worldwide
In our unique genomes, every one of us carries the story of our species--births, deaths, disease, war, famine, migration, and a lot of sex. But those stories have always been locked away--until now. Who are our ancestors? Where did they come from? Geneticists have suddenly become historians, and the hard evidence in our DNA has blown the lid off what we thought we knew. Acclaimed science writer Adam Rutherford explains exactly how genomics is completely rewriting the human story--from 100,000 years ago to the present. A Brief History of Everyone Who Ever Lived will upend your thinking on Neanderthals, evolution, royalty, race, and even redheads. (For example, we now know that at least four human species once roamed the earth.) Plus, here is the remarkable, controversial story of how our genes made their way to the Americas--one that's still being written, as ever more of us have our DNA sequenced. Rutherford closes with "A Short Introduction to the Future of Humankind," filled with provocative questions that we're on the cusp of answering: Are we still in the grasp of natural selection? Are we evolving for better or worse? And ... where do we go from here?
The emperor of all maladies : [a biography of cancer]
by
Siddhartha Mukherjee
( Recording )
24 editions published between
2010
and 2015 in
English
and held by 833 WorldCat member libraries worldwide
A stunning combination of medical history, cutting-edge science, and narrative journalism that transforms the listener's understanding of cancer and much of the world around them. Siddhartha Mukherjee provides a fascinating glimpse into the future of cancer treatments and offers a bold new perspective on the way doctors, scientists, philosophers, and lay people have observed and understood the human body for millennia
The gene : an intimate history
by
Siddhartha Mukherjee
( Book )
30 editions published between
2016
and 2017 in 3 languages and held by 816 WorldCat member libraries worldwide
The story of the gene begins in earnest in an obscure Augustinian abbey in Moravia in 1856 where Gregor Mendel, a monk working with pea plants, stumbles on the idea of a "unit of heredity." It intersects with Darwin's theory of evolution, and collides with the horrors of Nazi eugenics in the 1940s. The gene transforms postwar biology. It invades discourses concerning race and identity and provides startling answers to some of the most potent questions coursing through our political and cultural realms. It reorganizes our understanding of sexuality, gender identity, sexual orientation, temperament, choice, and free will, thus raising the most urgent questions affecting our personal realms. Above all, the story of the gene is driven by human ingenuity and obsessive minds -- from Mendel and Darwin to Francis Crick, James Watson, and Rosalind Franklin to the thousands of scientists working today to understand the code of codes. Woven through the book is the story of author Mukherjee's own family and its recurring pattern of schizophrenia, a haunting reminder that the science of genetics is not confined to the laboratory but is vitally relevant to everyday lives. The moral complexity of genetics reverberates even more urgently today as we learn to "read" and "write" the human genome -- unleashing the potential to change the fates and identities of our children and our children's children
The laws of medicine : field notes from an uncertain science
by
Siddhartha Mukherjee
( Book )
17 editions published between
2015
and 2018 in 7 languages and held by 808 WorldCat member libraries worldwide
Over a decade ago, when Siddhartha Mukherjee was a young, exhausted, and isolated medical resident, he discovered a book that would forever change the way he understood the medical profession. The book, The Youngest Science, forced Dr. Mukherjee to ask himself an urgent, fundamental question: Is medicine a "science"? Sciences must have laws -- statements of truth based on repeated experiments that describe some universal attribute of nature. But does medicine have laws like other sciences? Dr. Mukherjee has spent his career pondering this question -- a question that would ultimately produce some of most serious thinking he would do around the tenets of his discipline -- culminating in The Laws of Medicine. In this treatise, he investigates the most perplexing and illuminating cases of his career that ultimately led him to identify the three key principles that govern medicine. Brimming with historical details and modern medical wonders, this important book is a glimpse into the struggles and Eureka! moments that people outside of the medical profession rarely see
The gene : an intimate history
by
Siddhartha Mukherjee
( Recording )
13 editions published in
2016
in
English
and held by 670 WorldCat member libraries worldwide
From the Pulitzer Prize-winning, bestselling author of The Emperor of All Maladies, a magnificent history of the gene and a response to the defining question of the future: What becomes of being human when we learn to 'read' and 'write' our own genetic information?
The best American science and nature writing 2013
( Book )
2 editions published in
2013
in
English
and held by 390 WorldCat member libraries worldwide
Presents fictional and non-fictional stories written by American authors that discuss topics in science and nature
The laws of medicine : field notes from an uncertain science
by
Siddhartha Mukherjee
( Recording )
4 editions published in
2015
in
English
and held by 143 WorldCat member libraries worldwide
Essential, required reading for doctors and patients alike. Pulitzer Prize-winning author and one of the world's premiere cancer researchers reveals an urgent philosophy on the little-known principles that govern medicine - and how understanding these principles can empower us all. "The Laws of Medicine" is a critical read, not just for those in the medical profession, but for everyone who is moved to better understand how their health and well-being is being treated. Ultimately, this book lays the groundwork for a new way of understanding medicine, now and into the future
El gen : una historia personal
by
Siddhartha Mukherjee
( Book )
8 editions published between
2016
and 2017 in 4 languages and held by 69 WorldCat member libraries worldwide
Magnífico, necesario y absorbente, Siddhartha Mukherjee, ganador del Premio Pulitzer por El emperador de todos los males, ha escrito una extraordinaria biografía del gen y una respuesta a una de las cuestiones más relevantes del futuro: ¿Qué significa ser humano cuando se es capaz de manipular la información genética? La historia de cómo hemos descifrado el código fuente que nos hace humanos abarca todo el planeta y varios siglos -y probablemente defina el futuro que nos espera. Entrelazando ciencia, historia y vivencias personales, Mukherjee hace un recorrido por el nacimiento, el crecimiento, la influencia y el futuro de una de las ideas más poderosas y peligrosas de la historia de la ciencia: el gen, la unidad fundamental de la herencia, y la unidad básica de toda la información biológica. Desde Aristóteles y Pitágoras, pasando por los descubrimientos relegados de Mendel, la revolución de Darwin, Watson y Franklin, hasta los avances más innovadores llevados a cabo en nuestro siglo, este libro nos recuerda cómo la genética nos afecta a todos cada día. Reseñas: Esta quizá sea la mejor historia de suspense jamás contada, una búsqueda de milenios dirigida por mil exploradores, de Aristóteles a Mendel a Francis Collins, tras el enigma en el centro de cada célula. Como El emperador de todos los males, El gen es prodigiosa, torrencial y finalmente transcendente. Si te interesa en qué consiste ser humano hoy y en todos los mañanas que vengan, tienes que leer este libro. Anthony Doerr, autor de La luz que no puedes ver El gen es una magnífica síntesis de la ciencia de la vida, y nos obliga a enfrentarnos con el núcleo de esa ciencia, así como con los retos éticos y filosóficos a nuestra idea de en qué consiste ser humano. Paul Berg, Premio Nobel de Química Magnífico... La historia del gen se ha contado por trozos de distintas maneras, pero nunca con la perspectiva y la grandeza que Mukherjee aporta a su historia. James Gleick, New York Times Book Review
more
fewer
Audience Level
0

1
Kids
General
Special
Audience level: 0.22 (from 0.03 for Cancer : t ... to 0.93 for Die Gene E ...)
Related Identities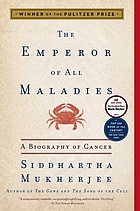 Covers
Alternative Names
Mukherjee, S. 1970-

Mukherjee, Siddharta

Mukherjee, Siddhartha

Siddhartha Mukherjee

Siddhartha Mukherjee 1970-

Siddhartha Mukherjee Amerikaans arts

Siddhartha Mukherjee dokter asal Amerika Serikat

Siddhartha Mukherjee Indian American physician and writer

Siddhartha Mukherjee medico e saggista indiano

Siddhartha Mukherjee US-amerikanisch-indischer Arzt und Schriftsteller

Мукерджи, Сиддхартха

Сиддхартха Мукерджи

Сіддгартха Мукерджі

מוחרג'י, סידהרתא

סידהרתא מוחרג'י

سیدارتا موکرجی پزشک و نویسندهٔ آمریکایی-هندی

सिद्धार्थ मुखर्जी

সিদ্ধার্থ মুখোপাধ্যায়

সিদ্ধার্থ মুখার্জী ভারতীয় আমেরিকান চিকিৎসক ও লেখক

ସିଦ୍ଧର୍ଥ ମୁଖର୍ଜୀ ଭାରତୀୟ ଆମେରିକୀୟ ଚିକିତ୍ସକ ଓ ଲେଖକ

சித்தார்த்தா முக்கர்ஜி

సిద్ధార్థ ముఖర్జీ ఇండియన్ అమెరికన్ వైద్యుడు మరియు రచయిత

സിദ്ധാർത്ഥ മുഖർജി

무케르지, 싯다르타 1970-

シッダールタ・ムカジー

ムカジー, シッダールタ

辛達塔·穆克吉

Languages