Adler-Olsen, Jussi
Most widely held works about Jussi Adler-Olsen
more
fewer
Most widely held works by Jussi Adler-Olsen
The keeper of lost causes
by
Jussi Adler-Olsen
( Book )
133 editions published between
2007
and 2018 in 10 languages and held by 3,026 WorldCat member libraries worldwide
Chief detective Carl Mørck, recovering from what he thought was a career-destroying gunshot wound, is relegated to cold cases and becomes immersed in the five-year disappearance of a politician
The absent one
by
Jussi Adler-Olsen
( Book )
95 editions published between
2008
and 2020 in 8 languages and held by 2,256 WorldCat member libraries worldwide
Assigned to run Department Q, Detective Carl Mørck is satisfied with picking up long-cold leads. So he's naturally intrigued when a closed double murder case lands on his desk. And when Mørck reopens the files, it becomes clear that all is not what it seems. The supposedly solved case leads him to Kimmie, a woman living on the streets, stealing to survive. Kimmie has secrets that influential individuals would kill to keep buried. (Bestseller)
The purity of vengeance : a Department Q novel
by
Jussi Adler-Olsen
( Book )
84 editions published between
2010
and 2018 in 10 languages and held by 2,111 WorldCat member libraries worldwide
"International superstar Jussi Adler-Olsen, with more than fourteen million copies of his books sold worldwide, delivers his latest in the bestselling Department Q series? a perplexing cold case with sinister modern-day consequences. In 1987, Nete Hermansen plans revenge on those who abused her in her youth, including Curt Wad, a charismatic surgeon who was part of a movement to sterilize wayward girls in 1950s Denmark. More than twenty years later, Detective Carl ; already has plenty on his mind when he is presented with the case of a brothel owner, a woman named Rita, who went missing in the eighties: New evidence has emerged in the case that destroyed the lives of his two partners-the case that sent Carl to Department Q. But when Carl's assistants, Assad and Rose, learn that numerous other people disappeared around the same weekend as Rita, Carl takes notice. As they sift through the disappearances, they get closer and closer to Curt Wad, who is more determined than ever to see the vision of his youth take hold and whose brutal treatment of Nete and others like her is only one small part of his capacity for evil."--
A conspiracy of faith
by
Jussi Adler-Olsen
( Book )
88 editions published between
2009
and 2016 in 8 languages and held by 1,929 WorldCat member libraries worldwide
Detective Carl Mørck has received a bottle that holds an old and decayed message written in blood. It's a cry for help from two young brothers bound in a boathouse by the sea. After floating for years, the bottle sat forgotten, unopened, on a police department windowsill, before the seal was cracked and the gruesome message, written in Danish, was analyzed. Could it be real? Who are these boys, and why weren't they reported missing? Could they still be alive?
The alphabet house : a novel
by
Jussi Adler-Olsen
( Book )
100 editions published between
1997
and 2017 in 8 languages and held by 1,850 WorldCat member libraries worldwide
British pilots James Teasdale and Bryan Young have been chosen to conduct a special photo-reconnaissance mission near Dresden, Germany. Intelligence believes the Nazis are building new factories that could turn the tide of the war. When their plane is shot down, James and Bryan know they will be executed if captured. With an enemy patrol in pursuit, they manage to jump aboard a train reserved for senior SS soldiers wounded on the eastern front. In a moment of desperation, they throw two patients off the train and take their places, hoping they can escape later. But their act is too convincing and they end up in the Alphabet House, a mental hospital located far behind enemy lines, where German doctors subject their patients to daily rounds of shock treatments and experimental drugs. The pilots' only hope of survival is to fake insanity until the war ends, but their friendship and courage are put to the ultimate test when James and Bryan realize they aren't the only ones in the Alphabet House feigning madness
The hanging girl
by
Jussi Adler-Olsen
( Book )
62 editions published between
2014
and 2018 in 5 languages and held by 1,800 WorldCat member libraries worldwide
"New York Times and internationally bestselling author Jussi Adler-Olsen returns with the sixth book in his exhilarating Department Q series, featuring Detective Carl Mr̜ck and his enigmatic assistants, Assad and Rose. In the middle of his usual hard-won morning nap in the basement of police headquarters, Carl Mr̜ck, head of Department Q, receives a call from a colleague working on the Danish island of Bornholm. Carl is dismissive when he realizes that a new case is being foisted on him, but a few hours later, he receives some shocking news that leaves his headstrong assistant Rose more furious than usual. Carl has no choice but to lead Department Q into the tragic cold case of a vivacious seventeen-year-old girl who vanished from school, only to be found dead hanging high up in a tree. The investigation will take them from the remote island of Bornholm to a strange sun worshipping cult, where Carl, Assad, Rose, and newcomer Gordon attempt to stop a string of new murders and a skilled manipulator who refuses to let anything--or anyone--get in the way"--
The Marco Effect : a Department Q novel
by
Jussi Adler-Olsen
( Book )
59 editions published between
2012
and 2017 in 7 languages and held by 1,645 WorldCat member libraries worldwide
"All fifteen-year-old Marco Jameson wants is to become a Danish citizen and go to school like a normal teenager. But his uncle Zola rules his former gypsy clan with an iron fist. Revered as a god and feared as a devil, Zola forces the children of the clan to beg and steal for his personal gain. When Marco discovers a dead body-proving the true extent of Zola's criminal activities-he goes on the run. But his family members aren't the only ones who'll go to any lengths to keep Marco silent. forever. Meanwhile, the last thing Detective Carl Morck needs is for his assistants, Assad and Rose, to pick up a missing persons case on a whim: Carl's nemesis is his new boss, and he's saddled Department Q with an unwelcome addition. But when they learn that a mysterious teen named Marco may have as much insight into the case as he has fear of the police, Carl is determined to solve the mystery and save the boy. Carl's actions propel the trio into a case that extends from Denmark to Africa, from embezzlers to child soldiers, from seemingly petty crime rings to the very darkest of cover-ups"--
The scarred woman : a Department Q novel
by
Jussi Adler-Olsen
( Book )
28 editions published between
2017
and 2018 in
English
and held by 1,428 WorldCat member libraries worldwide
"Detective Carl Mørck of Department Q, Copenhagen's cold cases division, meets his toughest challenge yet when the dark, troubled past of one of his own team members collides with a sinister unsolved murder. In a Copenhagen park the body of an elderly woman is discovered. The case bears a striking resemblance to another unsolved homicide investigation from over a decade ago, but the connection between the two victims confounds the police. Across town a group of young women are being hunted. The attacks seem random, but could these brutal acts of violence be related? Detective Carl Mørck of Department Q is charged with solving the mystery. Back at headquarters, Carl and his team are under pressure to deliver results: failure to meet his superiors' expectations will mean the end of Department Q. Solving the case, however, is not their only concern. After an earlier breakdown, their colleague Rose is still struggling to deal with the reemergence of her past--a past in which a terrible crime may have been committed. It is up to Carl, Assad, and Gordon to uncover the dark and violent truth at the heart of Rose's childhood before it is too late"--
The Washington decree : a novel
by
Jussi Adler-Olsen
( Book )
46 editions published between
2006
and 2019 in 5 languages and held by 1,346 WorldCat member libraries worldwide
"Sixteen years before Democratic Senator Bruce Jansen was elected president of the United States, a PR stunt brought together five very different people: fourteen-year-old Dorothy "Doggie" Rogers, small-town sheriff T. Perkins, single mother Rosalie Lee, well-known journalist John Bugatti, and the teenage son of one of Jansen's employees, Wesley Barefoot. In spite of their differences, the five remain bonded by their shared experience and devotion to their candidate. For Doggie, who worked the campaign trail with Wesley, Jansen's election is a personal victory: a job in the White House, proof to her Republican father that she was right to support Jansen, and the rise of an intelligent, clear-headed leader with her own ideals. But the triumph is short-lived: Jansen's pregnant wife is assassinated on election night, and the alleged mastermind behind the shooting is none other than Doggie's own father. When Jansen ascends to the White House, he is a changed man, determined to end gun violence by any means necessary. Rights are taken away as quickly as weapons. International travel becomes impossible. Checkpoints and roadblocks destroy infrastructure. The media is censored. Militias declare civil war on the government. The country is in chaos, and Jansen's former friends each find themselves fighting a very different battle, for themselves, their rights, their country...and, in Doggie's case, the life of her father, who just may be innocent."--Provided by Publisher
The keeper of lost causes
by
Jussi Adler-Olsen
( Recording )
10 editions published in
2011
in
English
and held by 668 WorldCat member libraries worldwide
Carl Merck used to be one of Copenhagen's best homicide detectives. Then a bullet almost took his life. Two of his colleagues weren't so lucky, and Carl, who didn't draw his weapon, blames himself. So a promotion is the last thing Carl expects. Carl's been selected to run Department Q, with a stack of cold cases to keep him company
more
fewer
Audience Level
0

1
Kids
General
Special
Audience level: 0.24 (from 0.17 for The scarre ... to 0.85 for Jussi : en ...)
Related Identities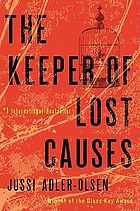 Covers
Alternative Names
Adler-Olsen, Carl Valdemar Jussi Henry.

Adler-Olsen, Carl Valdemar Jussi Henry 1950-

Adler Olsen, Jussi 1950-

Adleris-Olsenas Jusi

Adleris-Olsenas Jussi

Adlers-Olsens, Jusi 1950-

Jussi Adler-Olsen

Jussi Adler-Olsen Autor danés de novelas

Jussi Adler-Olsen dänischer Krimiautor

Jussi Adler-Olsen Danish author of novels

Jussi Adler-Olsen dánský spisovatel

Jussi Adler-Olsen Deens krimi-auteur, bekend van de serie "Afdeling Q"

Olsen, Carl Valdemar Jussi Henry Adler- 1950-

Olsen Jussi Adler-

Olsen Jussi Adler- 1950-....

Olsens, Jusi Adlers- 1950-

Адлер-Ольсен Юсси

Адлер Ю. 1950-

Ольсен Ю. 1950-

Ольсен Юсси Адлер-

Юси Адлер-Улсен

אדלר-אולסן, יוסי

אולסן, יוסי אדלר-

아들레르 올센, 유시 1950-

エーズラ・オールスン, ユッシ

ユッシ・エーズラ・オールスン

猶希.阿德勒.歐爾森

Languages