Zichichi, Antonino
Most widely held works about Antonino Zichichi
Most widely held works by Antonino Zichichi
Subnuclear physics : the first 50 years : highlights from Erice to ELN
by
Antonino Zichichi
( Book )
10 editions published between
1999
and 2005 in
English
and held by 115 WorldCat member libraries worldwide
For the Galvani Bicentenary Celebrations, the University of Bologna and its Academy of Sciences singled out subnuclear physics as the field of scientific research to be associated with this important event, as it would best illustrate, for the new generation of students, the challenge inherent in fundamental sciences.Subnuclear physics was born 50 years ago and has represented, ever since, the new frontiers of Galilean science. In his opening lecture delivered on the first day of the new academic year, Professor Antonino Zichichi analytically reviewed the basic conceptual developments and main discoveries achieved in subnuclear physics during the last 50 years. Given the importance of this field of fundamental research, Professor Zichichi was invited to expand the contents of his lecture into a book, and the outcome is this invaluable volume
The logic of nature, complexity and new physics : from quark-gluon plasma to superstrings, quantum gravity and beyond : proceedings of the International School of Subnuclear Physics
by International School of Subnuclear Physics
( Book )
2 editions published in
2008
in
English
and held by 65 WorldCat member libraries worldwide
From August 29 to September 7, 2006, a large group of distinguished lecturers and young physicists coming from various countries around the world met in Erice, Italy, at the Ettore Majorana Foundation and Centre for Scientific Culture (EMFCSC) for the 44th course of the International School of Subnuclear Physics: "The Logic of Nature, Complexity and New Physics: From Quark-Gluon Plasma to Superstrings, Quantum Gravity and Beyond". This book is a collection of lectures given during the course, covering the most recent advances in theoretical physics and the latest results from current experimental facilities. Following one of the aims of the School, which is to encourage and promote young physicists to achieve recognition at an international level, the students who have distinguished themselves for their excellence in research have been given the opportunity to publish their presentations in this volume
How and where to go beyond the standard model : proceedings of the International School of Subnuclear Physics
by
Antonino Zichichi
( Book )
6 editions published in
2007
in
English
and held by 64 WorldCat member libraries worldwide
This volume is a collection of lectures given during the 42nd Course of the International School of Subnuclear Physics. The contributions cover the most recent advances in theoretical physics and the latest results from current experimental facilities. In line with one of the aims of the school, which is to encourage and promote young physicists to achieve recognition at an international level, the students recognized for their research excellence were given the opportunity to publish their work in this volume. Their contributions are joined by those from many distinguished lecturers in the f
From quarks to black holes : progress in understanding the logic of nature : proceedings of the International School of Subnuclear Physics
by
Antonino Zichichi
( Book )
6 editions published in
2005
in
English
and held by 62 WorldCat member libraries worldwide
This volume is a unique report on the frontiers of subnuclear physics presented by global specialists in a clear and rigorous style. The question of Lattice QCD is presented by R D Kenway, and that of Quark-Gluon Plasma Physics by F Karsch. Quantum Field theory is discussed by R G Dijkgraff, and the status of Local Supersymmetry by M J Duff. Detailed analysis of Supersymmetry in Nuclei is made by F Iachello, and that of Inflation, Dark Matter and Dark Energy by E W Kolb. Compactified dimensions are outlined by I Antoniadis, Horizons in the quantization of the gravitational force by Nobel Laure
New fields and strings in subnuclear physics : proceedings of the International School of Subnuclear Physics
by
Antonino Zichichi
( Book )
10 editions published in
2002
in
English
and held by 58 WorldCat member libraries worldwide
Annotation In August/September 2001, a group of 75 physicists from 51 laboratories in 15 countries met in Erice, Italy to participate in the 39th Course of the International School of Subnuclear Physics. This volume constitutes the proceedings of that meeting. It focuses on the theoretical and phenomenological developments in string theory, as well as in all the other sectors of subnuclear physics. In addition, experimental highlights are presented and discussed
Towards new milestones in our quest to go beyond the standard model : proceedings of the International School of Subnuclear Physics
by
Antonino Zichichi
( Book )
4 editions published in
2007
in
English
and held by 55 WorldCat member libraries worldwide
Updates in Local Supersymmetry and Its Spontaneous Breaking S. Ferrara1 Introduction; 2 Mass deformations of extended supergravity; 3 Electric-magnetic duality; 4 The gauging of duality rotations; 5 Supersymmetric vacua of supergravity; 5.1 Geometric compactifications; 5.2 Adding fluxes; 6 Data of the effective theory; 6.1 Superpotentials from p = 0,2,3,4-form fluxes; 6.2 The attractor potential: superpotential from 5-form fluxes; Acknowledgments; References; DISCUSSION I; DISCUSSION II; A Never Ending Story: The Nucleon Form Factors and New BaBar Time-like Results R. Baldini Ferroli
International Seminar on Nuclear War and Planetary Emergencies, 31st session : the cultural planetary emergency : focus on terrorism : "E. Majorana" Centre for Scientific Culture, Erice, Italy, 7-12 May 2004
by
Richard C Ragaini
( Book )
7 editions published in
2004
in
English
and held by 52 WorldCat member libraries worldwide
This book contains the proceedings of the 31st International Seminar on Nuclear War and Planetary Emergencies convened in Erice, Italy, on May 712, 2004. World leaders in their fields of Science, directors of National Laboratories, advisors to Presidents, Defence Secretaries and high-level diplomats converged at the event. Together, they offer different schools of thought to the widely-debated subject of Cultural Emergency and Terrorism. The subjects treated in this volume include societal and global approach to terrorism; responses to chemical, biological, radiological and nuclear threats, a
more
fewer
Audience Level
0

1
Kids
General
Special
Audience level: 0.06 (from 0.01 for How and wh ... to 0.89 for Zichicche ...)
Associated Subjects
AIDS (Disease)--Prevention
Amaldi, Edoardo
Bethe, Hans A.--(Hans Albrecht),
Climatic changes
Colliders (Nuclear physics)
Communicable diseases
Computer networks--Security measures
Desertification
Effective interactions (Nuclear physics)
Emergency management
Emigration and immigration
Energy crops
Environmental sciences
European Organization for Nuclear Research
Flanagan, Dennis,
Gauge fields (Physics)
Global warming
Gluons
Hazardous substances--Environmental aspects
Human beings--Effect of environment on
Human ecology
Istituto nazionale di fisica nucleare.--Laboratori nazionali di Frascati
Italy
Leptons (Nuclear physics)
Nature--Effect of human beings on
Nuclear crisis stability
Nuclear disarmament
Nuclear energy
Nuclear physics--Instruments
Oppenheimer, J. Robert,
Particles (Nuclear physics)
Physics
Pollution
Pollution--Environmental aspects
Power resources
Quantum chromodynamics
Quantum gravity
Quarks
Renewable energy sources
Scientists
Segrè, Emilio
Standard model (Nuclear physics)
String models
Supercolliders
Superstring theories
Supersymmetry
Szilard, Leo
Terrorism
Terrorism--Prevention
Zichichi, Antonino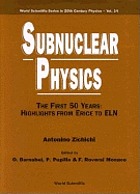 Alternative Names
Antonino Zichichi Italian nuclear physicist

Antonino Zichichi italienischer Physiker

Antonino Zichichi italiensk fysikar

Antonino Zichichi italiensk fysiker

Antoninu Zichichi

Zichichi, A.

Zichichi, A. 1929-

Zichichi, A. (Antonino)

Zichichi, Antonino

Zichichi, Antonio.

Zichichi, Antonio 1929-

Zichichi, Antonio L.

Дзикики, Антонино

آنتونینو زیکیکی فیزیک‌دان ایتالیایی

Languages
Covers