Aczél, J.
Most widely held works about J Aczél
Most widely held works by J Aczél
Lectures on functional equations and their applications
by
J Aczél
( )
85 editions published between
1960
and 2015 in 4 languages and held by 2,576 WorldCat member libraries worldwide
On Applications and Theory of Functional Equations focuses on the principles and advancement of numerical approaches used in functional equations. <br><br>The publication first offers information on the history of functional equations, noting that the research on functional equations originated in problems related to applied mathematics. The text also highlights the influence of J. d'Alembert, S. D. Poisson, E. Picard, and A. L. Cauchy in promoting the processes of numerical analyses involving functional equations. The role of vectors in solving functional equations is also noted. <br><br>The
Functional equations in several variables
by
J Aczél
( )
28 editions published between
1988
and 2008 in
English
and
Undetermined
and held by 1,722 WorldCat member libraries worldwide
This treatise deals with modern theory of functional equations in several variables and their applications to mathematics, information theory, and the natural, behavioural and social sciences. The authors have chosen to emphasize applications, though not at the expense of theory, so they have kept the prerequisites to a minimum; the reader need be familiar only with calculus and elementary algebra, and have a basic knowledge of Lebesgue integration. Where, for certain applications, more advanced topics are needed, the authors have included references and explained the results used. Moreover, the book has been designed so that the chapters can be read almost independently of each other, enabling a selection of material to be chosen for introductory and advanced courses. At the end of each chapter are included exercises and further results, some 400 in all, which extend the material presented in the text and also test it. The history of functional equations is well documented in a final chapter which is complemented by an encyclopedic bibliography running to over 1600 items
Functional equations : history, applications, and theory
by
J Aczél
( Book )
20 editions published between
1984
and 2001 in
English
and held by 417 WorldCat member libraries worldwide
Approach your problems from It isn't that they can't see the right end and begin with the solution. It is that they the answers. Then one day, can't see the problem. perhaps you will find the G.K. Chesterton. The Scandal of final question. Father Brown 'The Point of a Pin' . 'The Hermit Clad ~n Crane Feathers' in R. van Gulik's The Chinese Haze Murders. Growing specialization and diversification have brought a host of monographs and textbooks on increasingly specialized topics. However, the "tree" of knowledge of mathematics and related fields does not grow only by putting forth new branches. It also happens, quite often in fact, that branches which were thought to be completely disparate are suddenly seen to be related. Further, the kind and level of sophistication of mathe matics applied in various sciences has changed drastically in recent years: measure theory is used (non-trivially) ~n re gional and theoretical economics; algebraic geometry interacts with physics; the Minkowsky lemma, coding theory and the structure of water meet one another in packing and covering theory; quantum fields, crystal defects and mathematical pro gramming profit from homotopy theory; Lie algebras are rele vant to filtering; and prediction and electrical en~ineering can use Stein spaces. And in addition to this there are such new emerging subdisciplines as "completely integrable systems", "chaos, synergetics and large-scale order", which are almost impossible to fit into the existinf, classifi~ation schemes. They draw upon widely different sections of mathematics
A short course on functional equations : based upon recent applications to the social and behavioral sciences
by
J Aczél
( Book )
18 editions published between
1986
and 1987 in 3 languages and held by 293 WorldCat member libraries worldwide
Recently I taught short courses on functional equations at several universities (Barcelona, Bern, Graz, Hamburg, Milan, Waterloo). My aim was to introduce the most important equations and methods of solution through actual (not artifi­ cial) applications which were recent and with which I had something to do. Most of them happened to be related to the social or behavioral sciences. All were originally answers to questions posed by specialists in the respective applied fields. Here I give a somewhat extended version of these lectures, with more recent results and applications included. As previous knowledge just the basic facts of calculus and algebra are supposed. Parts where somewhat more (measure theory) is needed and sketches of lengthier calcula­ tions are set in fine print. I am grateful to Drs. J. Baker (Waterloo, Ont.), W. Forg-Rob (Innsbruck, Austria) and C. Wagner (Knoxville, Tenn.) for critical remarks and to Mrs. Brenda Law for care­ ful computer-typing of the manuscript (in several versions). A note on numbering of statements and references: The numbering of Lemmata, Propositions, Theorems, Corollaries and (separately) formulae starts anew in each section. If quoted in another section, the section number is added, e.g. (2.10) or Theorem 1.2. References are quoted by the last names of the authors and the last two digits of the year, e.g. Daroczy-Losonczi [671. 1 1. An aggregation theorem for allocation problems. Cauchy equation for single-and multiplace functions. Two extension theorems
Aggregating clones, colors, equations, iterates, numbers, and tiles
by
J Aczél
( Book )
12 editions published in
1995
in
English
and
German
and held by 128 WorldCat member libraries worldwide
The aim of the collection is to provide introductions to selected fields of current interest. It is intended for researchers, teachers, graduate and advanced undergraduate students of mathematics, and for those interested in applications in related fields
Entropy and ergodic theory
by
J Aczél
( Book )
9 editions published in
1975
in
English
and held by 96 WorldCat member libraries worldwide
Functional Equations in Several Variables
by
J Aczél
( )
3 editions published in
1989
in
English
and held by 33 WorldCat member libraries worldwide
10.4 Isometries in real normed spaces10.5 A topology on the set of all solutions of a functional equation: the Bohr group; 10.6 Valuations on the fields of rational and of real numbers; Exercises and further results; 11 Characterizations of inner product spaces. An application to gas dynamics; 11.1 Quadratic functionals: a characterization of inner product space; 11.2 Triangles in normed spaces: a second characterization of inner product spaces; 11.3 Orthogonal additivity; 11.4 An application to gas dynamics; Exercises and further results
more
fewer
Audience Level
0

1
Kids
General
Special
Audience level: 0.25 (from 0.06 for Functional ... to 0.99 for Rosszcsirk ...)
Related Identities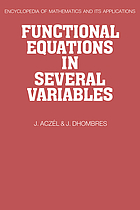 Covers
Alternative Names
Aczél, J.

Aczél, J. 1924-

Aczél, J. D. 1924-

Aczél, János

Aczél, János 1924-

Aczél, János D.

Aczél, János D. 1924-

Aczél, János Dezső 1924-...

Aczél János kanadai-magyar matematikus, az MTA külső tagja

Aczél János (matematikus)

Aczél, Joseph 1924-

János Aczél Canadees wiskundige

János Aczél Hungarian-Canadian mathematician specializing in functional equations (b.1924)

János Aczél ungarisch-kanadischer Mathematiker

Languages