Epictetus
Overview
| | |
| --- | --- |
| Works: | 1,948 works in 6,140 publications in 13 languages and 45,083 library holdings |
| Genres: | Bibliography Criticism, interpretation, etc Commentaries Poetry History |
| Roles: | Author, Creator, Contributor, Bibliographic antecedent, Other, Dubious author, Author in quotations or text abstracts, Artist, Editor |
| Classifications: | B560.E5, 188 |
Most widely held works about Epictetus
more
fewer
Most widely held works by Epictetus
The Enchiridion
by
Epictetus
( Book )
647 editions published between
1516
and 2016 in 12 languages and held by 2,686 WorldCat member libraries worldwide
Although he was born into slavery and endured a permanent physical disability, Epictetus (ca. 50-ca. 130 AD) maintained that all people are free to control their lives and to live in harmony with nature. We will always be happy, he argued, if we learn to desire that things should be exactly as they are. After attaining his freedom, Epictetus spent his entire career teaching philosophy and advising a daily regimen of self-examination. His pupil Arrianus later collected and published the master's lecture notes; the Enchiridion, or Manual, is a distillation of Epictetus' teachings and an instructional manual for a tranquil life. Full of practical advice, this work offers guidelines for those seeking contentment as well as for those who have already made some progress in that direction. Translated by George Long
The Discourses as reported by Arrian ; The manual ; and, the fragments
by
Epictetus
( Book )
188 editions published between
1925
and 2014 in 7 languages and held by 1,296 WorldCat member libraries worldwide
Epictetus ('Acquired', probably his real name) was a crippled Greek slave of Phrygia during Nero's reign (A.D.54-68) who heard lectures by the Stoic Musonius before he was freed. Expelled with other philosophers by the emperor Domitian in 89 or 92 he settled permanently in Nicopolis in Epirus and, in a school which he called 'healing place for sick souls', taught a practical philosophy, details of which were taken down by his pupil Flavius Arrianus and survive in four books of 'Diatribae' or Discourses and a smaller 'Encheiridon' or Handbook which gives brifly the chief doctrines of the other work. He lived apparently into the reign of Hadrian (A.D. 117-138). Epictetus was a teacher and preacher of practical Stoic ethics, broad and firm in method, sublime in thought, and now humorous, now sad or severe in spirit. How should one live righteously? Our god-given will is our paramount possession, and we must not covet others'. We must not resist fortune. Man is part of a system of men and God; men are reasoning beings (in feeble bodies) and must conform to God's mind and the will of nature. Epictetus presents us also with a pungent picture of the perfect (Stoic) man
Discourses and Enchiridion
by
Epictetus
( Book )
15 editions published between
1944
and 1972 in
English
and held by 980 WorldCat member libraries worldwide
The Discourses of Epictetus are a series of extracts of the teachings of the Stoic philosopher Epictetus written down by Arrian approximately 108 AD. There were originally eight books, but only four now remain in their entirety, along with a few fragments of the others. In a preface attached to the Discourses, Arrian explains how he came to write them: "I neither wrote these Discourses of Epictetus in the way in which a man might write such things; nor did I make them public myself, inasmuch as I declare that I did not even write them. But whatever I heard him say, the same I attempted to write down in his own words as nearly as possible, for the purpose of preserving them as memorials to myself afterwards of the thoughts and the freedom of speech of Epictetus."--Wikipedia
The discourses of Epictetus
by
Epictetus
( Book )
67 editions published between
1766
and 2013 in
English
and
Undetermined
and held by 887 WorldCat member libraries worldwide
Yet the stress on endurance, self—restraint and power of the will to withstand calamity can often seem coldhearted. It is Epictetus, a lame former slave exiled by the Emperor Domitian, who offers by far the most positive and humane version of stoic ideals. The Discourses, assembled by his pupil Arrian, catch him in action, publicly setting out his views on ethical dilemmas. -- Amazon
The discourses of Epictetus : with the Encheiridion and Fragments
by
Epictetus
( Book )
75 editions published between
1800
and 2011 in
English
and held by 532 WorldCat member libraries worldwide
"The teaching of Epictetus, briefly expressed, is, that man ought to be thankful to God for all things, and always content with that which happens, for what God chooses is better than what men can choose (iv. c. 7). The Discourses of Epictetus with the Encheiridion and Fragments were translated into English by the learned lady Mrs. Elizabeth Carter; who is said to have lived to the age of eighty-nine. The fourth edition (1807) contains the translator's last additions and alterations. There is an Introduction to this translation which contains a summary view of the Stoic philosophy for the purpose of explaining Epictetus; and also there are notes to the translation. The editor of this fourth edition says that "the Introduction and notes of the Christian translator of Epictetus are, in the estimation of most readers, not the least valuable parts of the work:" and he adds "this was also the opinion of the late Archbishop Seeker, who though he thought very highly of the Philosophy of Epictetus, considered the Introduction and notes as admirably calculated to prevent any mistake concerning it, as well as to amend and instruct the world." The Introduction is certainly useful, though it is not free from errors. I do not think that the notes are valuable. I have used some of them without any remarks; and I have used others and made some remarks on them where I thought that Mrs. Carter was mistaken in her opinion of the original text, or on other matters. The translation of Mrs. Carter is good; and perhaps no Englishman at that time would have made a better translation. I intended at first to revise Mrs. Carter's translation, and to correct any errors that I might discover. I had revised about half of it, when I found that I was not satisfied with my work; and I was advised by a learned friend to translate the whole myself. This was rather a great undertaking for an old man, who is now past seventy-six. I have however done the work with great care, and as well as I could. I have always compared my translation with the Latin version and with Mrs. Carter's; and I think that this is the best way of avoiding errors such as any translator may make. A man who has not attempted to translate a Greek or Latin author does not know the difficulty of the undertaking. That which may appear plain when he reads often becomes very difficult when he tries to express it in another language. It is true that Epictetus is generally intelligible; but the style or manner of the author, or we may say of Arrian, who attempted to produce what he heard, is sometimes made obscure by the continual use of questions and answers to them, and for other reasons"--Book. (PsycINFO Database Record (c) 2010 APA, all rights reserved)
Epictetus, his Morals, with Simplicius, his comment
by
Epictetus
( Book )
164 editions published between
1538
and 2014 in 6 languages and held by 532 WorldCat member libraries worldwide
Texte annoté avec un dossier proposant une présentation d'Epictète et une analyse de l'oeuvre et de ses problématiques
more
fewer
Audience Level
0

1
Kids
General
Special
Audience level: 0.46 (from 0.00 for The Enchir ... to 0.79 for Epicteti D ...)
Related Identities
Associated Subjects
Ancient Greek literature
Aphorisms and apothegms
Arrian
Carter, Elizabeth,
Chapman, George,
Classical literature
Comparative literature
Conduct of life
Discourses (Epictetus)
England
English literature
English literature--Early modern
Epictetus
Ethics
Ethics, Ancient
France
Francis,--de Sales, Saint,
Greece
Greek literature
Greek literature, Hellenistic
Humanism
Influence (Literary, artistic, etc.)
Latin literature, Medieval and modern
Life
Long, George,
Manual (Epictetus)
Marcus Aurelius,--Emperor of Rome,
Miniature books
Montaigne, Michel de,
Philosophers, Ancient
Philosophy
Philosophy, Ancient
Plutarch
Prisoners of war
Psychotherapy
Religion
Renaissance
Rolleston, T. W.--(Thomas William),
Rouse, W. H. D.--(William Henry Denham),
Seneca, Lucius Annaeus,
Seneca, Lucius Annaeus,
Simplicius,--of Cilicia
Speeches, addresses, etc., Greek
Stockdale, James B
Stoics
Theology
United States
Vietnam
Vietnam War (1961-1975)
Zeno,--the Stoic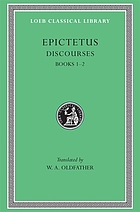 Alternative Names
Aibiketaide 50-130

Epictet

Epictet, 0050?-0130?

Epictet 50-130

Epictet d'Hieràpolis

Épictète

Épictète 0050?-0130?

Épictète 50-130

Épictète asi 55-asi 135

Epictète ca 50-ca 125

Epictète ca 50-ca 130

Épictète ca50-ca138

Epictète de Hierapolis 50-130

Epictète, Manuel d' 55-135 e.Kr

Épictète philosophe grec, stoïcien

Epictetes 50-130

Epicteto

Epicteto 0050?-0130?

Epicteto 50-130

Epictetu

Epictetus

Epictetus 0050?-0130?

Epictetus ca 55-135 e. Kr

Epictetus filosoof uit Romeinse Keizerrijk (50-120)

Epictetus Hierapolitanus 50-130

Epictetus Hierapolitanus Phryx 0050?-0130?

Epictetus philosopher from Ancient Greece

Epictetus Philosophus, 0050?-0130?

Epictetus Philosophus 50-130

Epictetus Romanus 50-130

Epicticus 50-130

Ėpiktet

Epiktet 0050?-0130?

Épiktét 50-130

Epiktet ca 55-135 e. Kr

Epiktet ca50-ca138

Epiktet filozof rzymski

Epiktet griechischer Philosoph

Epiktetas

Epiktetas 50-130

Epiktetes 50-130

Epikteti

Epikteto

Epikteto ca50-ca138

Epiktétos

E̓píktētos 0050?-0130?

Epiktētos 50-130

Epiktetos ca50-ca138

Epiktetos Stoischer Philosoph 50-130

Epiktetos von Hierapolis 50-130

Epiktétosz ókori görög filozófus

Epiktit

E̓píktītos 0050?-0130?

Epitecto 50-130

Epiteto

Epitteto

Epitteto 0050?-0130?

Epitteto 50-130

Epitteto ca50-ca138

Epitteto filosofo greco antico

Manuel d'Epictète 55-135 e.Kr

Ἐπίκτητος

Ἐπίκτητος 0050?-0130?

Επίκτητος άρχαιος Έλληνας στωικός φιλόσοφος

Епиктет

Епіктет

Эпиктет древнегреческий философ

Էպիկտետոս

אפיקטטוס

أبكتاتوس

اپیکتت فیلسوف در یونان باستان

এপিকটেটাস

എപ്പിക്റ്റീറ്റസ്

에픽테토스

エピクテェトス

エピクテータス

エピクテートス

愛比克泰德

爱比克泰德 50-130

Languages
Covers