Leakey, Richard E.
Overview
| | |
| --- | --- |
| Works: | 296 works in 941 publications in 19 languages and 30,400 library holdings |
| Genres: | Biography History Conference proceedings Juvenile works Fiction Popular works Bibliography |
| Roles: | Author, Editor, Narrator, Interviewee, Host, Conceptor, Other, Author of introduction, Film editor, Publishing director, Thesis advisor |
| Classifications: | GN281, 573.2 |
Most widely held works about Richard E Leakey
more
fewer
Most widely held works by Richard E Leakey
Origins reconsidered : in search of what makes us human
by
Richard E Leakey
( Book )
43 editions published between
1992
and 2003 in 6 languages and held by 2,735 WorldCat member libraries worldwide
In Origins Reconsidered, Richard Leakey, one of the most respected and influential scientists of our time, takes us on a brilliant and provocative journey through human history. Beginning with his landmark discoveries at Lake Turkana, and including his fascinating reassessment of how we became "human"--And what, after all, being human really means - Leakey concludes with a glimpse of what our evolutionary future may hold. In 1984, Richard Leakey and his "Hominid Gang" of fossil hunters discovered fragments of a boy's skull that were more than 1.5 million years old. They soon unearthed virtually the entire skeleton of what was dubbed the "Turkana Boy" and recognized as one of the most significant paleoanthropological discoveries of all time. But while his Turkana Boy caused a sensation in the media and throughout the world of science, Leakey himself was restless. Yes, the existing fossil record of our prehistory was impressive. But there were more elusive matters to consider. For Richard Leakey the most compelling question is no longer "How did we physically evolve?" It is, instead, "How did we become human?" For this world-renowned paleoanthropologist it is a humbling reminder that no matter how complete the skeleton, how perfect the fossil, there is a gap in our knowledge. Our ancestors evolved from two-legged scavengers into creatures that create. They learned to make stone tools, to communicate, to build shelters, and to hunt for food. This realization sparked Leakey to return to his earlier work - especially his 1977 book, Origins - to poke holes in his previous beliefs and to reflect anew on what makes us who we are. As he gently admits, considerations like these are usually left to philosophers, not scientists. But again and again, he is faced with his own guiding principle: "The past is the key to our future." In this seminal work, Leakey incorporates ideas from philosophy, anthropology, molecular biology, and even linguistics, to investigate not only how we evolved anatomically, but how we acquired the qualities that make us human - consciousness, creativity, and culture
The making of mankind
by
Richard E Leakey
( Book )
72 editions published between
1980
and 2005 in 11 languages and held by 2,717 WorldCat member libraries worldwide
Surveys what has been happening in the various fields concerned with human prehistory
The origin of humankind
by
Richard E Leakey
( Book )
83 editions published between
1979
and 2013 in 12 languages and held by 2,573 WorldCat member libraries worldwide
This book answers the question: What made humans human? Leakey argues that when one of our hominid ancestors acquired the ability to walk upright (called "bipedalism"), the evolution of modern humans became possible, perhaps even inevitable
People of the lake : mankind and its beginnings
by
Richard E Leakey
( Book )
34 editions published between
1978
and 1984 in 6 languages and held by 2,453 WorldCat member libraries worldwide
Discusses recent human fossil discoveries at Lake Turkana in Kenya and explains what has been learned about the evolution, anatomy, and social behavior of prehistoric man from these remains
The sixth extinction : patterns of life and the future of humankind
by
Richard E Leakey
( Book )
23 editions published between
1995
and 1999 in
English
and held by 1,803 WorldCat member libraries worldwide
There have been five great extinctions in the long history of life on earth, the most recent 65 million years ago, when all dinosaur species perished in an astonishingly brief period of time. Each of these great extinctions was unimaginably catastrophic - at least 65 percent of all species living vanished in a geological instant; in the Permian extinction, nearly 95 percent of all species were obliterated. The agency for these extinctions, the why, is hotly debated - sudden climate change, asteroids, evolutionary inadequacy - but the patterns are remarkably consistent. Now, as Leakey and Lewin show with inarguable logic based on irrefutable scientific evidence, the sixth great extinction is underway. And this time the cause is beyond dispute: By the lowest estimate, thirty thousand species are wiped out by human agency every year - a rate that matches the patterns of the other five great extinctions with frightening exactitude
The origin of species
by
Charles Darwin
( Book )
27 editions published between
1979
and 1997 in 4 languages and held by 1,548 WorldCat member libraries worldwide
An illustrated, abridged version of the sixth edition of Darwin's classic work on evolution, with commentary that relates Darwin's hypotheses to recent advances in knowledge
Africa's big five and other wildlife filmmakers a centenary of wildlife filming in Kenya
by
Jean Hartley
( )
7 editions published in
2010
in
English
and held by 1,043 WorldCat member libraries worldwide
Jean Hartley, born in Kenya, is acknowledged as being the first to legitimise ìfixingî for wildlife film crews. Over the last 25 years, she has worked on over a thousand films, the vast majority being about wildlife and nature. She features five of the great film makers who all started their careers in Kenya in the1950s, legends whom she is proud to call personal friends. Watching all of their films, and many more, she became fascinated by the history of film making in Kenya and determined to find out when it all started. In this insightful book, she traces the roots of wildlife film back a hundred years, drawing on accounts of the original film makers and the professional hunters who guided those early safaris. She tracks the changes from those grainy, speeded up, silent films through to the technologically perfect High Definition and 3D films that are being made today
Human origins
by
Richard E Leakey
( Book )
13 editions published between
1981
and 1996 in 3 languages and held by 660 WorldCat member libraries worldwide
Describes how archaeologists trace the development of the human race from fossils, skeletons, cave drawings, and artifacts found around the world
more
fewer
Audience Level
0

1
Kids
General
Special
Audience level: 0.29 (from 0.06 for The Congo ... to 1.00 for Makers of ...)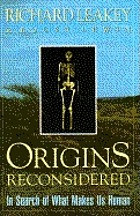 Alternative Names
Leakey, R. E. F.

Leakey, R. E. F. 1944-

Leakey, R. E. F. (Richard E. F.)

Leakey, R. E. F. (Richard E. F.), 1944-

Leakey, Richard.

Leakey Richard 1944-....

Leakey, Richard E.

Leakey, Richard E. F.

Leakey, Richard E. F. 1944-

Leakey, Richard Erskine Frere.

Leakey, Richard Erskine Frere 1944-

リーキー, R

リーキー, リチャード

Languages
Covers