Cohen, G. A. (Gerald Allan) 1941-2009
Most widely held works about G. A Cohen
more
fewer
Most widely held works by G. A Cohen
Karl Marx's theory of history : a defence
by
G. A Cohen
( Book )
92 editions published between
1978
and 2014 in 6 languages and held by 1,716 WorldCat member libraries worldwide
Publisher's description: First published in 1978, this book rapidly established itself as a classic of modern Marxism. Cohen's masterful application of advanced philosophical techniques in an uncompromising defense of historical materialism commanded widespread admiration. In the ensuing twenty years, the book has served as a flagship of a powerful intellectual movement--analytical Marxism. In this expanded edition, Cohen offers his own account of the history, and the further promise, of analytical Marxism. He also expresses reservations about traditional historical materialism, in the light of which he reconstructs the theory, and he studies the implications for historical materialism of the demise of the Soviet Union
If you're an egalitarian, how come you're so rich?
by
G. A Cohen
( Book )
37 editions published between
2000
and 2006 in 3 languages and held by 664 WorldCat member libraries worldwide
"This book presents G.A. Cohen's Gifford Lectures, delivered at the University of Edinburgh in 1996. Focusing on Marxism and Rawlsian liberalism, Cohen draws a connection between these thought systems and the choices that shape a person's life."--Jacket
Self-ownership, freedom, and equality
by
G. A Cohen
( Book )
22 editions published between
1993
and 2011 in
English
and
Japanese
and held by 551 WorldCat member libraries worldwide
In this book G. A. Cohen examines the libertarian principle of self-ownership, which says that each person belongs to himself and therefore owes no service or product to anyone else. This principle is used to defend capitalist inequality, which is said to reflect each person's freedom to do as as he wishes with himself. The author argues that self-ownership cannot deliver the freedom it promises to secure, thereby undermining the idea that lovers of freedom should embrace capitalism and the inequality that comes with it. He goes on to show that the standard Marxist condemnation of exploitation implies an endorsement of self-ownership, since, in the Marxist conception, the employer steals from the worker what should belong to her, because she produced it. Thereby a deeply inegalitarian notion has penetrated what is in aspiration an egalitarian theory. Purging that notion from socialist thought, he argues, enables construction of a more consistent egalitarianism
Rescuing justice and equality
by
G. A Cohen
( Book )
19 editions published between
2008
and 2014 in 4 languages and held by 550 WorldCat member libraries worldwide
"In this work of political philosophy, acclaimed philosopher G.A. Cohen sets out to rescue the egalitarian thesis that, in a society in which distributive justice prevails, people's material prospects are roughly equal. Arguing against the Rawlsian version of a just society, Cohen demonstrates that distributive justice does not tolerate the "deep inequality" that Rawls is prepared to countenance." "In the course of providing a sophisticated and far-reaching critique of Rawls's theory of justice, Cohen argues that questions of distributive justice arise not only for the state but also for people in their daily lives. The right rules for the macro scale of public institutions and policies also apply, with suitable adjustments, to the micro level of individual decision-making."--Jacket
Why not socialism?
by
G. A Cohen
( Book )
24 editions published between
2001
and 2011 in 7 languages and held by 495 WorldCat member libraries worldwide
Is socialism desirable? Is it even possible? In this concise book, one of the world's leading political philosophers presents with clarity and wit a compelling moral case for socialism and argues that the obstacles in its way are exaggerated. There are times, G.A. Cohen notes, when we all behave like socialists. On a camping trip, for example, campers wouldn't dream of charging each other to use a soccer ball or for fish that they happened to catch. Campers do not give merely to get, but relate to each other in a spirit of equality and community. Would such socialist norms be desirable across society as a whole? Why not? Whole societies may differ from camping trips, but it is still attractive when people treat each other with the equal regard that such trips exhibit. But, however desirable it may be, many claim that socialism is impossible. Cohen writes that the biggest obstacle to socialism isn't, as often argued, intractable human selfishness -- it's rather the lack of obvious means to harness the human generosity that is there. Lacking those means, we rely on the market. But there are many ways of confining the sway of the market: there are desirable changes that can move us toward a socialist society in which, to quote Albert Einstein, humanity has "overcome and advanced beyond the predatory stage of human development."
On the currency of egalitarian justice, and other essays in political philosophy
by
G. A Cohen
( Book )
14 editions published in
2011
in
English
and held by 258 WorldCat member libraries worldwide
This is a posthumous collection of essays in political philosophy by G.A. Cohen. Part I asks what egalitarians have most reason to equalize. Part II considers the relationship between freedom and property. Part III reflects upon ideal theory and political practice
Lectures on the history of moral and political philosophy
by
G. A Cohen
( Book )
13 editions published between
2013
and 2014 in
English
and held by 220 WorldCat member libraries worldwide
Collection of unpublished lectures and a few articles and a review article of one of the author's books. Concludes with a memoir of the author written by the editor
The egalitarian conscience : essays in honour of G.A. Cohen
by
Christine Sypnowich
( Book )
9 editions published between
2005
and 2006 in
English
and held by 203 WorldCat member libraries worldwide
Bringing together many of the world's leading political philosophers, this volume reflects the wide-ranging themes in the work of G. Cohen. The book contains essays on a number of key topics, united by questions of social justice, pluralism, equality, and moral duty
The sources of normativity
by
Christine M Korsgaard
( Book )
22 editions published between
1996
and 2013 in
English
and
Spanish
and held by 77 WorldCat member libraries worldwide
Ethical concepts are, or purport to be, normative. They make claims on us: they command, oblige, recommend, or guide. Or at least when we invoke them, we make claims on one another; but where does their authority over us - or ours over one another - come from? Christine Korsgaard identifies four accounts of the source of normativity that have been advocated by modern moral philosophers: voluntarism, realism, reflective endorsement, and the appeal to autonomy. She traces their history, showing how each developed in response to the prior one and comparing their early versions with those on the contemporary philosophical scene. Kant's theory that normativity springs from our own autonomy emerges as a synthesis of the other three, and Korsgaard concludes with her own version of the Kantian account. Her discussion is followed by commentary from G. A. Cohen, Raymond Geuss, Thomas Nagel, and Bernard Williams, and a reply by Korsgaard
more
fewer
Audience Level
0

1
Kids
General
Special
Audience level: 0.35 (from 0.07 for Self-owner ... to 1.00 for Against ce ...)
Related Identities
Associated Subjects
Autonomy (Philosophy)
Capitalism
Cohen, G. A.--(Gerald Allan),
Communism
Dialectical materialism
Distribution (Economic theory)
Distributive justice
Dworkin, Ronald
Elster, Jon,
Equality
Ethics
Fairness
Great Britain
Habermas, Jürgen
Historical materialism
Justice
Justice (Philosophy)
Labor theory of value
Labour Party (Great Britain)
Liberalism
Libertarianism
Liberty
Marx, Karl,
Marxian economics
Marxist criticism
Mill, John Stuart,
Mixed economy
Normativity (Ethics)
Nozick, Robert
Philosophers
Philosophy
Philosophy, Marxist
Philosophy, Modern
Pluralism
Political science--Philosophy
Preferences (Philosophy)
Privacy, Right of
Production (Economic theory)
Property
Religion and social problems
Sen, Amartya,
Socialism
Socialism--Philosophy
Social justice
Social sciences--Philosophy
Sociological jurisprudence
Soviet Union
Two treatises of government (Locke, John)
Working class
World citizenship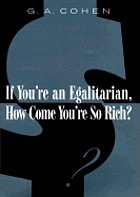 Alternative Names
Cohen, G. A.

Cohen G. A. 1941-2009

Cohen, Gerald A.

Cohen, Gerald A. 1941-2009

Cohen, Gerald Allan.

Cohen, Gerald Allan 1941-

Cohen, Gerald Allan 1941-2009

Cohen, Gerald Allen

Cohen Gerald Allen 1941-2009

Cohen, Jerry 1941-2009

G.A. Cohen

Gerald A. Cohen filósofo canadiense

Gerald A. Cohen Hochschullehrer für Sozialphilosophie und Politische Theorie

Gerald Cohen Canadees filosoof (1941-2009)

Kohen, G. A.

Коэн, Джеральд

جرالد کوهن فیلسوف کانادایی

جيرالد كوهين

코헨, G. A. 1941-2009

코헨, 제랄드 앨런 1941-2009

코헨, 제럴드 알란 1941-2009

코헨, 제럴드 앨런 1941-2009

コ-エン, G. A. 1941-2009

コーエン, G. A

ジェラルド・コーエン

杰拉德·柯亨

Languages
Covers