Lovelace, Ada King Countess of 1815-1852
Most widely held works about Ada King Lovelace
more
fewer
Most widely held works by Ada King Lovelace
Ada Lovelace
by Ada Lovelace
( Book )
2 editions published in
2011
in
English
and held by 27 WorldCat member libraries worldwide
Ada's echo
by
Kelly Wellman
( Book )
1 edition published in
2001
in
English
and held by 9 WorldCat member libraries worldwide
Ada, the enchantress of numbers : a selection from the letters of Lord Byron's daughter and her description of the first computer
by
Ada King Lovelace
( Book )
2 editions published in
1992
in
English
and held by 4 WorldCat member libraries worldwide
Toole did research for more than eight years, burying herself in British archives and libraries to narrate and edit this extraordinary collection of letters written by Ada Lovelace. Not only do they outline Ada's ingenuity for the sciences, but they also enlighten us on all aspects of Lady Lovelace's multidimensional life: her passionate desire to flourish in a "man's world," her battle with drug addiction and chronic sickness, and her efforts as a mother and wife. Lovelace also had a reputation as a wild gambler and a lover. Ada was one of the first to write programs of instructions for Babbage's Analytical Engines, the famous precursors to the modern digital computer. Ada's letters are some of the classic founding documents of cybernetics and computer science, written nearly a century before ENIAC
Ashley Combe, to Mr. Crosse
by
Ada King Lovelace
( )
1 edition published in
1844
in
English
and held by 1 WorldCat member library worldwide
Explaining that she has been ill and "just emerging from one of my miserable attacks of Gastritis (Gastric Fever);" telling him that "There is not only much that is akin, in principles & feelings, between our two minds, but there is just that difference & that peculiar adaptation of the differences in our characteristics, which would fit us to be of mutual benefit. The one could supply the deficiencies of the other; & the one could enhance the strong points of the other. I shall therefore by degrees communicate to you the whole of my present views & plans. I have done so to no other scientific person, as yet. I am too well aware what scientific perfidy is capable of, to say the truth. But that thought cannot come into consideration between you & me. On the other hand I know you will equally trust me. I need not say that respecting any thing derived from you, I should glory in acknowledging my debt, if in future writings in discoveries of my own I could point out those links of my chain which should be yours. Depend on it that two heads are better than one, (if they don't quarrel, always understood; & unluckily philosophers generally do quarrel.);" asking if he would send her "some of Corelli's music? I know you like it & perhaps I could pick out parts for the Harp."
Ashley-Combe, to Mr. Crosse
by
Ada King Lovelace
( )
1 edition published in
1844
in
English
and held by 1 WorldCat member library worldwide
Thanking him for his note and discussing logistics for a visit and a reciprocal visit by her to Bromfield. Discussing, at length and in detail, her passion for Science; saying "...I am more than ever now the Bride of Science. Religion to me is Science, & Science is Religion. In that deeply felt truth, lies the secret of my intense devotion to the reading of God's natural works. It is reading Him, His Will, His Intelligence: & [illegible] again is learning to obey & to follow (to the best of our power) that Will! For he who reads, who interprets the Divinity with a true & simple heart then obeys & submits in acts & feelings as by an impulse & instructs. He can't help doing so. At least so it appears to me;" And when I behold the scientific, & so-called philosophers, full of selfish feelings & of the tendency to war against circumstances & Providence, I say to myself: They are not true priests. They are but half-prophets, if not absolutely false ones. They have read the great page simply with the physical eye, & with none of the spirit within. The intellectual, the moral, the religious, seem to me all naturally bound up & inter-linked together in one great & harmonious whole; and I hope to live to demonstrate this to mankind more forcibly than I think it is as yet felt in the world;" continuing, at length and in detail, to discuss the relationship between religion and science; concluding with a lengthy discussion of her "dreadful physical sufferings" that relate "chiefly with the digestive functions, of no common degree & kind. This has nothing to do with a weakly constitution, & in fact it appears to me to be the result of the fine-ness & intensity & power of my nervous system. So that in truth, my illness -- my weakness - is the result of my strength;" describing what her physical sufferings have taught her; thanking him for his understanding and telling him "How pleasant is it always to communicate with one who like you can understand what one says & feels, whether he agrees with it or not!"
Ashley-Combe, to Mr. Crosse
by
Ada King Lovelace
( )
1 edition published in
1843
in
English
and held by 1 WorldCat member library worldwide
Saying she has sent him a "copy of the paper I lately published in Taylor's Scientific Memoirs;" commenting that she has "lived almost entirely secluded. Those who are in earnest & with single mind devoted to any great object in life, must find this occasionally inevitable; & when (as has been my case during the last 10 months), family affairs of a harassing & complicated description, & also very strange & uncertain states of health, are superadded to the first cause, you will not wonder at having heard nothing from me, because you have experience & candor enough to perceive & know that God has not given to us (in this state of existence) more than very limited powers of physical inter-communication & expression of one's ideas & feeling. Would that every thought of mine could be father to the expression of it, to the communication of it to other sentient & thinking beings!;" asking if he can visit and telling him that Mr. Babbage is "likely to be here at the time I mention;" adding that she will "be very desirous of again seeing you. You know what that means from me, & that it is no [illegible] or humbug, but the simple expression & result of the respect & attraction I feel for a mind that ventures to read direct in God's own book, & not merely thro' man's translation of that same vast & mighty work."
Ada, a life and a legacy
by
Dorothy Stein
( Book )
1 edition published in
1987
in
English
and held by 1 WorldCat member library worldwide
The subject of this biography "was the daughter of Lord Byron ... based on her report on Charles Babbage's Analytical Engine, she is also generally regarded as the inventor of the science of computer programming"--P. [4] of cover
Ashley Combe, to Mr. Crosse
by
Ada King Lovelace
( )
1 edition published in
1844
in
English
and held by 1 WorldCat member library worldwide
Explaining that she might have to postpone his visit as she is "going on in all the wrong way, I am sorry to say. Last night in the middle of the night, I had a seizure of Angina Pectoris & I am so knocked to pieces that I doubt much if I can put my plans in execution at the time fixed. At the same time, I often alter very rapidly; & become quite myself & well even in a very few hours;" adding "It is mortal agony, for the time-being.--I have it occasionally."
more
fewer
Audience Level
0

1
Kids
General
Special
Audience level: 0.29 (from 0.06 for Ada Byron ... to 1.00 for Papers ...)
Associated Subjects
Aristocracy (Social class)
Artificial life
Babbage, Charles,
Blessington, Marguerite,--Countess of,
Byron, George Gordon Byron,--Baron,
Calculators
Computer art
Computer programmers
Computers
Computers and women
Computer science
Computer science--Vocational guidance
Computer scientists
Dallas, Robert Charles,
England
Fathers and daughters
Fiction--Authorship
Geology--Vocational guidance
Godwin, William,
Great Britain
Information technology
Internet
Lamb, Caroline,--Lady,
Letters
Literary historians
Lovelace, Ada King,--Countess of,
Manuscripts
Manuscripts--Collectors and collecting
Marriage
Mathematicians
Mathematics
Mathematics--Vocational guidance
Mayer, Maria Goeppert,
Norton, Caroline Sheridan,
Nuclear engineering--Vocational guidance
Numerical analysis
Poets
Poets, English
Punched card systems
Science--Vocational guidance
Shelley, Mary Wollstonecraft,
Somerville, Mary,
Stein, Holly J
Technological innovations
Women
Women computer programmers
Women geologists
Women in mathematics
Women in science
Women mathematicians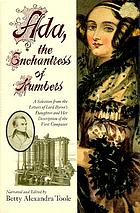 Alternative Names
Byron Ada

Byron, Ada 1815-1852

Byron, Ada Augusta 1815-1852

Byron Augusta Ada

Byron, Augusta Ada 1815-1852

King, Ada 1815-1852

King, Ada 1815-1852 Countess of Lovelace

King, Ada, Countess of Lovelace, 1815-1852

King, Augusta Ada 1815-1852

King, Augusta Ada 1815-1852 Countess of Lovelace

King, Augusta Ada, Countess of Lovelace, 1815-1852

Lovelace, Ada, 1815-1852

Lovelace, Ada Augusta of 1815-1852

Lovelace, Ada K. of 1815-1852

Lovelace, Ada King 1815-1852 Countess of

Lovelace, Ada King, Countess of, 1815-1852

Lovelace, Ada King of 1815-1852

Lovelace, Augusta Ada King 1815-1852

Lovelace, Augusta Ada King 1815-1852 Countess of

Lovelace, Augusta Ada King, Countess of, 1815-1852

Lovelace, Augusta Ada of 1815-1852

ラヴレス, エイダ

Languages
Covers