Parent, D. P.
Most widely held works by D. P Parent
Exercises in number theory
by
D. P Parent
( Book )
31 editions published between
1978
and 1999 in
English
and
French
and held by 690 WorldCat member libraries worldwide
After an eclipse of some 50 years, Number Theory, that is to say the study of the properties of the integers, has regained in France a vitality worthy of its distinguished past. More 'and more researchers have been attracted by problems which, though it is possible to express in simple statements, whose solutions require all their ingenuity and talent. In so doing, their work enriches the whole of mathematics with new and fertile methods. To be in a position to tackle these problems, it is neces sary to be familiar with many specific aspects of number theory. These are very different from those encountered in analysis or geometry. The necessary know-how can only be acquired by study ing and solving numerous problems. Now it is very easy to form ulate problems whose solutions, while sometimes obvious, more often go beyond current methods. Moreover, there is no doubt that, even more than in other disciplines, in mathematics one must have exercises available whose solutions are accessible. This is the objective realised by this work. It is the collab orative work of several successful young number theorists. They have drawn these exercises from their own work, from the work of their associated research groups as well as from published work
Récréations arithmétiques
by
E Fourrey
( Book )
5 editions published between
1994
and 2001 in
French
and held by 47 WorldCat member libraries worldwide
Courbes elliptiques et tests de primalité
by
François Morain
( Book )
1 edition published in
1990
in
French
and held by 5 WorldCat member libraries worldwide
NOUS DECRIVONS DANS CETTE THESE L'APPLICATION DE LA THEORIE DES COURBES ELLIPTIQUES DEFINIES SUR LES CORPS FINIS A LA CONSTRUCTION D'ALGORITHMES EFFICACES DE PRIMALITE EXACTE. NOUS FAISONS LE LIEN ENTRE LE PROBLEME DE LA REPRESENTATION DES NOMBRES PREMIERS PAR DES FORMES QUADRATIQUES BINAIRES ET LA THEORIE DU CORPS DE CLASSE. A CE PROPOS, NOUS DONNONS UN ALGORITHME RAPIDE DE CONSTRUCTION DU CORPS DE CLASSE D'UN CORPS QUADRATIQUE IMAGINAIRE A L'AIDE DES FONCTIONS DE WEBER. NOUS EN DEDUISONS LE CALCUL DES INVARIANTS DES COURBES ELLIPTIQUES A MULTIPLICATION COMPLEXE DANS UN CORPS FINI EN RESOLVANT PAR RADICAUX L'EQUATION DE DEFINITION DU CORPS DE CLASSE, DANS LE CORPS DES COMPLEXES D'ABORD, MODULO UN NOMBRE PREMIER ENSUITE. NOUS MONTRONS COMMENT GENERALISER LES ALGORITHMES DE PREUVE DE PRIMALITE LES PLUS CLASSIQUES (RECIPROQUES DU THEOREME DE FERMAT) EN UTILISANT LES COURBES ELLIPTIQUES. A L'ENCONTRE DE SON CONCURRENT LE PLUS SERIEUX (SOMMES DE JACOBI), L'ALGORITHME QUI EN RESULTE PRODUIT UN CERTIFICAT DE PRIMALITE. D'UN POINT DE VUE PRATIQUE, NOUS DETAILLONS TOUTES LES PHASES DE L'IMPLANTATION DE L'ALGORITHME, D'ABORD SUR UNE STATION DE TRAVAIL, PUIS SUR PLUSIEURS STATIONS D'UNE MANIERE DISTRIBUEE. A CHAQUE ETAPE, NOUS PRESENTONS LES MEILLEURS ALGORITHMES CONNUS POUR RESOUDRE CHAQUE PROBLEME PARTICULIER (CALCULS SUR LES COURBES ELLIPTIQUES, RECHERCHE DE RACINES DE POLYNOMES MODULO UN NOMBRE PREMIER, ...). NOUS DECRIVONS EGALEMENT L'UTILISATION D'UN MULTIPLICATEUR HARDWARE POUR LE CALCUL DU PRODUIT DE GRANDS ENTIERS, QUI PERMET D'ACCELERER CONSIDERABLEMENT LES CALCULS. ENFIN, NOUS UTILISONS LE PROGRAMME POUR LA RECHERCHE DE NOMBRES PREMIERS DE CENT CHIFFRES (UTILES EN CRYPTOGRAPHIE) ET POUR LA CERTIFICATION DE NOMBRES DE TROIS CENTS A TROIS MILLE CHIFFRES
Diffusional effects in magnetic resonance imaging and microscopy
by
D. P Parent
( )
2 editions published in
1994
in
English
and held by 2 WorldCat member libraries worldwide
Improvements in the information content of nuclear magnetic resonance (NMR) images have recently been sought through the development of new contrast mechanisms for magnetic resonance imaging (MRI) and NMR microscopy. This thesis addresses the role of molecular diffusion in NMR and develops new methods to obtain image contrast and to infer diffusional action. NMR microscopy of liquid samples provides a means of imaging the spatial distribution of the magnetization arising from nuclei in the liquid, at a resolution of several microns. Usually, the effect of molecular diffusion in NMR microscopy is to degrade resolution and sensitivity due to destructive interference of signals from the moving spins. In this thesis it is demonstrated, both theoretically and experimentally, that diffusional barriers, such as exist in biological tissues, can be made to appear extraordinarily bright in NMR micrographs. These effects are described by the line shape function of the magnetization signal, and by numerical evaluation of the diffusive phase dispersion of the signal. This "edge enhancement" provides a means of visualizing structures as thin and permeable as cell membranes which would otherwise be invisible in NMR microscopy. In the realm of clinical MRI, a description of nuclear spin relaxation mediated by MRI contrast agents and transport processes in compartmentalized systems is given. The relaxation-enhancing action of contrast agents can be most generally explained by exchange and diffusional dephasing, and simple analytic expressions are derived for typical situations. More complex solutions are obtained by efficient numerical methods, including the so-called generalized moment expansion. For appropriate models, it is demonstrated that while the extended influence of contrast agents through diffusion of water can contribute to blurring, such a loss of contrast may be avoided if the multiexponential character of the signal decay is exploited
more
fewer
Audience Level
0

1
Kids
General
Special
Audience level: 0.66 (from 0.60 for Exercises ... to 1.00 for The Lower ...)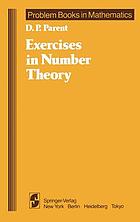 Alternative Names
Barsky, D.

Barsky, Daniel

Daniel Barsky Frans wiskundige

Daniel Barsky französischer Mathematiker

Daniel Barsky French mathematician

Decomps, Annette

Gerardin, Khyra

Lagrange, Jean

Nicolas, Jean-Louis

Parent, D. P. (Pseud. col·lectiu)

Pathiaux, Martine

Languages
Covers