Leffler, Melvyn P. 1945-
Most widely held works about Melvyn P Leffler
Most widely held works by Melvyn P Leffler
Origins of the Cold War : an international history
by
Melvyn P Leffler
( )
41 editions published between
1994
and 2010 in
English
and held by 2,002 WorldCat member libraries worldwide
The Cold War dominated the world political arena for forty-five years. Focusing on the international system and on events in all parts of the globe, Melvyn P. Leffler and David S. Painter have brought together a truly international collection of articles that provide a fresh and comprehensive analysis of the origins of the Cold War. Moving beyond earlier controversies, this edited collection focuses on the interaction between geopolitics and threat perception, technology and strategy, ideology and social reconstruction, national economic reform and patterns of international trade, and decolonization and national liberation. The editors also consider how and why the Cold War spread from Europe to Asia, Africa, the Middle East and Latin America and how groups, classes and elites used the Cold War to further their own interests
To lead the world : American strategy after the Bush doctrine
by
Melvyn P Leffler
( )
13 editions published in
2008
in
English
and held by 1,601 WorldCat member libraries worldwide
U.S. national security policy is at a critically important crossroads. The Bush Doctrine of unilateralism, pre-emptive war, and the imposition of democracy by force has proven disastrous. The United States now finds itself vilified abroad, weakened at home, and bogged down in a seemingly endless and unwinnable war. In To Lead the World, Melvyn P. Leffler and Jeffrey W. Legro bring together eleven of America's most esteemed writers and thinkers to offer concrete, historically grounded suggestions for how America can regain its standing in the world and use its power more wisely than it has during the Bush years. Best-selling authors such as David Kennedy, Niall Ferguson, Robert Kagan, Francis Fukuyama, and Samantha Power address such issues as how the U.S. can regain its respect in the world, respond to the biggest threats now facing the country, identify reasonable foreign policy goals, manage the growing debt burden, achieve greater national security, and successfully engage a host of other problems left unsolved and in many cases exacerbated by the Bush Doctrine. Representing a wide range of perspectives, the writers gathered here place the current foreign-policy predicament firmly in the larger context of American and world history and draw upon realistic appraisals of both the strengths and the limits of American power. They argue persuasively that the kind of leadership that made the United States a great - and greatly admired - nation in the past can be revitalized to meet the challenges of the 21st century. Written by prize-winning authors and filled with level-headed, far-sighted, and achievable recommendations, To Lead the World will serve as a primary source of political wisdom in the post-Bush era and will add immeasurably to the policy debates surrounding the 2008 presidential election. -- Publisher's Description
For the soul of mankind : the United States, the Soviet Union, and the Cold War
by
Melvyn P Leffler
( Book )
18 editions published between
2007
and 2008 in 3 languages and held by 1,246 WorldCat member libraries worldwide
An analysis of the struggle between the U.S. and Soviet Union following World War II illuminates how Reagan, Bush, and Gorbachev finally extricated themselves from the policies and mindsets of the Cold War, a task in which their predecessors had failed
In uncertain times : American foreign policy after the Berlin Wall and 9/11
( )
13 editions published between
2011
and 2016 in
English
and held by 1,012 WorldCat member libraries worldwide
'In Uncertain Times' considers how policymakers react to dramatic developments on the world stage. The title brings together the thoughts of officials from the George H.W. Bush, Clinton and George W. Bush administrations
The Cambridge history of the Cold War
by
Melvyn P Leffler
( Book )
35 editions published between
2009
and 2017 in
English
and held by 783 WorldCat member libraries worldwide
The Cambridge History of the Cold War is a comprehensive, international history of the conflict that dominated world politics in the twentieth century. The three-volume series, written by leading international experts in the field, elucidates how the Cold War evolved from the geopolitical, ideological, economic, and socio-political environment of the two World Wars and the interwar era, and explains the global dynamics of the Cold War international system. It emphasises how the Cold War bequeathed conditions, challenges and conflicts that shape international affairs today. With discussions of demography and consumption, women and youth, science and technology, ethnicity and race, the volumes encompass the social, intellectual, and economic history of the twentieth century, shedding new light on the evolution of the Cold War. Through its various geographical and national angles, the series signifies a transformation of the field from a national - primarily American - to a broader international approach
The specter of communism : the United States and the origins of the Cold War, 1917-1953
by
Melvyn P Leffler
( Book )
16 editions published between
1994
and 2013 in
English
and held by 718 WorldCat member libraries worldwide
Melvyn Leffler's succinct and important new analysis of the origins of the Cold War begins with the outbreak of the Bolshevik Revolution in 1917: ideological animosity between the Soviet Union and the United States existed from the moment Lenin seized power. Leffler traces the importance of the intricate connection between America's economic development and the growth of the U.S.S.R. as the world's other great power; in focusing on how America perceived the Soviet threat to its free capitalist economy and political culture, he suggests new ways to understand the dangerous postwar confrontation we call the Cold War. Stalin's brutality, cynicism, and ideological antipathy to the West did not easily translate into a consistent revolutionary foreign policy - he oscillated between cautious defensiveness and pragmatic opportunism - and his unpredictable efforts to safeguard Soviet security and Bolshevik rule accentuated American anxieties. But U.S. policy, too, had its inconsistencies, and Leffler's insightful analysis (based on newly available Soviet records as well as American archives) gives a superb account of the interaction between the two
Shaper nations : strategies for a changing world
by
Jeffrey Legro
( Book )
7 editions published in
2016
in
English
and held by 379 WorldCat member libraries worldwide
"International order is being remade by new "shapers"--Emerging powers that are increasingly assertive in world affairs. Controversies rage about the trajectory of Chinese strategy, the revival of Russian ambitions, the ascent of India, the reconfiguration of Middle East politics, the return of Germany to geopolitics, and the mounting power of Brazil in the Western Hemisphere. Rarely do scholars and commentators think comparatively about the strategic calculations, politics, and impact of these powers in relation to one another and to the United States. What will the shapers do and why? How should the United States respond? What kind of world will they create? The conventional wisdom on national strategy suggests these shaping states have clear central authority, coherently connect means to ends, and focus on their geopolitical environment. The chapters in this edited volume suggest a different conclusion. In seven critically important countries--Brazil, China, Germany, India, Israel, Russia, and Turkey--strategy is dominated by nonstate threats, domestic politics, the powerful and distorting effect of history and national identity, economic development concerns, and the sheer difficulty, in the face of so many powerful internal and external constraints, to pursue an effective national strategy. The United States, in responding to these seven shaper states, must comprehend these sources of strategy."--Provided by publisher
Remembering George Kennan : lessons for today?
by
Melvyn P Leffler
( )
5 editions published in
2006
in
English
and held by 317 WorldCat member libraries worldwide
George F. Kennan, the father of containment, was a rather obscure and frustrated foreign service officer at the U.S. embassy in Moscow when his "Long Telegram" of February 1946 gained the attention of policymakers in Washington and transformed his career. What is Kennan's legacy and the implications of his thinking for the contemporary era? Is it possible to reconcile Kennan's legacy with the newfound emphasis on a "democratic peace?"
more
fewer
Audience Level
0

1
Kids
General
Special
Audience level: 0.32 (from 0.07 for To lead th ... to 0.92 for Endings ...)
Related Identities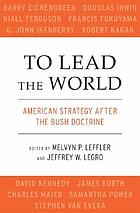 Covers
Alternative Names
Leffler, Melvyn Paul 1945-

Melvyn P. Leffler Amerikaans historicus

Melvyn P. Leffler historiador estadounidense

Melvyn P. Leffler historien américain

Melvyn P. Leffler istoric american

Melvyn P. Leffler US-amerikanischer Historiker

Melvyn Paul Leffler americký historik

メルヴィン・レフラー

梅爾文·萊弗勒

Languages