Soderstrom, Thomas R.
Most widely held works about Thomas R Soderstrom
Most widely held works by Thomas R Soderstrom
The genera of Bambusoideae (Poaceae) of the American Continent : keys and comments
by
Cleofé E Calderón
( Book )
10 editions published between
1979
and 1980 in
English
and held by 322 WorldCat member libraries worldwide
The history of the grass subfamily Bambusoideae is reviewed and nomenclatural problems of subfamilial and tribal level are explored. Characters are presented to distinguish the subfamily from all other grasses and differentiating features of the two major groups of bamboosherbaceous and woodyare included. Keys are given for the tribes and genera of herbaceous American bamboos and genera of woody American bamboos, the latter based principally on vegetative characters. A conspectus of the subfamily also appears, with a list of all 37 genera recognized in the American continent, each with nomenclatural and taxonomic notes. Comments on the morphology of the bamboo plant and the systematic value of some characters, especially vegetative, are given in the introduction
Genera of bamboos native to the new world (Gramineae: Bambusoideae)
by
Floyd Alonzo McClure
( Book )
5 editions published in
1973
in
English
and held by 321 WorldCat member libraries worldwide
Key to the recognizel genera of bamboos native to the new world. Apoclada McClure. Arthrostylidium ruprecht. Arundinaria michaux. Athroostachys bentham. Atractantha McClure, new genus. Aulonemia goudot. Bambusa schreber, subgenus guadua (Kunth) Hackel. Chusquea kunth. Colanthelia McClure and E.W. Smith, new genus. Elystrostachys McClure. Glaziophyton Franchet. Merostachys Sprengel. Myriocladus Swallen. Neurolepis Meisner. Rhipidocladum McClure, new genus. Swallenochloa McClure, new genus. Yushania K.H. Keng
Classification of the outlying species of New World Panicum (Poaceae: Paniceae)
by
Fernando O Zuloaga
( Book )
8 editions published in
1985
in
English
and held by 287 WorldCat member libraries worldwide
In the present study a number of species originally assigned to Panicum but not fitting well within its boundaries have been examined. Some of the characters that have been used in the past to distinguish genera in the tribe have been re-examined, including type of hilum, spikelet compression, relative length of the glumes, consistency of the upper anthecium and whether crested or not, and carriage of the spikelet relative to the axis. Further characters of taxonomic importance have been revealed by studies made with the scanning electron microscope (SEM) at higher magnifications than previously possible. The results of these studies indicate that several species should be removed from Panicum and transferred to other genera. Accordingly the following changes have been made: P. megastachyum Nees ex Trinius and P. albicomum Swallen & Garcia Barriga have been transferred to Brachiaria, P. glutinosum Swartz and P. villaricense Mez to Homolepis, P. grandifolium Doell to Ichnanthus, P. killipii Hitchcock to Paspalurn, and P. macranthum Trinius to Streptostachys. Panicum arnacites Trinius forms the basis of a new genus, Tatianyx. With these changes in content the descriptions of Homolepis and Streptostachys are emended, two new species-Brachiaria tatianae and Streptostachys ramosa-are described, and the unusual species P. aristellum Doell is characterized and a possible relationship discussed. A chart is presented that compares the characters of the genera covered in the present investigation, P. aristellum and the two new species are illustrated, and SEM photomicrographs of all taxa are included
Revision of the South American genus Otachyrium (Poaceae, Panicoideae)
by
Tatiana Sendulsky
( Book )
9 editions published in
1984
in
English
and held by 278 WorldCat member libraries worldwide
A review of this genus of seven species is provided with descriptions and illustrations of each. Of these species, four are described as new: O. aquaticum, O. grandajlorum, O. piligerum, and O. seminudum. Two, O. pterigodium and O. versicolor, are already known in the literature, and one, O. succisum, is a new combination. In addition to its short, subequal glumes, remarkable peculiarities of this panicoid genus are the enlarged palea of the lower staminate floret and the chartaceous, dark and shining or sometimes opaque and greenish, upper hermaphrodite floret, both of which are united at maturity
The Phareae and Streptogyneae (Poaceae) of Sri Lanka : a morphological-anatomical study
by
Thomas R Soderstrom
( Book )
8 editions published in
1987
in
English
and
Spanish
and held by 198 WorldCat member libraries worldwide
A morphological-anatomical study of the herbaceous bamboos (Poaceae: Bambusoideae) of Sri Lanka is presented. The occurrence of Scrotochloa urceolata and Leptaspis zeylanica of the Phareae and Streptogyna crinita of the Streptogyneae on the island represents the easternmost region in which these tribes of animal-dispersed, rain forest grasses are found together, a fact of phytogeographic significance, since both groups are the only herbaceous bamboo tribes found in both the Old World and the New World. Morphologically, Leptaspis and Scrotochloa possess strongly pseudopetiolate, inverted, obliquely-veined, usually broad leaves with an inner ligule and transverse veinlets. The inflorescence is an open panicle bearing unisexual one-flowered spikelets; the mature female florets are inflated and covered with uncinate macrohairs that facilitate epizoochory, and the male spikelets have six stamens. Streptogyna has narrower, non-inverted, parallel-veined leaves that possess inner and outer ligules. The perfect, several-flowered spikelets have two or three stigmas and two stamens and are borne in a spikelike raceme; at maturity the florets may detach and adhere to animals by means of a complex of awns, retrorsely barbed stigmas, and rachilla internodes. Details of leaf anatomy indicate that both tribes are peripheral members of the Bambusoideae. Transverse sections of the blades reveal typically bambusoid features such as a complex midrib vasculature, prominent fusoid cells, at least rudimentary arm cells, a multi-layered inner vascular bundle sheath composed of small, thick-walled cells, and an outer bundle sheath of large, colorless cells. The epidermides of the Phareae and Streptogyneae are quite distinct from each other and from typical bamboos. The pharoid grasses, unlike bamboos, possess intercostal fibrous bands, dumbbell-shaped, horizontal silica bodies, and poorly developed bulliform cells. Streptogyna, while less anomalous, also possesses somewhat fiber-like intercostal cells. Bicellular microhairs and well-developed, minute epidermal papillae, both typically bambusoid features, are absent from the leaf-blades of both tribes
more
fewer
Audience Level
0

1
Kids
General
Special
Audience level: 0.53 (from 0.43 for Revision o ... to 0.99 for The genus ...)
Associated Subjects
America
Anomochloa
Arnold Arboretum
Bamboo
Bamboo--Anatomy
Bamboo--Morphology
Botany
Bromegrasses
Carter, Annetta
Central America
Conservation of natural resources
Dressler, Robert L.,
Grasses
Grasses--Anatomy
Grasses--Classification
Grasses--Evolution
Grasses--Morphology
Gunn, Charles R.,
Hoover, Scott
Maclurolyra
McVaugh, Rogers,
Mexico
Miller, Norton G
Mountain muhly
Nicolson, Dan H.--(Dan Henry),
Ōhashi, Hiroyoshi,
Olyra
Otachyrium
Panama
Panicum
Parodiolyra
Plant anatomy
Plant morphology
Plants
Plants--Classification
Plants--Evolution
Plowman, Timothy
Polhill, R. M
Purseglove, J. W.--(John William),
Schubert, Bernice
Shaw, Elizabeth A
Soderstrom, Thomas R
South America
Spongberg, Stephen A
Sri Lanka
Streptochaeta
Tropics
Williams, Louis Otho,
Wood, Carroll E
Yams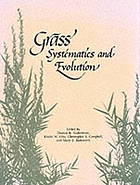 Covers
Alternative Names
Söderström, Thomas R.

Soderstrom, Thomas Robert, 1936-1987

Thomas Robert Soderstrom Amerikaans botanicus (1936-1987)

Thomas Robert Soderstrom botànic estatunidenc

Thomas Robert Soderstrom botánico estadounidense

Thomas Robert Soderstrom botaniste américain

Thomas Robert Soderstrom US-amerikanischer Botaniker

Сёдерстрём, Томас Роберт

Languages