Euripides
Overview
| | |
| --- | --- |
| Works: | 10,097 works in 27,376 publications in 39 languages and 275,824 library holdings |
| Genres: | Drama Tragedies (Drama) Comedy plays Criticism, interpretation, etc Mythological plays Biography Satyr plays Verse drama Textbooks Records and correspondence |
| Roles: | Author, Lyricist, Honoree, Other, Bibliographic antecedent, Creator, Adapter, Dedicatee, Composer, Translator, Collector |
| Classifications: | PA3973, 882.01 |
Most widely held works about Euripides
more
fewer
Most widely held works by Euripides
Fifteen Greek plays
by
Euripides
( Book )
1,293 editions published between
1539
and 2020 in 31 languages and held by 12,728 WorldCat member libraries worldwide
One of the most powerful and enduring of Greek tragedies, Euripides' masterwork centers on the myth of Jason, leader of the Argonauts, who has won the dragon-guarded treasure of the Golden Fleece with the help of the sorceress Medea? whom he marries and eventually abandons. Authoritative Rex Warner translation
The Bacchae
by
Euripides
( Book )
658 editions published between
1730
and 2018 in 16 languages and held by 8,618 WorldCat member libraries worldwide
"Regarded by many as Euripides' masterpiece, Bakkhai examines both the horror and the beauty of the religious ecstasy that Dionysos brings to Thebes. His offer of closeness to nature and freedom from the constraints of civilization, especially for women, excites bitter resistance as well as fanatical acceptance." "Disguised as a young holy man and accompanied by his band of Asian worshipers, the god Dionysos arrives in Greece at Thebes, proclaims his godhood and his new religion, and drives the Theban women mad. When the Theban king, Pentheus, tries to imprison him, Dionysos afflicts Pentheus himself with madness and leads him, dressed as a bacchant, to the mountains, where his own mother, Agaue, and her companions tear him to pieces in an insane Bacchic frenzy."
Alcestis
by
Euripides
( Book )
812 editions published between
1557
and 2018 in 21 languages and held by 8,476 WorldCat member libraries worldwide
"Euripides' Alcestis - perhaps the most anthologized Attic drama - is an ideal test for students reading their first play in the original Greek. Literary commentaries and language aids in most editions are too advanced or too elementary for intermediate students of the language, but in this new student edition, C.A.E. Luschnig and H.M. Roisman remedy such deficiencies." "The introductory section of this edition provides historical and literary perspective; the commentary explains points of grammar, syntax, and vocabulary, as well as elucidating background features such as dramatic conventions and mythology; and a discussion section introduces the controversies surrounding this most elusive drama. In their presentation, Luschnig and Roisman have initiated a new method for introducing students to current scholarship." "This edition also includes a glossary, an index, a bibliography, and grammatical reviews designed specifically for students of Greek language and culture in their second year of university study or third year of high school"--Jacket
Hippolytos
by
Euripides
( Book )
807 editions published between
1597
and 2018 in 14 languages and held by 6,700 WorldCat member libraries worldwide
"A limited edition broadside featuring 4th Choral Ode from Euripides' Hippolytos (1268-1281), translated by Anne Carson. Hippolytos was published as part of Grief Lessons: Four Plays by Euripides (NYRB Classics, 2006)"--Vamp & Tramp Booksellers' website, viewed on July 23, 2014
Iphigeneia in Tauris
by
Euripides
( Book )
390 editions published between
1730
and 2018 in 14 languages and held by 5,328 WorldCat member libraries worldwide
This is the translation of the Euripides play about the princess Iphigeneia who narrowly avoided death by sacrifice at the hands of her father, Agamemnon. She was saved by the goddess Artemis, to whom the sacrifice was to be made, and swept off to Tauris. As a priestess at the goddess' temple, she has the gruesome task of ritually sacrificing foreigners who land on King Thoas's shores. It has much in common with another of the Greek playwright's work, Helen, as well as the lost play Andromeda, and is often described as a romance, a melodrama, a tragi-comedy or an escape play
The Trojan women
by
Euripides
( Book )
111 editions published between
1905
and 2017 in 6 languages and held by 5,010 WorldCat member libraries worldwide
As bleak and agonizing a portrait of war as ever to appear on the stage, The Trojan Women is a masterpiece of pathos as well as a timeless and chilling indictment of war's brutality
Hecuba
by
Euripides
( Book )
476 editions published between
1507
and 2018 in 12 languages and held by 4,268 WorldCat member libraries worldwide
A translation of Euripides' play, "Hecuba," in which Hecuba grieves over the loss of a daughter and takes revenge for her fallen son
Ion
by
Euripides
( Book )
270 editions published between
1730
and 2017 in 14 languages and held by 4,168 WorldCat member libraries worldwide
One of Euripides' late plays, Ion tells the story of Kreousa, queen of Athens, and her son by the god Apollo. Apollo raped Kreousa; she secretly abandoned their child, assuming thereafter that the god had allowed him to die. Ion, however, is saved to become a ward of Apollo's temple at Delphi. In the play, Kreousa and her husband Xouthos go to Delphi to seek a remedy for their childlessness; Apollo, speaking through his oracle, gives Ion to Xouthos as a son, enraging the apparently still childless Kreousa. Mother tries to kill son, son traps mother at an altar and is about to do her violence; just then, Apollo's priestess appears to reveal the birth tokens that permit Kreousa to recognize and embrace the child she thought she had lost forever. Ion must accept Apollo's duplicity along with his benevolence toward his son. Disturbing riptides of thought and feeling run just below the often shimmering surface of this masterpiece of Euripidean melodrama. Despite Ion's "happy ending," the concatenation of mistaken identities, failed intrigues, and misdirected violence enacts a gripping and serious drama. Euripides leaves the audience to come to terms with the shifting relations of god and mortals in his complex and equivocal interpretation of myth
Orestes
by
Euripides
( Book )
290 editions published between
1548
and 2019 in 15 languages and held by 3,723 WorldCat member libraries worldwide
Produced more frequently on the ancient stage than any other tragedy, Orestes retells with striking innovations the story of the young man who kills his mother to avenge her murder of his father. Though eventually exonerated, Orestes becomes a fugitive from the Furies (avenging spirits) of his mother's blood. On the brink of destruction, he is saved in the end by Apollo, who had commanded the matricide. Powerful and gripping, Orestes sweeps us along with a momentum that starting slowly, builds inevitably to one of the most spectacular climaxes in all Greek tragedy.</sp
Electra
by
Euripides
( Book )
399 editions published between
1545
and 2017 in 18 languages and held by 3,530 WorldCat member libraries worldwide
This vital translation of Euripides' Electra recreates the prize-winning excitement of the original play. Electra, obsessed by dreams of avenging her father's murder, impatiently awaits the return of her exiled brother Orestes. After his arrival Electra uses Orestes as her instrument of vengeance, killing their mother's husband, then their mother herself - and only afterward do they see the evil inherent in these seemingly just acts. But in his usual fashion, Euripides has imbued myth with the reality of human experience, counterposing suspense and horror with comic realism and down-to-earth comments on life
more
fewer
Audience Level
0

1
Kids
General
Special
Audience level: 0.34 (from 0.01 for Hippolytos ... to 0.67 for Andromache ...)
Related Identities
Associated Subjects
Alcestis,--Queen, consort of Admetus, King of Pherae
Andromache--(Legendary character)
Bacchantes
Cassandra--(Legendary character)
Civilization
Civilization, Modern--Greek influences
Closure (Rhetoric)
Comparative literature
Cyclopes (Greek mythology)
Didactic drama, Greek
Dionysus--(Greek deity)
Dramatists, Greek
Electra--(Greek mythological figure)
Euripides
Families
Greece
Greece--Athens
Greek drama
Greek drama (Tragedy)
Greek literature
Hecuba,--Queen of Troy
Hecuba (Euripides)
Helen,--of Troy, Queen of Sparta
Heracles--(Greek mythological character)
Hippolytus--(Mythological character)
Influence (Literary, artistic, etc.)
Intellectual life
Ion--(Mythological character)
Iphigenia--(Mythological character)
Literature
Medea,--consort of Aegeus, King of Athens (Mythological character)
Medea (Euripides)
Mythology, Greek
Mythology, Greek, in literature
Odysseus,--King of Ithaca (Mythological character)
Orestes,--King of Argos (Mythological character)
Originality (Aesthetics)
Pentheus,--King of Thebes (Mythological character)
Political plays, Greek
Queens
Rhesus,--King of Thrace (Legendary character)
Rhetoric, Ancient
Seven against Thebes (Greek mythology)
Silenus--(Mythological character)
Soldiers
Technique
Tragedy
Trojan War
Turkey--Troy (Extinct city)
Women--Mythology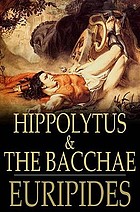 Covers
Alternative Names
E.

Eurípedes

Euripid

Euripide

Eurípides

Euripides Tragicus

Euripidesu

Eŭripido

Eurypides

Ėvripid

Yūrībīdīs

Εὐριπίδης

אוריפידס

يوربيد

يوريبيد

يوريبيديس

エウリーピデース

欧里庇得斯

Languages
English
(2,755)
Greek, Ancient
(1,640)
Italian
(658)
German
(486)
Greek, Modern
(406)
French
(268)
Latin
(266)
Spanish
(135)
Multiple languages
(83)
Danish
(75)
Dutch
(62)
Portuguese
(26)
Swedish
(20)
Polish
(13)
Turkish
(13)
Catalan
(10)
Hebrew
(7)
Welsh
(6)
Afrikaans
(5)
Slovenian
(5)
Russian
(4)
Finnish
(4)
Czech
(3)
Norwegian
(3)
Esperanto
(3)
Chinese
(2)
Croatian
(2)
Faroese
(2)
Hindi
(2)
Irish
(2)
Japanese
(1)
Arabic
(1)
Yiddish
(1)
Lithuanian
(1)
Miscellaneous languages
(1)
Gorontalo
(1)
Albanian
(1)
Serbian
(1)
Maltese
(1)
more
fewer