Janzen, Daniel H.
Most widely held works about Daniel H Janzen
Most widely held works by Daniel H Janzen
Costa Rican natural history
by
Daniel H Janzen
( Book )
12 editions published between
1983
and 2006 in 3 languages and held by 829 WorldCat member libraries worldwide
Fauna, Florenwerke, Costa Rica
Ecology of plants in the tropics
by
Daniel H Janzen
( Book )
16 editions published between
1975
and 1977 in
English
and held by 571 WorldCat member libraries worldwide
Vegetative biology; Pollination biology; Fruit and seed biology; Chemical defences; Community structure; Tropical agriculture; Suggested field studies
Herbivores, their interaction with secondary plant metabolites
by
Gerald A Rosenthal
( Book )
12 editions published in
1979
in
English
and held by 554 WorldCat member libraries worldwide
Part I. Ecological and evolutionary processes: Evolution of plant chemical defense against herbivores; The distribution of secondary compounds within plants; Mechanism of plant avoidance of autotoxicity by secondary metabolites, especially by nonprotein amino acids; How animal perceive secondary compounds; Biochemical defense mechanisms in herbivores against plant allelochemicals; Plant resources for chemical defense; Interaction of allelochemicals with nutrients in herbivore food; New horizons in the biology of plant defenses. Part II. The chemical participants: Naturally occurring, toxic nonprotein amino acids; Cyanide and cyanogenic glycosides; The evolutionary ecology of alkaloids; Toxic seed lipids; Chemistry and biological effect of glucosinolates; Sesquiterpene lactones and other terpenoids; Saponins; Phytohemagglutinins; Proteinase inhibitors; Flavonoid pigments; Tannins and lignins; Insect hormone and antihormones in plants
100 caterpillars : portraits from the tropical forests of Costa Rica
by
Jeffrey C Miller
( Book )
6 editions published between
2006
and 2009 in
English
and held by 356 WorldCat member libraries worldwide
"Gathered by biologists Daniel Janzen, Winifred Hallwachs, and Jeffrey Miller in the tropical dry forests, cloud forests, and rain forests of northwestern Costa Rica, over 100 large-format photographs of caterpillars document the variety of shapes, vivid colors, and cryptic markings among these species. The pictures are accompanied by capsule species accounts - revealing life histories as diverse as their forms - and images of the adult butterfly or moth. Throughout, the authors convey an intimate sense of these creatures - studied over twenty-five years - by focusing on how their features figure in their behavior and ecology, and on the beauty of nature in this life stage, as well as the nature of that beauty."--Jacket
Costa Rica : paradise reclaimed
( Visual )
3 editions published in
1987
in
English
and held by 217 WorldCat member libraries worldwide
Biologist Dan Janzen has fought for 15 years to save what is left of the tropical dry forests of Central America. In his effort to preserve the ecosystem, he has educated the local people to understand the importance of the forests, recruited Costa Ricans as game wardens and park managers, taught biology students and appealed before the United Nations
Swollen-thorn acacias of Central America
by
Daniel H Janzen
( Book )
11 editions published between
1973
and 1974 in
English
and held by 34 WorldCat member libraries worldwide
This nomenclatural, taxonomic, and ecological treatment of 11 Central American obligate ant-acacias (Acacia allenii, A. chiapensis, A. collinsii, A. cookii, A. cornigera, A. gentlei, A globulifera, A. hindsii, A. mayana, A. melaconoceras, and A. sphaerocephala) and one quasi-obligate ant-acacia (Acacia ruddiae) is based on extensive field study from 1963 to 1972 and on herbarium specimens where of use. The population boundaries of all species are mapped ad described with respect to ecological parameters. Morphological variation, details of the interaction with the ants, and acacia reproductive biology are presented for most species
Plant conservation : a natural history approach
by
Gary A Krupnick
( Book )
3 editions published in
2005
in
English
and held by 7 WorldCat member libraries worldwide
Part I. Plant Diversity: Past and Present Chapter 1. Evolution of Land Plant Diversity: Major Innovations and Lineages through Time William A. DiMichele and Richard M. Bateman Chapter 2. Diversity and Distribution of Plants 2.1 Terrestrial Plant Diversity Jens Mutke, Gerold Kier, Gary A. Krupnick, and Wilhelm Barthlott 2.2 Marine Plant Diversity Walter H. Adey Chapter 3. Plant Extinctions 3.1 A Paleontological Perspective on Plant Extinctions Scott Wing 3.2 Current Plant Extinctions: Chiaroscuro in Shades of Green Bruce A. Stein and Warren L. Wagner Part II. Plant Diversity: Habitats and Taxonomic Groups Chapter 4. Case Studies in Select Tropical and Subtropical Habitats 4.1 The Ecuadorian Andes John L. Clark 4.2 The Ramal de Guaramacal in the Venezuelan Andes Laurence J. Dorr, Basil Stergios, and S. Miguel Niño 4.3 The Guiana Shield Vicki A. Funk and Paul E. Berry 4.4 Pacific Oceanic Islands Warren L. Wagner, Denise Mix, and Jonathan Price 4.5 The Gaoligong Mountains of Southwest China and Northeast Myanmar Ai-Zhong Liu and W. John Kress Chapter 5. Case Studies among Select Taxonomic Groups 5.1 Dinoflagellates: Phylum Dinoflagellata Maria A. Faust 5.2 Lichens: Phylum Ascomycota Rebecca Yahr and Paula T. DePriest 5.3 Mosses: Phylum Bryophyta Harold E. Robinson 5.4 Grasses: Family Poaceae Paul M. Peterson 5.5 Day Flowers: Family Commelinaceae Robert B. Faden 5.6 Acanthus: Family Acanthaceae Dieter C. Wasshausen 5.7 Daisies and Sunflowers: Family Asteraceae Vicki A. Funk and Harold E. Robinson 5.8 African Violets: Family Gesneriaceae Laurence E. Skog 5.9 Litchis and Rambutans: Family Sapindaceae Pedro Acevedo-Rodríguez Part III. Contemporary Causes of Plant Extinction Chapter 6. Habitat Fragmentation and Degradation 6.1 Forest Fragments and Tropical Plant Reproduction in Amazonian Brazil Emilio M. Bruna and W. John Kress 6.2 Habitat Alteration in the Caribbean: Natural and Human-Induced W. John Kress and Carol Horvitz 6.3 Habitat Loss: The Extreme Case of Madagascar Dieter C. Wasshausen and Werner Rauh 6.4 Degradation of Algae in Coral Reefs Walter H. Adey 6.5 Alteration of Kelp Communities in the Northwestern North Atlantic Walter H. Adey and James N. Norris Chapter 7. Invasive Species Jessica Poulin, Ann Sakai, Stephen Weller, and Warren L. Wagner Chapter 8. Global Climate Change: The Spring Temperate Flora Paul M. Peterson, Stanwyn G. Shetler, Mones S. Abu-Asab, and Sylvia S. Orli Chapter 9. Genetic Consequences of Reduced Diversity: Heterozygosity Loss, Inbreeding Depression, and Effective Population Size Paul M. Peterson and Carrie L. McCracken Part IV. The Conservation of Plant Diversity: Assessment, Management Strategies, and Action Chapter 10. Mapping Biological Diversity 10.1 Herbarium Collections, Floras, and Checklists W. John Kress and Vicki A. Funk 10.2 Hot Spots and Ecoregions Gary A. Krupnick 10.3 Phylogenetic Considerations M. Alejandra Jaramillo and Vicki A. Funk Chapter 11. Assessing Conservation Status 11.1 Genetic Assessment Methods for Plant Conservation Biology Elizabeth A. Zimmer 11.2 Species Assessment: The IUCN Red List Gary A. Krupnick 11.3 Community Assessment: Rapid Assessment Teams William S. Alverson Chapter 12. Management Strategies 12.1 Ex situ Conservation of Plants Stephen Blackmore 12.2 A Proposed Sustainable Coral-Reef Management Model Mark M. Littler and Diane S. Littler 12.3 Application of a Seagrass Management Model Mark M. Littler and Diane S. Littler Chapter 13. Laws and Treaties: Is the Convention on Biological Diversity Protecting Plant Diversity? Kerry ten Kate and W. John Kress Chapter 14. Grassroots Conservation Stanwyn G. Shetler Conclusion: Documenting and Conserving Plant Diversity in the Future W. John Kress and Gary A. Krupnick
more
fewer
Audience Level
0

1
Kids
General
Special
Audience level: 0.42 (from 0.11 for Costa Rica ... to 0.99 for Janzen, Da ...)
Related Identities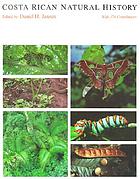 Alternative Names
Daniel H. Janzen Amerikaans bioloog

Daniel Hunt Janzen

Daniel Hunt Janzen US-amerikanischer Evolutionsbiologe

Janzen, D. H.

Janzen, Daniel

Дженсен, Дэниэл Хант

ダニエル・ハント・ジャンゼン

Languages
Covers