Meddeb, Abdelwahab
Overview
| | |
| --- | --- |
| Works: | 98 works in 306 publications in 10 languages and 4,016 library holdings |
| Genres: | History Controversial literature Fiction Interviews Criticism, interpretation, etc |
| Roles: | Author, Editor, Translator, Author of introduction, Contributor, Scenarist, Curator, Interviewee |
| Classifications: | PQ2673.E34, 320.55091767 |
Most widely held works about Abdelwahab Meddeb
more
fewer
Most widely held works by Abdelwahab Meddeb
The malady of Islam
by
Abdelwahab Meddeb
( Book )
21 editions published between
2002
and 2007 in 5 languages and held by 824 WorldCat member libraries worldwide
"Contemporary Islam is infected with a sickness that is cutting it off from the richness of its own tradition and history. In this impassioned, erudite and deeply moving book, Abdelwahab Meddeb traces the genealogy of this malady and at the same time powerfully demonstrates the pluralist tradition at the heart of Islam. In so doing, he dismantles the common misconceptions of both western scholars of Islam and Islamic fundamentalists, and offers new paths for engagement between Islam and the West." "Meddeb, born and raised in Tunis, and now living in Paris, approaches the rise of fundamentalism with a wide-ranging intellect that encompasses Voltaire, Nietzsche, Goethe, Kant, as well a deep knowledge of classical Arabic literature and philosophy. He is uniquely positioned to see the damage that has been wrought on both cultures by the alienation between Islam and the West. Meddeb shows us why it is imperative for the West to engage with Islam as a part of the Western tradition, and for Islam to look back, not at the letter of the religious text, but to the polemics, controversies, and debates that nourished Islam when it was at its peak."--BOOK JACKET
A history of Jewish-Muslim relations : from the origins to the present day
by
Abdelwahab Meddeb
( Book )
11 editions published between
2013
and 2014 in
English
and held by 526 WorldCat member libraries worldwide
"This is the first encyclopedic guide to the history of relations between Jews and Muslims around the world from the birth of Islam to today. Richly illustrated and beautifully produced, the book features more than 150 authoritative and accessible articles by an international team of leading experts in history, politics, literature, anthropology, and philosophy. Organized thematically and chronologically, this indispensable reference provides critical facts and balanced context for greater historical understanding and a more informed dialogue between Jews and Muslims"--Jacket
Islam and the challenge of civilization
by
Abdelwahab Meddeb
( Book )
12 editions published between
2009
and 2015 in
English
and
French
and held by 457 WorldCat member libraries worldwide
Abdelwahab Meddeb makes an urgent case for an Islamic reformation, located squarely in Western Europe, now home to millions of Muslims, where Christianity and Judaism have come to coexist with secular humanism and positivist law. He is not advocating "moderate" Islam, which he characterizes as thinly disguised Wahabism, but rather an Islam inspired by the great Sufi thinkers, whose practice of religion was not bound by doctrine. To accomplish this, Meddeb returns to the doctrinal question of the text as transcription of the uncreated word of God and calls upon Muslims to distinguish between Islam's spiritual message and the temporal, material, and historically grounded origins of its founding scriptures. He contrasts periods of Islamic history--when philosophers and theologians engaged in lively dialogue with other faiths and civilizations, and contributed to transmitting the Hellenistic tradition to early modern Europe--with modern Islam's collective amnesia of this past. Meddeb wages a war of interpretations in this book, in his attempt to demonstrate that Muslims cannot join the concert of nations unless they set aside outmoded notions such as jihad and realize that feuding among the monotheisms must give way to the more important issue of what it means to be a citizen in today's post-religious global setting
Talismano
by
Abdelwahab Meddeb
( Book )
18 editions published between
1978
and 2011 in 3 languages and held by 264 WorldCat member libraries worldwide
"Talismano is a hallucinatory journey through half-remembered, half-imagined cities--in particular, the city of Tunis, both as it is now, and as it once was. Walking and writing, journey and journal, mirror one another to produce a calligraphic, magical work..."--P. [4] of cover
Phantasia : roman
by
Abdelwahab Meddeb
( Book )
15 editions published between
1986
and 2003 in
French
and
Italian
and held by 152 WorldCat member libraries worldwide
Le personnage marche dans Paris, les sens aux aguets, l'esprit à l'affût, captant la sensation qui transfigure et l'idée qui illumine, à travers la saisie des objets qui fascinent en leur familiarité. Le moi, multiplié, est nommé dans l'ambivalance des pronoms. Comme pour situer le protagoniste dans la fragilité que procure l'insatiable quête de l'image féminine de la changeante Aya, possédée, imprenable
La maladie de l'Islam
by
Abdelwahab Meddeb
( Book )
11 editions published between
2002
and 2005 in
French
and held by 114 WorldCat member libraries worldwide
Extrait de la couverture : "Si, selon Voltaire, l'intolérance fut la maladie du catholicisme, si le nazisme fut la maladie de l'Allemagne qu'ausculta Thomas Mann, l'intégrisme est, comme le démontre ce livre, la maladie de l'islam. Dans la tradition, l'accès à la lettre - Coran et tradition prophétique - était bien gardé : il fallait obéir à des conditions particulières pour l'interpréter et la faire parler. Mais l'accès sauvage à cette lettre n'a pu être empêché, et il est arrivé maintes fois que l'histoire ait à enregistrer les désastres qu'il a provoqués. Avec les effets de la démographie et la démocratisation, les semi-lettrés ont proliféré, et les candidats qui s'autorisent à toucher à la lettre sont devenus infiniment plus nombreux : leur nombre renforce, hélas, leur fanatisme. Car ce sont des hommes du ressentiment, qui alimentent les rangs des intégristes. Pour comprendre la genèse de cette maladie, il faut remonter loin dans l'histoire, à la Médine du Prophète (VIIe siècle), à la ville de Bagdad au temps des Abbassides (IXe siècle), à celle de Damas au XIVe siècle, après la fin des Croisades et l'épuisement de la vague mongole, à l'Arabie du XVIIIe siècle, avec la fondation du wahhabisme ... C'est à ce voyage que nous invite ce livre, pour comprendre les raisons internes de la maladie d'islam, mais aussi les causes externes qui l'exacerbent : non-reconnaissance de l'islam par l'Occident ; reniement des principes par les Occidentaux dès que leurs intérêts le réclament; hégémonie qu'ils exercent dans l'impunité et l'injustice - en particulier, de nos jours, sous la figure de l'Américain."
Histoire des relations entre juifs et musulmans des origines à nos jours
by
Abdelwahab Meddeb
( Book )
7 editions published in
2013
in
French
and held by 91 WorldCat member libraries worldwide
"Depuis les premiers liens entre les tribus juives d'Arabie et le Prophète Muhammad jusqu'aux récents conflits du Proche-Orient, en passant par les civilisations de Bagdad et de Cordoue sans oublier l'Empire ottoman, le monde perse et même l'espace européen, les relations tour à tour fécondes ou tumultueuses entre juifs et musulmans sont ici exposées et analysées en toute impartialité. Quelque cent vingt auteurs de tous pays ont participé à cette encyclopédie unique en son genre, dans un esprit d'interdisciplinarité qui permet de rendre compte des multiples facettes du sujet. Les difficultés du temps présent se trouvent ainsi réinterprétées à la lumière d'une histoire resituée dans la longue durée. Un ouvrage de référence richement illustré, à la fois clair et accessible, qui constitue un outil précieux pour une meilleure compréhension entre les cultures."--Page 4 of cover
Tombeau d'Ibn Arabi
by
Abdelwahab Meddeb
( Book )
15 editions published between
1987
and 2004 in 4 languages and held by 90 WorldCat member libraries worldwide
more
fewer
Audience Level
0

1
Kids
General
Special
Audience level: 0.61 (from 0.00 for Abdelwahab ... to 1.00 for The writin ...)
Related Identities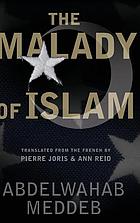 Alternative Names
Madabb, ʿAbd al-Wahhāb 1946-

Meddeb, Abdel Wahab 1946-

Meddeb, Abdel Wahab 1946-2014

Meddeb, Abdelwahab

Meddeb Abdelwahab 1946-2014

Medeb, Abdulvehab

Medeb Abdulwahab 1946-2014

Muʾaddab, ʿAbd al-Wahāb al-

Muʾaddab, ʿAbd al-Wahhāb al-

Muʾaddab, ʿAbd al-Wahhāb al- 1946-...

Muʾaddab ʿAbd al-Wahhāb al- 1946-2014

المؤدّب, عبد الوهّاب

المؤدّب, عبد الوهّاب 1946-...

المؤدّب عبد الوهّاب 1946-2014

عبد الوهاب المؤدب

مؤدب، عبد الوهاب

Languages
Covers