Roth, Alvin E. 1951-
Most widely held works by Alvin E Roth
The handbook of experimental economics
by
John H Kagel
( Book )
14 editions published between
1995
and 1998 in
English
and held by 708 WorldCat member libraries worldwide
"This book, which comprises eight chapters, presents a comprehensive critical survey of the results and methods of laboratory experiments in economics. The first chapter provides an introduction to experimental economics as a whole, while the remaining chapters provide surveys by leading practitioners in areas of economics that have seen a concentration of experiments: public goods, coordination problems, bargaining, industrial organization, asset markets, auctions, and individual decision making." "The work aims both to help specialists set an agenda for future research and to provide nonspecialists with a critical review of work completed to date. Its focus is on elucidating the role of experimental studies as a progressive research tool so that, whenever possible, the emphasis is on looking at a series of experiments that build on one another. The contributors to the volume - Colin Camerer, Charles A. Holt, John H. Kagel, John O. Ledyard, Jack Ochs, Alvin E. Roth, and Shyam Sunder - adopt a particular methodological point of view: the way to learn how to design and conduct experiments is to consider how good experiments grow organically out of the issues and hypotheses they are designed to investigate."--Jacket
Who gets what--and why : the new economics of matchmaking and market design
by
Alvin E Roth
( Book )
4 editions published between
2015
and 2016 in
English
and held by 538 WorldCat member libraries worldwide
"A Nobel laureate reveals the often surprising rules that govern a vast array of activities -- both mundane and life-changing -- in which money may play little or no role. If you've ever sought a job or hired someone, applied to college or guided your child into a good kindergarten, asked someone out on a date or been asked out, you've participated in a kind of market. Most of the study of economics deals with commodity markets, where the price of a good connects sellers and buyers. But what about other kinds of "goods," like a spot in the Yale freshman class or a position at Google? This is the territory of matching markets, where "sellers" and "buyers" must choose each other, and price isn't the only factor determining who gets what. Alvin E. Roth is one of the world's leading experts on matching markets. He has even designed several of them, including the exchange that places medical students in residencies and the system that increases the number of kidney transplants by better matching donors to patients. In Who Gets What -- And Why, Roth reveals the matching markets hidden around us and shows how to recognize a good match and make smarter, more confident decisions"--
Two-sided matching : a study in game-theoretic modeling and analysis
by
Alvin E Roth
( Book )
35 editions published between
1990
and 2013 in
English
and held by 474 WorldCat member libraries worldwide
"[This book] provides a comprehensive account of recent results concerning the game-theoretic analysis of two-sided matching such as between firms and workers in labor markets, and between buyers and sellers in auctions. The book begins with a discussion of empirical results concerning behavior in such markets, and then proceeds to analyze a variety of related models. Among the discrete and continuous models considered are those with complete or incomplete information, money or barter, single or multiple workers, and simple or complex preferences. The book examines the stability of outcomes, the modification of incentives to agents under different organizational rules, and the constraints imposed on market organization by the incentives. Using this wide range of related models and matching situations helps clarify which conclusions are robust and which depend on particular modeling assumptions"--Cover, p. [4]
Axiomatic models of bargaining
by
Alvin E Roth
( Book )
16 editions published in
1979
in 3 languages and held by 267 WorldCat member libraries worldwide
The handbook of market design
by
Nir Vulkan
( Book )
12 editions published between
2013
and 2014 in
English
and held by 120 WorldCat member libraries worldwide
Economists often look at markets as given, and try to make predictions about who will do what and what will happen in these markets Market design, by contrast, does not take markets as given; instead, it combines insights from economic and game theory together with common sense and lessons learned from empirical work and experimental analysis to aid in the design and implementation of actual markets In recent years the field has grown dramatically, partially because of the successful wave of spectrum auctions in the US and in Europe, which have been designed by a number of prominent economists, and partially because of the increase use of the Internet as the platform over which markets are designed and run There is now a large number of applications and a growing theoretical literature. The Handbook of Market Design brings together the latest research from leading experts to provide a comprehensive description of applied market design over the last two decades In particular, it surveys matching markets: environments where there is a need to match large two-sided populations to one another, such as medical residents and hospitals, law clerks and judges, or patients and kidney donors It also examines a number of applications related to electronic markets, e-commerce, and the effect of the Internet on competition between exchanges
The redesign of the matching market for American physicians : some engineering aspects of economic design
by
Alvin E Roth
( Book )
18 editions published in
1999
in
English
and held by 72 WorldCat member libraries worldwide
We report on the design of the new clearinghouse adopted by the National Resident Matching Program, which annually fills approximately 20,000 jobs for new physicians in the United States. Because that market exhibits many complementarities between applicants and between positions, the theory of simple matching markets does not apply directly. However, computational experiments reveal that the theory provides a good approximation, and furthermore the set of stable matchings, and the opportunities for strategic manipulation, are surprisingly small. A new kind of core convergence' result is presented to explain this; the fact that each applicant can interview for only a small fraction of available positions is important. We also describe in detail engineering aspects of the design process
Last minute bidding and the rules for ending second-price auctions : theory and evidence from a natural experiment on the Internet
by
Alvin E Roth
( Book )
13 editions published in
2000
in
English
and held by 56 WorldCat member libraries worldwide
There is a great deal of late bidding on internet second price auctions. We show that this need not result from either common value properties of the objects being sold, or irrational behavior: late bidding can occur at equilibrium even in private value auctions. The reason is that very late bids have a positive probability of not being successfully submitted, and this opens a way for bidders to implicitly collude, and avoid bidding wars, in auctions such as those run by eBay, which have a fixed end time. A natural experiment is available because the auctions on Amazon, while operating under otherwise similar rules, do not have a fixed end time, but continue if necessary past the scheduled end time until ten minutes have passed without a bid. The strategic differences in the auction rules are reflected in the auction data by significantly more late bidding on eBay than on Amazon. Futhermore, more experienced bidders on eBay submit late bids more often than do less experienced bidders, while the effect of experience on Amazon goes in the opposite direction. On eBay, there is also more late bidding for antiques than for computers. We also find scale independence in the distribution over time of bidders' last bids, of a form strikingly similar to the deadline effect' noted in bargaining: last bids are distributed according to a power law. The evidence suggests that multiple causes contribute to late bidding, with strategic issues related to the rules about ending the auction playing an important role
more
fewer
Audience Level
0

1
Kids
General
Special
Audience level: 0.58 (from 0.26 for Who gets w ... to 0.75 for The redesi ...)
Related Identities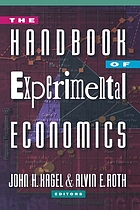 Alternative Names
Alvin E. Roth amerikansk konom

Alvin E. Roth economista estadounidense

Alvin E. Roth US-amerikanischer Wirtschaftswissenschaftler

Alvin Eliot Roth economista statunitense

Alvin Elliot Roth

Alvin Roth

Alvin Roth amerikansk ekonom

Alvin Roth conomiste amricain

Elvin Rot

Rot, Ėlvin 1951-

Roth, Al 1951-

Roth, Alvin E.

Roth, Alvin Eliot 1951-

Алвин Рот

Елвін Рот

Рот, Элвин

Элвин Рот

Элвін Рот

Էլվին Էլիոթ Ռոթ

אלווין רות

ألفين روث

الون اے روتھ

الوین ای. روث اقتصاددان آمریکایی

ایلون روتھ

एल्भिन ए रोथ

অলভিন রোথ

ஆல்வின் ரோத்

ელვინ როთი

앨빈 로스

アルヴィン・ロス

阿尔文罗思

Languages
Covers