Michaels, Patrick J.
Most widely held works by Patrick J Michaels
The satanic gases : clearing the air about global warming
by
Patrick J Michaels
( Book )
10 editions published between
2000
and 2005 in
English
and held by 952 WorldCat member libraries worldwide
A well informed view of climate change where the authors, after reviewing the climate-change issue, the principles of climate, and the nature, limitations, and assumptions of various climate models, conclude that climatic change will be relatively small and benign
Climate of extremes : global warming science they don't want you to know
by
Patrick J Michaels
( Book )
12 editions published between
2008
and 2010 in
English
and held by 708 WorldCat member libraries worldwide
"It's a fact that there are fewer citations in the refereed scientific literature providing evidence for the moderate view of global warming, but that's to be expected. In Climate of Extremes, climatologists Patrick J. Michaels and Robert Balling Jr. explain that climate science is hardly unbiased, even though the global climate community itself believes that any new finding has an equal probability of making our climatic future appear more or less dire." "Michaels and Balling examine all aspects of the apocalyptic vision of climate change making headlines every day. This includes news stories on hurricanes being pumped up by global warming, the rapid melting of Greenland and Antarctica causing a sea-level rise of 20 feet over the next 90 years, the increasing pace of global warming, and a swiftly growing number of heat-wave related deaths. Each of these pop-culture icons of climate change turns out to be short on facts and long on exaggeration. People who read Climate of Extremes will emerge well-armed against an army of extremists hawking climate change as the greatest threat ever to our society and way of life."--Jacket
Sound and fury : the science and politics of global warming
by
Patrick J Michaels
( Book )
6 editions published between
1992
and 1993 in
English
and held by 616 WorldCat member libraries worldwide
The popular vision of an approaching apocalypse caused by global warming has no scientific foundation, says Patrick J. Michaels. Those who warn of a catastrophic greenhouse effect - such as Sen. Al Gore - can justify neither their fears nor their blueprints for dramatically interfering with the U.S. and world economies. Sound and Fury criticizes "science by sound bite" and congressional show trials complete with testimony that has not been peer reviewed according to scientific standards. Among the misconceptions exposed is the claim that most scientists subscribe to the apocalyptic vision of global warming. "Rather, the consensus is the opposite: the Popular Vision is unscientific," Michaels writes. Even Greenpeace's survey of scientists who participated in the major United Nations study of climate change found that only 13 percent of the respondents believe that failure to change our energy use would result in a runaway greenhouse effect. Michaels shows that the slight warming over the last century has been far less than the prophets of the apocalypse would expect - throwing the reliability of their computer climate models into doubt - that most of it happened before industry's massive carbon dioxide emissions began, and that most of the warming is at night, when it produces benign effects such as longer growing seasons. In other words, the warming that has resulted from natural climatic processes is good. Among other points brought out in this pathbreaking book: for most of the last billion years, atmospheric carbon dioxide concentration was greater than it is today. Carbon dioxide, far from being a pollutant, makes plants grow. Research shows that enhanced CO[subscript 2] concentrations make plants grow better. The result: cheaper, more plentiful food. Proposed policies to prevent global warming would be "the greatest centrally planned social engineering experiment in history." Before we impose a trillion-dollar plan on our economy to fix a dubious problem, every informed American should read Pat Michaels's words of warning
Lukewarming : the new climate science that changes everything
by
Patrick J Michaels
( Book )
4 editions published between
2015
and 2016 in
English
and held by 96 WorldCat member libraries worldwide
In Lukewarming: The New Climate Science that Changes Everything, Michaels and Knappenberger, two scientists with more than half a century experience between them, explore the realities and myths of global warming--which is more likely to be lukewarm rather than hot
Is the sky really falling : a review of recent global warming scare stories
by
Patrick J Michaels
( Book )
3 editions published in
2006
in
English
and held by 13 WorldCat member libraries worldwide
In the last two years, a remarkable amount of disturbing news has been published concerning global warming, largely concentrating on melting of polar ice, tropical storms and hurricanes, and mass extinctions. The sheer volume of these stories appears to be moving the American political process toward some type of policy restricting emissions of carbon dioxide. It is highly improbably, in a statistical sense that new information added to any existing forecast is almost always "bad" or "good"; rather, each new finding has an equal probability of making a forecast worse or better. Consequently, the preponderance of bad news almost certainly means that something is missing, both in the process of science itself and in the reporting of science. This paper examines in detail both recent scientific reports on climate change and the communication of those reports. Needless to say, the unreported information is usually counter to the bad news. Reports of rapid disintegration of Greenland's ice ignore the fact that the region was warmer than it is now for several decades in the early 20th century, before humans could have had much influence on climate. Similar stories concerning Antarctica neglect the fact that the net temperature trend in recent decades is negative, or that warming the surrounding ocean can serve only to enhance snowfall, resulting in a gain in ice. Global warming affects hurricanes in both positive and negative fashions, and there is no relationship between the severity of storms and ocean-surface temperature, once a commonly exceeded threshold temperature is reached. Reports of massive species extinction also turn out to be impressively flawed. This constellation of half-truths and misstatements is a predictable consequence of the way that science is now conducted, where issues compete with each other for public support. Unfortunately, this creates a culture of negativity that is reflected in the recent spate of global warming reports
more
fewer
Audience Level
0

1
Kids
General
Special
Audience level: 0.21 (from 0.07 for Climate of ... to 0.78 for Long hot y ...)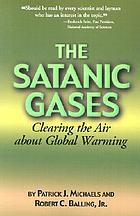 Alternative Names
Michaels, Patrick 1950-

Mickaels, Patrick

Mickaels, Patrick J.

Patrick J. Michaels US-amerikanischer Klimatologe, Publizist und Politikberater

Patrick Michaels Amerikaans lobbyist

Languages
Covers