Luhmann, Niklas 1927-1998
Overview
| | |
| --- | --- |
| Works: | 1,105 works in 4,362 publications in 22 languages and 47,742 library holdings |
| Roles: | Author, Editor, Honoree, Creator, Contributor, Author of introduction, Dedicatee, Interviewee, Other, Adapter, Illustrator |
| Classifications: | HM131, 301 |
Most widely held works about Niklas Luhmann
more
fewer
Most widely held works by Niklas Luhmann
Social systems
by
Niklas Luhmann
( Book )
117 editions published between
1984
and 2013 in 5 languages and held by 1,419 WorldCat member libraries worldwide
Germany's most prominent social thinker here sets out a contribution to sociology that aims to rework our understanding of meaning and communication. He links social theory to recent theoretical developments in scientific disciplines
Love as passion : the codification of intimacy
by
Niklas Luhmann
( Book )
125 editions published between
1969
and 2014 in 15 languages and held by 1,324 WorldCat member libraries worldwide
In this important book Niklas Luhmann - one of the leading social thinkers of the late 20th century - analyses the emergence of 'love' as the basis of personal relationships in modern societies. He argues that, while family systems remained intact in the transition from traditional to modern societies, a semantics for love developed to accommodate extra-marital relationships; this semantics was then transferred back into marriage and eventually transformed marriage itself. Drawing on a diverse range of historical and literary sources, Luhmann retraces the emergence and evolution of the special semantics of passionate love that has come to form the basis of modern forms of intimacy and personal relationships. This classic book by Luhmann has been widely recognized as a work of major importance. It is an outstanding contribution to social theory and it provides an original and illuminating perspective on the nature of modern marriage and sexuality. -- Publisher description
The differentiation of society
by
Niklas Luhmann
( Book )
156 editions published between
1000
and 2009 in 6 languages and held by 1,255 WorldCat member libraries worldwide
Dieser Band fat eine Reihe kleinerer Studien zu Problemen der Gesellschaftstheorie zusammen. Die Auswahl der Aufsätze konzentriert sich auf globale Aspekte des Gesell schaftssystems und seiner Unterscheidung von anderen Systemtypen. Sie klammert alle Beiträge zu besonderen Funktionsbereichen oder Teilsystemen der Gesellschaft wie Politik, Recht, Religion, Wirtschaft, Kunst, Erziehung im Interesse einer Begrenzung des Umfangs aus. Im Arbeitszusammenhang der Gesellschaftstheorie sind mir in den letzten Jahren eine Reihe von Teilkomplexen wichtig und unentbehrlich geworden. Es handelt sich [1] um Bemühungen, den Gesellschaftsbegriff nicht nur, wie früher vorherrschend, gegen Indi viduen abzugrenzen, sondern zusätzlich gegen andere Typen sozialer Systeme, nämlich gegen Interaktion und Organisation; [2] um eine Theorie der gesellschaftlichen Evolu tion; [3] um eine Theorie symbolisch generalisierter Kommunikationsmedien auf der Grundlage allgemeiner Vorstellungen über annehmbare/ablehnbare Kommunikation; [4] um eine Theorie des Zusammenhangs zwischen Ausdifferenzierung und Innendiffe renzierung (insbesondere: funktionaler Differenzierung) des Gesellschaftssystems und [5] um den Themenkomplex Selbst-Thematisierung, wissenschaftliche Analysierbarkeit, Rationalität
The reality of the mass media
by
Niklas Luhmann
( Book )
80 editions published between
1995
and 2012 in 12 languages and held by 1,125 WorldCat member libraries worldwide
"In The Reality of the Mass Media, Luhmann extends his theory of social systems to an examination of the role of mass media in the constitution of social reality." "Luhmann argues that the system of mass media is a set of recursive, self-referential programs of communication, whose functions are not determined by the external values of truthfulness, objectivity, or knowledge, nor by specific social interests or political directives. Rather, he contends that the system of mass media is regulated by the internal code information/noninformation, which enables the system to select its information (news) from its own environment and to communicate this information in accordance with its own reflexive criteria."--Jacket
Trust and power : two works
by
Niklas Luhmann
( Book )
94 editions published between
1968
and 2015 in 10 languages and held by 1,002 WorldCat member libraries worldwide
Vertrauen im weitesten Sinne eines Zutrauens zu eigenen Erwartungen ist ein elementarer Tatbestand des sozialen Lebens. Von Vertrauen spricht man im täglichen Leben meist in moralischem Sinne. Dem gegenüber analysiert Luhmann Funktion, Bedingungen und Taktiken des Vertrauens sozialwissenschaftlich. Vor allem wird dabei angestrebt, den Bereich der rationalen Handlungen nach Möglichkeit zu erweitern. Das kann erreicht werden, wenn man in der Lage ist, durch persönliches Vertrauen oder Vertrauen in das Funktionieren gesellschaftlicher Systeme sich auf höhere Risiken einzulassen. Niklas Luhmann unternimmt es also in diesem schon klassisch gewordenen Buch, den in der Alltagssprache und der traditionellen ethischen Vorstellungswelt vielfach besetzten Begriff des Vertrauens im Rahmen theoretischer Soziologie zu erörtern und das in einer so anschaulichen und anregenden Weise, dass das Buch seit langem breite Beachtung gefunden hat - weit über den Kreis der Fachsoziologen hinaus
Art as a social system
by
Niklas Luhmann
( Book )
61 editions published between
1995
and 2014 in 5 languages and held by 936 WorldCat member libraries worldwide
Möglicherweise kann das Kunstsystem in seinen eigenen Operationen davon profiteren, ein Theorieangebot zu erhalten, das Kontext und Kontigenz der Kunst gesellschaftstheoretisch zu klären versucht. Die Funktion der Kunst und die Ausdifferenzierung des Kunstsystems. Wahrneming und Kommunikation: zur Reproduktion von Formen. Recensie van Rudi Laermans in: De Witte Raaf (1998)74(jul/aug.20-23)
A sociological theory of law
by
Niklas Luhmann
( Book )
76 editions published between
1972
and 2014 in 5 languages and held by 868 WorldCat member libraries worldwide
English translation of : Rechtssoziologie
Risk : a sociological theory
by
Niklas Luhmann
( Book )
58 editions published between
1991
and 2008 in 4 languages and held by 831 WorldCat member libraries worldwide
Annotation A great deal of attention has been devoted to risk research. Sociologists in general have limited themselves to varying recognitions of a society at risk and have traced out the paths to disaster. The detailed research has yet to be undertaken. In Risk, now available in paperback, Niklas Luhmann develops a theoretical program for such research. His premise is that the concept of risk projects essential aspects of our description of the future onto the present. Risk is conceived as the possibility of triggering unexpected, unlikely, and detrimental consequences by means of a decision attributable to a decision maker
Law as a social system
by
Niklas Luhmann
( Book )
74 editions published between
1993
and 2015 in 7 languages and held by 758 WorldCat member libraries worldwide
Modern systems theory provides a new paradigm for the analysis of society. In this volume, Niklas Luhmann, its leading exponent, explores its implications for our understanding of law. Luhmann argues that current thinking about how law operates within a modern society is seriously deficient. In this volume he lays out the theoretical and methodological tools that, he argues, can advance our understanding of contemporary society and, in particular, of the identity, performance, and function of the legal system within that society. In systems theory, society is its communications: they are its empirical reality; the items that can be observed and studied. Systems theory identifies how communications operate within a physical world and how different sub-systems of communication operate alongside each other. In this volume, Luhmann uses systems theory to address a question central to legal theory: what differentiates law from other parts of society?
Observations on modernity
by
Niklas Luhmann
( Book )
45 editions published between
1992
and 2006 in 6 languages and held by 670 WorldCat member libraries worldwide
Die Proklamation der "Postmoderne" hatte mindestens einen Verdienst: Sie hat bekannt gemacht, dass die moderne Gesellschaft das Vertrauen in die Richtigkeit ihrer eigenen Selbstbeschreibungen verloren hat. Vielleicht hatte das Stichwort der Postmoderne nur eine andere, variantenreichere Beschreibung der Moderne versprechen wollen, die ihre eigene Einheit nur noch negativ vorstellen kann als Unmöglichkeit eines métarécit. Wir mögen gern zugestehen, dass es keine verbindliche Repräsentation der Gesellschaft in der Gesellschaft gibt. Aber das wäre dann nicht das Ende, sondern der Beginn einer Reflexion der Form von Selbstbeobachtungen und Selbstbeschreibungen eines Systems, die im System selbst vorgeschlagen und durchgesetzt werden müssen in einem Prozess, der seinerseits wieder beobachtet und beschrieben wird. Die hier publizierten Texte gehen von der Überzeugung aus, dass darüber etwas ausgesagt werden kann, ja, dass Theoriematerialien schon verfügbar sind, die nur auf dieses Thema der Beobachtungen der Moderne hingeführt werden müssen (source : éditeur)
more
fewer
Audience Level
0

1
Kids
General
Special
Audience level: 0.74 (from 0.01 for Fichte tri ... to 0.91 for Luhmann le ...)
Related Identities
Associated Subjects
Aesthetics
Art and society
Autopoiesis
Communication
Communication--Social aspects
Critical theory
Differentiation (Sociology)
Discourse analysis--Social aspects
Ecology--Philosophy
Environmental policy
Environmental protection--Philosophy
Esser, Hartmut
Foucault, Michel,
Gadamer, Hans-Georg,
Habermas, Jürgen
Interpersonal communication
Intimacy (Psychology)
Koselleck, Reinhart
Laclau, Ernesto,
Law
Law (Philosophical concept)
Law--Political aspects
Legitimacy of governments
Love
Luhmann, Niklas,
Mass media
Mass media--Audiences
Mass media--Social aspects
Nature--Effect of human beings on
Philosophy, Comparative
Political and social views
Political science
Postmodernism--Social aspects
Power (Social sciences)
Religion and sociology
Risk--Sociological aspects
Semantics
Social interaction
Social sciences--Philosophy
Social structure
Social systems
Social systems--Philosophy
Sociological jurisprudence
Sociology
Sociology--Methodology
Sociology--Philosophy
System theory
Trust
Weber, Max,
Welfare state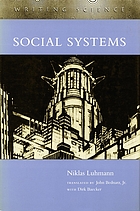 Alternative Names
Lu man 1927-1998

Luhman, Niklas 1927-1998

Luhmann, N.

Luhmann, N. 1927-1998

Luhmann, N. (Niklas), 1927-1998

Luhmann, Niklas

Luman 1927-1998

Luman, N. 1927-1998

Luman, Nikelasi 1927-1998

Lūman, Niklas 1927-1998

Lūmān, Nīkulaus 1927-1998

Lumann, Niklas 1927-1998

N. Lu man 1927-1998

N.-Luman 1927-1998

Ni ke la si Lu man 1927-1998

Nicolaus Luhmann

Nikelasi-Luman 1927-1998

Niklas Luhmann

Niklas Luhmann Duits filosoof

Niklas Luhmann German sociologist, administration expert, and social systems theorist

Niklas Luhmann socilogo alemn

Niklas Luhmann sociologo e filosofo tedesco

Niklas Luhmann sociologue allemand

Rūman, N. 1927-1998

Rūman, Nikorasu 1927-1998

Rūman, Nikuraso 1927-1998

Rūman, Nikurasu 1927-1998

Луман, Никлас 1927-1998

Луман, Никлас немецкий социолог

Ніклас Луман

نيكلاس لوهمان

نیکلاس لومان دانشمند و فیلسوف آلمانی

니클라스 루만

ニクラス・ルーマン

ルーマン, N.

ルーマン, ニクラス

ルーマン, ニクラス 1927-1998

尼克拉斯卢曼

Languages
Covers