Diamond, Jared M.
Overview
| | |
| --- | --- |
| Works: | 381 works in 1,476 publications in 11 languages and 36,806 library holdings |
| Genres: | History Case studies Documentary television programs Television programs Nonfiction television programs Conference papers and proceedings Field guides Documentary films Criticism, interpretation, etc Juvenile works |
| Roles: | Author, Host, Editor, Author of introduction, Other, frw, Collector, Bibliographic antecedent |
Most widely held works about Jared M Diamond
more
fewer
Most widely held works by Jared M Diamond
Guns, germs, and steel : the fates of human societies
by
Jared M Diamond
( Book )
130 editions published between
1997
and 2017 in 4 languages and held by 7,552 WorldCat member libraries worldwide
Why did Eurasians conquer, displace, or decimate Native Americans, Australians, and Africans, instead of the reverse? In this groundbreaking book, evolutionary biologist Jared Diamond stunningly dismantles racially based theories of human history by revealing the environmental factors actually responsible for history's broadest patterns. Here, at last, is a world history that really is a history of all the world's peoples, a unified narrative of human life even more intriguing and important than accounts of dinosaurs and glaciers. A major advance in our understanding of human societies, Guns, Germs, and Steel chronicles the way that the modern world, and its inequalities, came to be. It is a work rich in dramatic revelations that will fascinate readers even as it challenges conventional wisdom
Collapse : how societies choose to fail or succeed
by
Jared M Diamond
( Book )
109 editions published between
2004
and 2015 in 3 languages and held by 5,727 WorldCat member libraries worldwide
"In his Pulitzer Prize-winning bestseller Guns, Germs, and Steel, Jared Diamond examined how and why Western civilizations developed the technologies and immunities that allowed them to dominate much of the world. Now, Diamond probes the other side of the equation: What caused some of the great civilizations of the past to collapse into ruin, and what can we learn from their fates?"
The world until yesterday : what can we learn from traditional societies?
by
Jared M Diamond
( Book )
39 editions published between
2012
and 2014 in
English
and
Chinese
and held by 2,857 WorldCat member libraries worldwide
Most of us take for granted the features of our modern society, from air travel and telecommunications to literacy and obesity. Yet for nearly all of its six million years of existence, human society had none of these things. While the gulf that divides us from our primitive ancestors may seem unbridgeably wide, we can glimpse much of our former lifestyle in those largely traditional societies still or recently in existence. Societies like those of the New Guinea Highlanders remind us that it was only yesterday, in evolutionary time, when everything changed, and that we moderns still possess bodies and social practices often better adapted to traditional than to modern conditions. This book provides a firsthand picture of the human past as it had been for millions of years, a past that has mostly vanished, and considers what the differences between that past and our present mean for our lives today. The author does not romanticize traditional societies, after all, we are shocked by some of their practices, but he finds that their solutions to universal human problems such as child rearing, elder care, dispute resolution, risk, and physical fitness have much to teach us
Guns, germs, and steel
by
Jared M Diamond
( Visual )
36 editions published between
2000
and 2016 in
English
and held by 2,129 WorldCat member libraries worldwide
"Based on the best-selling, Pulitzer Prize-winning book of the same title, and with its author, Jared Diamond, as our chief provocateur, Guns, Germs And Steel is an epic detective story that spans the globe. Journeying across five continents, the series goes in search of the very source of human civilisation, and charts its evolution."--ABC website
Natural experiments of history
by
Jared M Diamond
( )
23 editions published between
2010
and 2018 in
English
and
Japanese
and held by 1,733 WorldCat member libraries worldwide
This book consists of eight comparative studies drawn from history, archeology, economics, economic history, geography, and political science. The studies cover a spectrum of approaches, ranging from a non-quantitative narrative style in the early chapters to quantitative statistical analyses in the later chapters. The studies range from a simple two-way comparison of Haiti and the Dominican Republic, which share the island of Hispaniola, to comparisons of 81 Pacific islands and 233 areas of India. The societies discussed are contemporary ones, literate societies of recent centuries, and non-literate past societies. Geographically, they include the United States, Mexico, Brazil, western Europe, tropical Africa, India, Siberia, Australia, New Zealand, and other Pacific islands
The birds of northern Melanesia : speciation, ecology & biogeography
by
Ernst Mayr
( )
19 editions published between
2001
and 2002 in
English
and held by 1,463 WorldCat member libraries worldwide
Origins and Acknowledgements. Introduction. Part 1. Northern Melanesia's Physical and Biological Environment. 1. Geology and geological history. 2. Climate. 3. Habitats and vegetation. 4. Terrestrial vertebrates other than birds. Part 2. Human History and Impacts. 5. Human history. 6. Ornithological exploration of Northern Melanesia. 7. Exterminations of bird populations. Part 3. The Northern Melanesia Avifauna. 8. Family composition. 9. Determinants of island species number. 10. Level of endemism, habitat preference, and abundance of each species. 11. Overwater dispersal ability of each speci
Why is sex fun? : the evolution of human sexuality
by
Jared M Diamond
( Book )
37 editions published between
1997
and 2015 in
English
and held by 1,311 WorldCat member libraries worldwide
To humans, the sex lives of many animals seem weird. In fact, by comparison with other animals, we are the ones with the weird sex lives. How did that come to be? We are the only social species to insist on carrying out sex privately. Stranger yet, we have sex at any time, even when the female can't be fertilized (for example, because she is already pregnant, post-menopausal, or between fertile cycles). A human female doesn't know her precise time of fertility and certainly doesn't advertise it to human males by the striking color changes, smells, and sounds used by other female mammals. Why do we differ so radically in these and other important aspects of our sexuality from our closest ancestor, the apes? Why does the human female, virtually alone among mammals, go through menopause? Why does the human male stand out as one of the few mammals to stay (often or usually) with the female he impregnates, to help raise the children that he sired? Why is the human penis so unnecessarily large? There is no one better qualified than Jared Diamond--renowned expert in the fields of physiology and evolutionary biology--to explain the evolutionary forces that operated on our ancestors to make us sexually different. With wit and a wealth of fascinating examples, he explains how our sexuality has been as crucial as our large brains and upright posture in our rise to human status.--From publisher description
Guns, germs, and steel : [the fates of human societies]
by
Jared M Diamond
( Recording )
22 editions published between
1997
and 2011 in
English
and
Undetermined
and held by 1,042 WorldCat member libraries worldwide
Is the balance of power in the world, the essentially unequal distribution of wealth and clout that has shaped civilization for centuries, a matter of survival of the fittest, or merely of the luckiest? In Guns, Germs, and Steel, UCLA professor (and author of the best-seller bearing the same title) Jared Diamond makes a compelling case for the latter. Diamond's theory is that the predominance of white Europeans (and Americans of European descent) over other cultures has nothing to do with racial superiority, as many have claimed, but is instead the result of nothing more, or less, than geographical coincidence. His argument, in a nutshell, is that the people who populated the Middle East's "fertile crescent" thousands of years ago were the first farmers, blessed with abundant natural resources (native crops such as wheat and barley, domesticable animals like pigs, goats, sheep, and cows). When their descendents migrated to Europe and northern Africa, climates similar to the crescent's, those same assets, which were unavailable in most of the rest of the world, led to the flourishing of advanced civilizations in those places as well. Add to that their ability to control fire, and Europeans eventually developed the guns and steel (swords, trains, etc.) they used to conquer the planet (the devastating diseases they brought with them, like smallpox, were an unplanned "benefit" to their subjugation of, for instance, Peru's native Incas). The program uses location footage (from New Guinea, South America, Africa, and elsewhere), interviews, reenactments, maps, and Diamond's own participation to support his thesis
Birds of New Guinea
by
Thane K Pratt
( )
5 editions published between
1986
and 2015 in
English
and held by 976 WorldCat member libraries worldwide
This is the completely revised edition of the essential field guide to the birds of New Guinea. The world's largest tropical island, New Guinea boasts a spectacular avifauna characterized by cassowaries, megapodes, pigeons, parrots, cuckoos, kingfishers, and owlet-nightjars, as well as an exceptionally diverse assemblage of songbirds such as the iconic birds of paradise and bowerbirds. Birds of New Guinea is the only guide to cover all 780 bird species reported in the area, including 366 endemics. Expanding its coverage with 111 vibrant color plates-twice as many as the first edition
more
fewer
Audience Level
0

1
Kids
General
Special
Audience level: 0.22 (from 0.07 for Natural ex ... to 0.89 for Effondreme ...)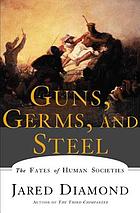 Covers
Alternative Names
Cared Daymond

Dāymūnd, Jirid 1937-

Diamond, J. M. 1937-

Diamond, J. M. (Jared Mason), 1937-

Diamond, Jared.

Diamond, Jared 1937-

Diamond Jared M.

Diamond, Jared M. 1937-

Diamond, Jared M. (Jared Mason), 1937-

Diamond, Jared Mason.

Diamond, Jared Mason 1937-

Jared, Diamond

Jared Diamond ahli biologi asal Amerika Serikat

Jared Diamond American scientist, nonfiction author

Jared Diamond americký vedec a spisovateľ

Jared Diamond Amerikaans bioloog

Jared Diamond amerykański biolog ewolucyjny, fizjolog i biogeograf

Jared Diamond biologo e fisiologo statunitense

Jared Diamond scientifique et auteur américain

Jared Diamond US-amerikanischer Evolutionsbiologe, Physiologe und Biogeograf

Jared Mason Diamond

Τζάρεντ Ντάιαμοντ

Даймонд, Джаред

Даймонд, Джаред 1937-

Джаред Даймонд

Джаред Даймънд

ג'ארד דיאמונד

ג'ארד דיימונד

דיאמונד, ג'ארד מ., 1937-

דימונד, ג'רד 1937-

جارد دايموند

جارد دایموند

جأرد مىسؤن داىمؤند

دايموند، جرد.

دايموند، جرد، 1937-

ஜேரட் டயமண்ட்

จาเร็ด ไดมอนด์

다이아몬드, 재레드 1937-

다이아몬드, 제러드 1937-

다이아몬드, 제레드 1937-

재러드 다이아몬드

ジャレド・ダイアモンド

ダイアモンド, ジャレド

賈德·戴蒙 美国科学家

Languages