Kissinger, Henry 1923-
Overview
| | |
| --- | --- |
| Works: | 1,643 works in 3,237 publications in 26 languages and 116,463 library holdings |
| Genres: | Biography History Sources Archives |
| Roles: | Author, Editor, Speaker, Interviewee, Other, Creator, Author of introduction, Commentator, Narrator, Correspondent, Recipient, Dedicatee, Contributor, Performer |
| Classifications: | E840.8.K58, 327.73 |
Most widely held works about Henry Kissinger
more
fewer
Most widely held works by Henry Kissinger
Diplomacy
by
Henry Kissinger
( Book )
118 editions published between
1994
and 2014 in 20 languages and held by 4,053 WorldCat member libraries worldwide
In this controversial and monumental book - arguably his most important - Henry Kissinger illuminates just what diplomacy is. Moving from a sweeping overview of his own interpretation of history to personal accounts of his negotiations with world leaders, Kissinger describes the ways in which the art of diplomacy and the balance of power have created the world we live in, and shows how Americans, protected by the size and isolation of their country, as well as by their own idealism and mistrust of the Old World, have sought to conduct a unique kind of foreign policy based on the way they wanted the world to be, as opposed to the way it really is. Spanning more than three centuries of history, from Cardinal Richelieu, the father of the modern state system, to the "New World Order" in which we live, Kissinger demonstrates how modern diplomacy emerged from the trials and experiences of the balance of power of warfare and peacemaking, and why America, sometimes to its peril, refused to learn its lessons. His intimate portraits of world leaders, including de Gaulle, Nixon, Chou En-lai, Mao Tse-tung, Reagan, and Gorbachev, based on personal experience and knowledge, provide the reader with a rare window on diplomacy at the summit, together with a wealth of detailed and original observations on the secret negotiations, great events, and the art of statesmanship that have shaped our lives in the decades before, during and since Henry Kissinger was himself at the center of things. Analyzing the differences in the national styles of diplomacy, Kissinger shows how various societies produce special ways of conducting foreign policy, and how Americans, from the very beginning, sought a distinctive foreign policy based on idealism. He illustrates his points with his own insights and with examples from his own experience, as well as with candid accounts of his breakthrough diplomatic initiatives as Nixon's foreign policy partner. Informed by deep historical knowledge, wit, a gift for irony, and a unique understanding of the forces that bind and sunder nations, Kissinger's Diplomacy is must reading for anyone who cares about America's position in the world
On China
by
Henry Kissinger
( Book )
37 editions published between
2010
and 2014 in 7 languages and held by 2,580 WorldCat member libraries worldwide
"In this sweeping and insightful history, Henry Kissinger turns for the first time at book-length to a country he has known intimately for decades, and whose modern relations with the West he helped shape. Drawing on historical records as well as his conversations with Chinese leaders over the past forty years, Kissinger examines how China has approached diplomacy, strategy, and negotiation throughout its history, and reflects on the consequences for the global balance of power in the 21st century. Since no other country can claim a more powerful link to its ancient past and classical principles, any attempt to understand China's future world role must begin with an appreciation of its long history. For centuries, China rarely encountered other societies of comparable size and sophistication; it was the "Middle Kingdom," treating the peoples on its periphery as vassal states. At the same time, Chinese statesmen-facing threats of invasion from without, and the contests of competing factions within-developed a canon of strategic thought that prized the virtues of subtlety, patience, and indirection over feats of martial prowess. In 'On China', Kissinger examines key episodes in Chinese foreign policy from the classical era to the present day, with a particular emphasis on the decades since the rise of Mao Zedong. He illuminates the inner workings of Chinese diplomacy during such pivotal events as the initial encounters between China and modern European powers, the formation and breakdown of the Sino-Soviet alliance, the Korean War, Richard Nixon's historic trip to Beijing, and three crises in the Taiwan Straits. Drawing on his extensive personal experience with four generations of Chinese leaders, he brings to life towering figures such as Mao, Zhou Enlai, and Deng Xiaoping, revealing how their different visions have shaped China's modern destiny. With his singular vantage on U.S.-China relations, Kissinger traces the evolution of this fraught but crucial relationship over the past 60 years, following its dramatic course from estrangement to strategic partnership to economic interdependence, and toward an uncertain future. With a final chapter on the emerging superpower's 21st-century world role, 'On China' provides an intimate historical perspective on Chinese foreign affairs from one of the premier statesmen of the 20th century"--
A world restored; Metternich, Castlereagh and the problems of peace, 1812-22
by
Henry Kissinger
( Book )
129 editions published between
1957
and 2013 in 7 languages and held by 2,499 WorldCat member libraries worldwide
This is a case study of the task of constructing a new international order following Napoleon's defeat in Russia in 1812, which fell particularly on the shoulders of the Austrian foreign minister and the British foreign secretary
Nuclear weapons and foreign policy
by
Henry Kissinger
( Book )
74 editions published between
1957
and 1990 in 7 languages and held by 2,392 WorldCat member libraries worldwide
Analyzes the revolution in military strategy and international diplomacy which has taken place as a result of the development of nuclear weapons. For other editions, see Author Catalog
Does America need a foreign policy? : toward a diplomacy for the 21st century
by
Henry Kissinger
( Book )
60 editions published between
2001
and 2014 in 6 languages and held by 2,122 WorldCat member libraries worldwide
The former Secretary of State under Richard Nixon argues that a coherent foreign policy is essential and lays out his own plan for getting the nation's international affairs in order
The necessity for choice; prospects of American foreign policy
by
Henry Kissinger
( Book )
40 editions published between
1960
and 1984 in
English
and
Chinese
and held by 1,677 WorldCat member libraries worldwide
Amerikansk udenrigspolitik i 1960'erne - amerikansk bog fra 1961, midt i Koldkrigsperioden, skrevet af den senere så berømte Dr. Kissinger, som selv fik afgørende indflydelse på amerikansk udenrigs- og sikkerhedspolitik i 1970'erne og 1980'erne. I bogen ridser han forskellige problemstillinger op, definerer og analyserer sikkerhedsmæssige, diplomatiske og udenrigspolitiske problemer og spørgsmål og stiller forskellige forslag til fremtidige løsninger. Bogen her er hans "attempt to point out some of the major isues which confront American foreign policy in one of the most critical periods in American history. I have tried to state the alternatives and my own conclusions."
World order
by
Henry Kissinger
( Book )
12 editions published in
2014
in
English
and
German
and held by 1,457 WorldCat member libraries worldwide
Henry Kissinger offers in World Order a meditation on the roots of international harmony and global disorder. There has never been a true "world order," Kissinger observes. For most of history, civilizations defined their own concepts of order. Each considered itself the center of the world and envisioned its distinct principles as universally relevant. China conceived of a global cultural hierarchy with the Emperor at its pinnacle. In Europe, Rome imagined itself surrounded by barbarians. When Rome fragmented, European peoples refined a concept of an equilibrium of sovereign states and sought to export it across the world. Islam, in its early centuries, considered itself the world's sole legitimate political unit, destined to expand indefinitely until the world was brought into harmony by religious principles. The United States was born of a conviction about the universal applicability of democracy -- a conviction that has guided its policies ever since. Now international affairs take place on a global basis, and these historical concepts of world order are meeting. Every region participates in questions of high policy in every other, often instantaneously. Yet there is no consensus among the major actors about the rules and limits guiding this process, or its ultimate destination. The result is mounting tension. Grounded in Kissinger's study of history and his experience as National Security Advisor and Secretary of State, World Order guides readers through crucial episodes in recent world history. Kissinger offers a glimpse into the inner deliberations of the Nixon administration's negotiations with Hanoi over the end of the Vietnam War, as well as Ronald Reagan's tense debates with Soviet Premier Gorbachev in Reykjavík. He offers insights into the future of U.S.-China relations and the evolution of the European Union, and examines lessons of the conflicts in Iraq and Afghanistan. Taking readers from his analysis of nuclear negotiations with Iran through the West's response to the Arab Spring and tensions with Russia over Ukraine, World Order anchors Kissinger's historical analysis in the decisive events of our time
more
fewer
Audience Level
0

1
Kids
General
Special
Audience level: 0.31 (from 0.20 for World orde ... to 0.67 for Kissinger' ...)
Related Identities
Associated Subjects
Cabinet officers
Cambodia
Castlereagh, Robert Stewart,--Viscount,
China
Civil War (Cambodia : 1970-1975)
Cold War (1945-1989)
Communist countries
Detente
Diplomacy
Diplomatic history
Diplomatic relations
Diplomatic relations--Philosophy
Easter Offensive (1972)
Ethics
Europe
Executive privilege (Government information)
Geopolitics
Historians
History, Modern
International organization
International relations
International relations--Administration
International relations--Decision making
International relations--Forecasting
Jewish statesmen
Kissinger, Henry,
Military campaigns
Military operations, Aerial--American
Military policy
Military readiness
Motion picture industry
Motion picture producers and directors
National security
Nineteen sixties
Nixon, Richard M.--(Richard Milhous),
Nuclear warfare
Official secrets
Political and social views
Political crimes and offenses
Political science
Politicians
Presidents
Security, International
Soviet Union
Statesmen
Twenty-first century
United States
Vietnam
Vietnam War (1961-1975)
World politics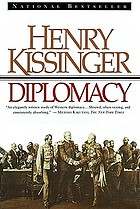 Alternative Names
Chi-hsin-chi 1923-

Jixinge 1923-

Kīsanǧar, Hanrī 1923-

Kisindžers, Henrijs 1923-

Kisinjar, Hinri.

Kīsinjar, Hinrī 1923-

Kisinker, Chenri 1923-

Kisintzer, Chenri 1923-

Kissindžer, Genri.

Kissindžer, Genri 1923-

Kissinger, H. A.

Kissinger, Heinz Alfred 1923-

Kissinger, Henry

Kissinger, Henry 1923-

Kissinger , Henry A.

Kissinger, Henry A. 1923-

Kissinger, Henry A. (Henry Alfred), 1923-

Kissinger, Henry Albert

Kissinger , Henry Alfred

Kissinger Henry Alfred 1923-....

Kissinher, Heinz Alfred.

Kissinker, Chenry 1923-

Kissinžer, Henri 1923-

Kissnker, Chenry.

Киссинджер, Генри 1923-

קיסינג׳ר, הנרי

קיסינג׳ר, הנרי 1923-

קיסינגר, הינץ אלפרד

קיסינג'ר, הנרי אלפרד

קיסנג׳ר, הנרי 1923־

كسنگر، هنري، 1923-

كسينجر، هنري، ١٩٢٣-

كيسنجر، هنري، ١٩٢٣-

هنري كيسنجر، 1923-

キッシンジャー, H

キッシンジャー, H. A

キッシンジャー, ヘンリー

基辛格 1923-

基辛格亨利 1923-

Languages
English
(654)
German
(87)
Spanish
(64)
French
(39)
Chinese
(36)
Japanese
(27)
Italian
(13)
Arabic
(8)
Romanian
(7)
Czech
(6)
Russian
(6)
Swedish
(5)
Portuguese
(4)
Turkish
(4)
Hungarian
(4)
Greek, Modern
(3)
Hebrew
(3)
Estonian
(2)
Korean
(2)
Croatian
(1)
Multiple languages
(1)
Dutch
(1)
Albanian
(1)
Norwegian
(1)
Bengali
(1)
Thai
(1)
more
fewer
Covers