Gardner, Howard 1943-
Overview
| | |
| --- | --- |
| Works: | 492 works in 1,602 publications in 18 languages and 57,694 library holdings |
| Genres: | Case studies History Biography Criticism, interpretation, etc |
| Roles: | Author, Interviewer, Interviewee, Teacher , Editor, Compiler, Speaker, Other, Commentator, Author of introduction |
| Classifications: | BF432.3, 153.9 |
Most widely held works about Howard Gardner
more
fewer
Most widely held works by Howard Gardner
Frames of mind : the theory of multiple intelligences
by
Howard Gardner
( Book )
129 editions published between
1983
and 2013 in 11 languages and held by 5,057 WorldCat member libraries worldwide
Explores the development of the theory of multiple intelligences over the last decade
The unschooled mind : how children think and how schools should teach
by
Howard Gardner
( Book )
45 editions published between
1991
and 2014 in
English
and
Italian
and held by 2,774 WorldCat member libraries worldwide
An expert in the field of cognitive science explains the development of a child's ability to interpret the world and offers new teaching methods based on current research in early learning
Intelligence reframed : multiple intelligences for the 21st century
by
Howard Gardner
( Book )
46 editions published between
1999
and 2013 in 6 languages and held by 2,673 WorldCat member libraries worldwide
From the Publisher: A brilliant state-of-the-art report on how the landmark theory of multiple intelligences is radically changing our understanding of education and human development. Since its original description in Frames of Mind (1983, 1993), the theory of multiple intelligences has taken its place as one of the seminal ideas of the twentieth century. Further explicated in Gardner's 1993 book, Multiple Intelligences, these ideas continue to attract attention and generate controversy all over the world. Now, in Intelligence Reframed, Gardner provides a much-needed state of the art report on the theory. He describes how it has evolved and been revised. He introduces two new intelligences, and argues that the concept of intelligence should be broadened, but not so much that it includes every human faculty and value. In addition, he offers practical guidance on the educational uses of the theory, and responds in lively dialogue to the critiques leveled against it. Harvard psychologist Howard Gardner has been acclaimed as the most influential educational theorist since John Dewey. His ideas about intelligence and creativity-explicated in such bestselling books as Frames of Mind and Multiple Intelligences (over 200,000 copies in print combined)-have revolutionized our thinking. In his groundbreaking 1983 book Frames of Mind, Howard Gardner first introduced the theory of multiple intelligences, which posits that intelligence is more than a single property of the human mind. That theory has become widely accepted as one of the seminal ideas of the twentieth century and continues to attract attention all over the world. Now in Intelligence Reframed, Gardner provides a much-needed report on the theory, its evolution and revisions. He offers practical guidance on the educational uses of the theory and responds to the critiques leveled against him. He also introduces two new intelligences (existential intelligence and naturalist intelligence) and argues that the concept of intelligence should be broadened, but not so absurdly that it includes every human virtue and value. Ultimately, argues Gardner, possessing a basic set of seven or eight intelligences is not only a unique trademark of the human species, but also perhaps even a working definition of the species. Gardner also offers provocative ideas about creativity, leadership, and moral excellence, and speculates about the relationship between multiple intelligences and the world of work in the future
Multiple intelligences : the theory in practice
by
Howard Gardner
( Book )
65 editions published between
1993
and 2012 in 4 languages and held by 2,531 WorldCat member libraries worldwide
Howard Gardner's brilliant conception of individual competence is changing the face of education today. In the ten years since the publication of his seminal Frames of Mind, thousands of educators, parents, and researchers have explored the practical implications of Multiple Intelligences (MI) theory -- the powerful notion that there are separate human capacities, ranging from musical intelligence to the intelligence involved in understanding oneself. Multiple Intelligences: The Theory in Practice brings together previously published and original work by Gardner and his colleagues at Project Zero to provide a coherent picture of what we have learned about the educational applications of MI theory from projects in schools and formal research over the last decade. -- Back cover
Creating minds : an anatomy of creativity seen through the lives of Freud, Einstein, Picasso, Stravinsky, Eliot, Graham, and Gandhi
by
Howard Gardner
( Book )
50 editions published between
1993
and 2012 in 7 languages and held by 2,448 WorldCat member libraries worldwide
"Creative people feature unusual combinations of intelligence and personality, and Gardner delineates the indispensable role of the circumstances in which an individual works and the crucial reactions of the surrounding group of informed peers. He finds that an essential element of the creative process is the support of caring individuals who believe in the revolutionary ideas of the creators. And he documents the fact that extraordinary creativity almost always carries with it extraordinary costs in human terms."--Jacket
The mind's new science : a history of the cognitive revolution
by
Howard Gardner
( Book )
53 editions published between
1985
and 2008 in 5 languages and held by 2,324 WorldCat member libraries worldwide
""The first full-scale history of cognitive science, this work addresses a central issue: What is the nature of knowledge?""
Changing minds : the art and science of changing our own and other people's minds
by
Howard Gardner
( Book )
19 editions published between
2004
and 2006 in 3 languages and held by 2,208 WorldCat member libraries worldwide
Publisher's description: Minds are exceedingly hard to change. Ask any advertiser who has tried to convince consumers to switch brands, any CEO who has tried to change a company's culture, or any individual who has tried to heal a rift with a friend. So many aspects of life are oriented toward changing minds--yet this phenomenon is among the least understood of familiar human experiences. Now, eminent Harvard psychologist Howard Gardner, whose work has revolutionized our beliefs about intelligence, creativity, and leadership, offers an original framework for understanding exactly what happens during the course of changing a mind--and how to influence that process. Drawing on decades of cognitive research and compelling case studies--from famous business and political leaders to renowned intellectuals and artists to ordinary individuals--Gardner identifies seven powerful factors that impel or thwart significant shifts from one way of thinking to a dramatically new one. Whether we are attempting to change the mind of a nation or a corporation, our spouse's mind or our own, this book provides insights that can broaden our horizons and improve our lives. Howard Gardner is the John H. and Elisabeth A. Hobbs Professor of Cognition and Education at the Harvard Graduate School of Education and senior director of Harvard Project Zero. The recipient of a MacArthur Prize Fellowship and 20 honorary degrees, he is the author of more than 20 books
Leading minds : an anatomy of leadership
by
Howard Gardner
( Book )
32 editions published between
1995
and 2013 in 3 languages and held by 1,999 WorldCat member libraries worldwide
In a powerful conclusion, Gardner identifies the six constant features of leadership, six trends that complexify leadership in our time, and the paradoxes that must be resolved for leadership to be effective
Extraordinary minds : portraits of exceptional individuals and an examination of our extraordinariness
by
Howard Gardner
( Book )
32 editions published between
1997
and 2009 in 4 languages and held by 1,857 WorldCat member libraries worldwide
"In Extraordinary Minds, a book as riveting as it is new, Gardner poses an important question: Is there a set of traits shared by all truly great achievers - those we deem extraordinary - no matter their field or the time period within which they did their important work?" "In an attempt to answer this question, Gardner first examines how most of us mature into more or less competent adults. He then examines closely four persons who lived unquestionably extraordinary lives - Mozart, Freud, Woolf, and Gandhi - using each as an exemplar of a different kind of extraordinariness: Mozart as the master of a discipline, Freud as the innovative founder of a new discipline, Woolf as the great introspector, and Gandhi as the influencer." "What can we learn about ourselves from the experiences of the extraordinary? Interestingly, Gardner finds that an excess of raw power is not the most impressive characteristic shared by superachievers; rather, these extraordinary individuals all have had a special talent for identifying their own strengths and weaknesses, for accurately analyzing the events of their own lives, and for converting into future successes those inevitable setbacks that mark every life." "Gardner provides answers to a number of provocative questions, among them: How do we explain extraordinary times - Athens in the fifth century B.C., the T'ang Dynasty in the eighth century, Islamic Society in the late Middle Ages, and New York at the middle of the century? What is the relation among genius, creativity, fame, success, and moral extraordinariness? Does extraordinariness make for a happier, more fulfilling life, or does it simply create a special onus?"--Jacket
more
fewer
Audience Level
0

1
Kids
General
Special
Audience level: 0.32 (from 0.06 for Music in t ... to 1.00 for Intelligen ...)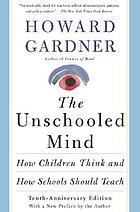 Alternative Names
Gardner, Howard

Gardner, Howard E.

Гарднер, Говард 1943-

هوارد جاردنر، 1943-

ガードナー, H

ガードナー, ハワード

Languages
Covers