United Nations General Assembly
Most widely held works about United Nations
more
fewer
Most widely held works by United Nations
The International Bill of Human Rights
by
United Nations
( Book )
15 editions published between
1978
and 1993 in
English
and held by 381 WorldCat member libraries worldwide
Universal Declaration of Human Rights
The Stiglitz report : reforming the international monetary and financial systems in the wake of the global crisis
by
Joseph E Stiglitz
( Book )
1 edition published in
2010
in
English
and held by 338 WorldCat member libraries worldwide
The Stiglitz Report, released by the committee in late 2009, sees the recent financial crisis as the latest and most damaging of several concurrent crises-of food, water, energy, and sustainability-that are tightly interrelated. The analysis and recommendations in the report cover the gamut from short-term mitigation to deep structural changes, from crisis response to lasting reform of the global economic and financial architecture
Nuclear weapons : report of the Secretary-General of the United Nations
by
United Nations
( Book )
1 edition published in
1980
in
English
and held by 310 WorldCat member libraries worldwide
Oplysninger om nuværende arsenaler, udviklingstendenser, våbenvirkning, våbendoktriner, sikkerhedsmæssige og traktatlige forhold, data for nogle vigtige våbensystemer
more
fewer
Audience Level
0

1
Kids
General
Special
Audience level: 0.46 (from 0.00 for Resolution ... to 0.75 for Trusteeshi ...)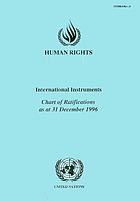 Alternative Names
Aðalfundur Sameindu Tjóða

Adunarea Generală a Națiunilor Unite

Algemene Vergadering United Nations

Algemene Vergadering van de Verenigde Naties

Allsherjarþing Sameinuðu þjóðanna

ANO. Ģenerālā asambleja

Asamblea General

Asamblea General de las Naciones Unidas

Asamblea Xeneral de les Naciones Xuníes

Asemblea Xeral das Nacións Unidas

Assemblâ g·ènèrala de l'ONU

Assemblea General de les Nacions Unides

Assemblea Generale.

Assemblea generale delle Nazioni Unite

Assemblée Générale

Assemblée générale des Nations unies

Assemblée Générale United Nations

Assembleia Geral das Nações Unidas

Assimblêye djeneråle di l' ONU

Az Egyesült Nemzetek Szervezete Közgyűlése

Berläşkän Millätlär Ğomumi Assambleyäse

Birlashgan Millatlar Tashkilotining Bosh Assambleyasi

Birleşmiş Milletler Genel Kurulu

Birləşmiş Millətlər Təşkilatının Baş Məclisi

Communis Conventus Consociationis Nationum

D Generalversammlig vo de Vereinte Natione

Đại Hội đồng Liên Hiệp Quốc

FN:s generalförsamling

FN's generalforsamling

FNs generalforsamling hovedorgan i De forente nasjoner

General Assembly

General assembly of the United Nations

General Assembly United Nations

Ĝenerala Asembleo de Unuiĝintaj Nacioj

Generalförsamling United Nations

Generalforsamlinga til SN

Generalna skupščina OZN

Generalna skupština Ujedinjenih naroda

Generalna skupština UN-a

Generalversammlung

Generalversammlung der Vereinten Nationen

Generalversammlung der Vereinten Nationen Vollversammlung der Mitgliedstaaten der Vereinten Nationen

Generalversammlung United Nations

Golaha Sare Qaramada Midoobay

Jungtinių Tautų Generalinė Asamblėja

Majelis Umum Pasarikatan Bangsa-Bangsa

Majelis Umum Perserikatan Bangsa-Bangsa

Naciones Unidas

Naciones Unidas Asamblea General

Naciones Unidas Assemblée générale

Naciones Unidas General Assembly

Nacions Unides. Asamblea General

Nacions Unides. Assemblée générale

Nacions Unides. General Assembly

Nations Unies

Nations unies Assemblée

Nations Unies Assemblée générale

Nazio Batuen Batzar Nagusia

ONZ. General Assembley.

ONZ. UNGA.

Opća skupština Ujedinjenih naroda

Organisation des Nations Unies. Assemblée génerale.

Organizace spojených národů. General Assembly

Organizacja Narodow Zjednoczonych. Assemblea Generale.

Organizacja Narodów Zjednoczonych. General'naâ Assemblâ.

Organizacja Narodów Zjednoczonych. Walne Zgromadzenie.

Organizacja Narodów Zjednoczonych Zgromadzenie Ogólne

Perhimpunan Agung Pertubuhan Bangsa-Bangsa Bersatu

Sidang Umum PBB

U.N.G.A.

Ühinenud Rahvaste Organisatsiooni Peaassamblee

Ujedinjeni narodi. Opća skupština

UN-Generalversammung

UNGA.

United Nations

United Nations Adunarea Generală

United Nations Algemene Vergadering

United Nations Asamblea General

United Nations Asefah ha-kelalit

United Nations Assemblea generale

United Nations Assemblée générale

United Nations Chʻonghoe

United Nations General Assembly

United Nations Generalförsamling

United Nations Generalʹnai︠a︡ assamblei︠a︡

United Nations General'naja Assambleja

United Nations Generalversammlung

United Nations Jamʻīyah al-ʻĀmmah

United Nations Kānprachum Samatchā

United Nations Ogólne Zgromadzenie

United Nations Sōkai

United Nations Sondergeneralversammlung

United Nations Valné shromáždění

United Nations Vollversammlung

United Nations Yleiskokous

United Nations Zgromadzenie Ogólne

Unitit Naitions General Assembly

Valné shromáždění OSN

Valné zhromaždenie Organizácie Spojených národov

Vereinte Nationen

Vereinte Nationen Generalversammlung

Vollversammlung

Vollversammlung United Nations

Yhdistyneiden kansakuntien yleiskokous

Zgromadzenie Ogólne ONZ.

Zgromadzenie Ogólne Organizacji Narodów Zjednoczonych.

Γενική Συνέλευση του Οργανισμού Ηνωμένων Εθνών

Ассамблеяи Генералии Созмони Милали Муттаҳид

Біріккен Ұлттар Ұйымының Бас Ассамблеясы

Генерална скупштина Организације уједињених нација

Генерално собрание на ООН

Генеральна Асамблея ООН

Генеральная Асамблея ААН

Генеральная Ассамблея ООН

Генэральная Асамблея ААН

Общо събрание на ООН

ООН. Генеральная Ассамблея

Организация Объединенных Наций. Генеральная Ассамблея

Միացյալ ազգերի կազմակերպության գլխավոր ասամբլեա

אומות המאוחדות אסיפה הכללית

<<ה>>אומות המאוחדות. האסיפה הכללית

העצרת הכללית של האומות המאוחדות

اقوام متحدہ جنرل اسمبلی

الجمعية العامة للأمم المتحدة

الجمعيه العامه للامم المتحده

مجمع عمومی سازمان ملل متحد

کۆڕی گشتی نەتەوە یەکگرتووەکان

संयुक्त राष्ट्रे आमसभा

संयुक्त राष्ट्र महासभा

জাতিসংঘ সাধারণ পরিষদ

ஐக்கிய நாடுகள் பொதுச் சபை

ഐക്യരാഷ്ട്ര പൊതുസഭ

สมัชชาใหญ่แห่งสหประชาชาติ

ကုလသမဂ္ဂ အထွေထွေညီလာခံ

გაეროს გენერალური ასამბლეა

국제 연합 총회

国際連合総会

联合国大会 联合国的六大主要机构之一

聯合國大會 聯合國的六大主要機構之一

Languages
Covers