Barrett, Stephen 1933-
Most widely held works about Stephen Barrett
Most widely held works by Stephen Barrett
Consumer health
by
Harold J Cornacchia
( Book )
19 editions published between
1980
and 2013 in
English
and held by 811 WorldCat member libraries worldwide
Consumer health refers to the potential or actual impact upon the consumer, individually or collectively, of any substances, devices, services, or systems that are offered for the supposed purpose of protecting, preserving, or restoring physical or mental health. This book is an effort to help the consumer to choose intelligently in spending for health items and health assistance. The text is divided into twelve chapters, dealing with (1) the caveat emptor-caveat vendor issue; (2) the psycho-social factors in consumer health; (3) healing philosophies other than orthodox medicine; (4) general medical care; (5) hospitals, nursing homes, and free clinics; (6) health insurance; (7) arthritis, cancer, cosmetics and skin products; (8) over-the-counter and prescription drug products; (9) devices used in medical treatment; (10) food faddism and weight control; (11) health care economics; and (12) consumer protection laws, agencies, and organizations. (Mb)
The vitamin pushers : how the "health food" industry is selling America a bill of goods
by
Stephen Barrett
( Book )
3 editions published in
1994
in
English
and held by 645 WorldCat member libraries worldwide
Have Americans been conned by the health-food industry into taking vitamins they don't need? Two distinguished physicians say yes! Drs. Stephen Barrett and Victor Herbert present a detailed and comprehensive picture of the multibillion-dollar health-food industry, which, they charge, has amassed its huge fortunes mostly by preying on the fears of uninformed consumers. Based on twenty years of research, The Vitamin Pushers addresses every aspect of this lucrative business and exposes its widespread misinformation campaign. The authors reveal how many health-food companies make false claims about products or services, promote unscientific nutrition practices through the media, show little or no regard for the rules of scientific testing and evidence, and often skirt the law in their schemes for making quick profits while eluding government watchdog agencies. Drs. Barrett and Herbert counter the phony assertions of health-food hucksters with reliable, scientifically based nutrition information, and they suggest how the consumer can avoid "getting quacked." They also include five useful appendices on balancing your diet, evaluating claims made for more than sixty supplements and food products, and much more. The Vitamin Pushers is a much-needed expose of a nationwide scam, which will definitely save you money and might even save your life
The Health robbers : a close look at quackery in America
by
Stephen Barrett
( Book )
5 editions published in
1993
in
English
and held by 614 WorldCat member libraries worldwide
While medical science has never had more to offer, many people are turning to "alternatives" such as chiropractic, homeopathy, "organic" foods, vitamin supplements, herbs, chelation therapy, and occult "healers." Millions of Americans who are unenlightened, seriously ill, or desperate have fallen into the clutches of TV promoters, nutrition hustlers, or other con artists whose offerings are ineffective or dangerous - and sometimes lethal. But quackery is not confined to individuals who fit the popular image of a quack. Significant numbers of well-trained physicians have strayed from science into "fad diagnoses" and unproven treatments that lack a rational basis. The Health Robbers, featuring more than twenty highly respected authorities, explains the dangers of quack medicine, "alternative" cancer remedies, health fads, and "miracle diets." It argues for stronger laws and more vigorous policing of the marketplace. And it answers such questions as: "Are 'organic' foods worth their extra cost?" "Can acupuncture cure anything?" "Will vitamin B[subscript 12] shots pep me up?" "Can diet cure arthritis?" "Will spinal adjustments help my health?" "Will amino acids 'pump up' my muscles?" "Where can reliable information be obtained?" and "What's the best way to get good medical care?" Even if the answers to some of these questions seem obvious, the details in this volume, written in an informative, highly readable, and easy-to-understand style, will astound you. Quackery often leads to harm because it turns ill people away from legitimate and trusted therapeutic procedures. However, its heaviest toll is in financial loss not only to those who pay directly, but to everyone who pays for bogus treatments through taxes, insurance premiums, and other ways that are less obvious. Chapter titles include: "The Food Fear Epidemic" ("Beware of chemical con men"), "The Overselling of Herbs" ("More hype than help"), "Quackery and the Media" ("Should we believe what we see and hear?"), "The Holistic Hodgepodge," "Dubious Dental Care," and "How Quackery Sells."
Chemical sensitivity : the truth about environmental illness
by
Stephen Barrett
( Book )
5 editions published in
1998
in
English
and held by 460 WorldCat member libraries worldwide
Presents evidence to support the author's claim that conditions for which diet and/or chemical exposure are blamed often do not exist, discussing Multiple Chemical Sensitivity, mercury-amalgam toxicity, and other disorders, and considering the political, legal, and financial implications of such syndromes
"Alternative" healthcare : a comprehensive guide : natural medicine, "hands-on" healing, spiritualism, occultism, and much more
by
Jack Raso
( Book )
2 editions published in
1994
in
English
and held by 324 WorldCat member libraries worldwide
"This important book addresses the vast array of treatments and philosophies that postulate supernatural phenomena as the key to health and disease. Jack Raso combines his own personal experience with "alternative" healthcare, in-depth research on the wide variety of methodologies, and an educational background in health science and nutrition to simplify the often confusing field of "alternative" healing techniques. Raso begins with an account of his own personal odyssey from believer to skeptic, demonstrating how easily a person raised in a devoutly religious tradition accepts supernatural explanations and mystical approaches to physical ailments." "Raso examines the philosophic underpinnings of "alternative" medicine as well as such techniques as hands-on healing, Qigong, and faith healing. He shows that, whatever the specific philosophy, the common denominator is a rejection of the scientific approach of modern medicine in favor of a belief in paranormal forces that influence the well-being of mind and body. The final section is a firsthand account of Raso's many revealing visits to various "alternative" medical practitioners. The book concludes with an encyclopedic glossary of "alternative" healthcare terminology that explains to the uninitiated the formidable jargon so often used by proponents of "alternative" treatments."--Jacket
The smoke-free workplace
by
William L Weis
( Book )
3 editions published in
1985
in
English
and held by 302 WorldCat member libraries worldwide
Chiropractic : the victim's perspective
by
George Magner
( Book )
5 editions published in
1995
in
English
and held by 298 WorldCat member libraries worldwide
A critical examination of chiropractic, beginning with a brief history of the therapy, analyzing the claims and benefits of the practice, and telling of the author's negative experiences with chiropractic treatments
more
fewer
Audience Level
0

1
Kids
General
Special
Audience level: 0.31 (from 0.21 for Your guide ... to 0.69 for Zhitomir-B ...)
Related Identities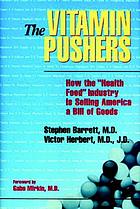 Covers
Alternative Names
Barrett, Stephen J.

Stephen Barrett Amerikaans psychiater

Stephen Barrett amerykański psychiatra

Баррет, Стивен

استیون برت

ستيفن باريت طبيب نفسي من الولايات المتحدة الأمريكية

史蒂芬·巴雷特

Languages