Goody, Jack
Overview
| | |
| --- | --- |
| Works: | 311 works in 1,469 publications in 14 languages and 27,866 library holdings |
| Genres: | History Conference proceedings Church history Cross-cultural studies Biography Interviews |
| Roles: | Author, Editor, Author of introduction, Compiler, Other, Dedicatee, Interviewee, Honoree, Composer, Contributor |
| Classifications: | GN480, 333.3234094 |
Most widely held works about Jack Goody
more
fewer
Most widely held works by Jack Goody
The development of the family and marriage in Europe
by
Jack Goody
( Book )
74 editions published between
1983
and 2012 in 5 languages and held by 1,385 WorldCat member libraries worldwide
La 4e de couverture indique : "Parmi les oeuvres majeures publiées par le grand anthropologue Jack Goody, celles qui concernent le champ de la famille et de la parenté ont été particulièrement marquantes. Près de trente ans après sa parution, la réédition de L'Evolution de la famille et du mariage en Europe, vaste synthèse sur les systèmes de parenté de l'Antiquité à l'époque contemporaine, s'imposait. Dès sa traduction en français en 1985, l'ouvrage est devenu un classique, ouvrant une large perspective comparatiste entre l'Eurasie et l'Afrique sur les systèmes de dévolution des biens et des groupes domestiques. Il questionne dans ce cadre l'emprise de l'Eglise sur les règles de mariage et de filiation, qui firent d'elle le plus grand propriétaire terrien de l'Europe au Moyen Age. En étudiant l'évolution du mariage et de la famille, Jack Goody a été l'un des premiers à démontrer que les modifications d'un système de parenté affectent l'ensemble de la société. Le présent ouvrage reproduit la brève et lumineuse préface que Georges Duby donna à la première édition. Il est introduit par deux autres textes : Martine Segalen le resitue dans l'ensemble de l'oeuvre de Jack Goody, et Didier Lett rappelle sa réception critique, par les historiens médiévistes, lors de sa première parution. Quant à Jack Goody, il répond à ces critiques dans un court texte original."
The domestication of the savage mind
by
Jack Goody
( Book )
67 editions published between
1977
and 2011 in 7 languages and held by 1,139 WorldCat member libraries worldwide
Ecrire ce n'est pas seulement enregistrer la parole, c'est aussi se donner les moyens d'en découper et d'en abstraire les éléments, de classer les mots en listes et combiner les listes en tableaux. Les ethnologues, pour connaitre la pensée sauvage, commencent souvent par la domestiquer
Family and inheritance : rural society in Western Europe, 1200-1800
by
Jack Goody
( Book )
27 editions published between
1976
and 2011 in 3 languages and held by 1,007 WorldCat member libraries worldwide
This pioneering book examines different aspects of the inheritance customs in rural Western Europe in the pre-industrial age: for families and whole societies, the roles of lawyers in reducing them to a common system, and the recurring debate on the merits of various inheritance customs in shaping particular kinds of society. At first sight the study of inheritance customs may appear to be a dull affair, concerned with outdated practices of hair-splitting lawyers; certainly, little academic interest has been shown in the subject. Yet inheritance customs are vital means for the reproduction of the social system, by the transmission of property and other rights through the family. Various family structures and social arrangements are linked by different means of inheritance. This book will interest a wide range of historians, students, postgraduates and teachers alike, whether they are concerned with social, economic, demographic or legal history, in the medieval, early modern or modern periods, and whether their interests are directed to England or other countries of Western Europe; it will also be valuable to social anthropologists, sociologists and historians of ideas. A comprehensive glossary of technical terms has been added for the non-specialist
Literacy in traditional societies
by
Jack Goody
( Book )
42 editions published between
1968
and 2005 in 3 languages and held by 996 WorldCat member libraries worldwide
The importance of writing as a means of communication in a society formerly without it, or where writing has been confined to particular groups, is enormous. It objectifies speech, provides language with a material correlative, and in this material form speech can be transmitted over space and preserved over time. In this book the contributors discuss cultures at different levels of sophistication and literacy and examine the importance of writing on the development of these societies. All the articles except the first were specially written for this book and the extensive introduction unites and synthesizes the material. -- Back cover
The theft of history
by
Jack Goody
( Book )
46 editions published between
2006
and 2014 in 7 languages and held by 980 WorldCat member libraries worldwide
Professor Jack Goody builds on his own previous work to extend further his highly influential critique of what he sees as the pervasive eurocentric or occidentalist biases of so much western historical writing. Goody also examines the consequent 'theft' by the West of the achievements of other cultures in the invention of (notably) democracy, capitalism, individualism, and love. The Theft of History discusses a number of theorists in detail, including Marx, Weber and Norbert Elias, and engages with critical admiration western historians like Fernand Braudel, Moses Finlay and Perry Anderson. Major questions of method are raised, and Goody proposes a new comparative methodology for cross-cultural analysis, one that gives a much more sophisticated basis for assessing divergent historical outcomes, and replaces outmoded simple differences between East and West. The Theft of History will be read by an unusually wide audience of historians, anthropologists and social theorists. -- Publisher description from http://www.cambridge.org (Oct. 18, 2011)
The interface between the written and the oral
by
Jack Goody
( Book )
48 editions published between
1987
and 2013 in 5 languages and held by 952 WorldCat member libraries worldwide
Whilst the fundamental significance of the spoken language for human interaction is widely acknowledged, that of writing is less well known, and in this wide-ranging series of essays Jack Goody examines in depth the complex and often confused relationship between oral and literate modes of communication. He considers the interface between the written and the oral in three cultures or societies with and without writing, and that within the linguistic life of an individual. Specific analyses of the sequence of historical change within writing systems, the historic impact of writing upon Eurasian cultures, and the interaction between distinct oral and literate cultures in West Africa, precede an extensive concluding examination of contemporary issues in the investigation, whether sociological or psychological, of literacy. A substantial corpus of anthropological, historical and linguistic evidence is produced in support of Goody's findings, which form a natural complement to his own recently published study of The Logic of Writing and the Organization of Society. -- Back cover
The Character of kinship
by
Jack Goody
( Book )
26 editions published between
1973
and 1979 in
English
and
Undetermined
and held by 947 WorldCat member libraries worldwide
"A collection of specially commissioned essays dealing with general aspects of kinship, family and marriage from an anthropological point of view, that is, considering the total range of human societies. In his editorial introduction, Jack Goody explains that his aim has been to provide 'essays dealing with general themes rather than ethnographic conundrums or descriptive minutiae' in the hope of achieving 're-consideration of some central problem areas including those examined by an earlier generation of anthropologists and still raised by scholars outside the discipline itself'. Individual essays cover problems such as the nature of kinship and the family; why monogamy?; intermarriage and the creation of castes"--From publisher description
The logic of writing and the organization of society
by
Jack Goody
( Book )
58 editions published between
1986
and 2013 in 6 languages and held by 930 WorldCat member libraries worldwide
This book assesses the impact of writing on human societies, both in the Ancient Near East and in contemporary Africa, and highlights some general features of social systems that have been influenced by this major change in the mode of communication. Such features are central to any attempt at the theoretical definition of human society and such constituent phenomena as religious and legal systems, and in this study Professor Goody explores the role of a specific mechanism, the introduction of writing and the development of a written tradition, in the explanation of some important social differences and similarities. Goody argues that a shift of emphasis from productive to certain communicative processes is essential to account adequately for major changes in human societies. Whilst there have been previous descussions of the effect of literacy upon social organisation, no study has hitherto presented the general synthesis developed here. -- Back cover
The culture of flowers
by
Jack Goody
( Book )
22 editions published between
1992
and 2010 in 4 languages and held by 912 WorldCat member libraries worldwide
"Jack Goody's new book takes as its theme the symbolic and transactional uses of flowers. He begins his study by asking why there are so few uses of flowers in Africa, either domesticated or wild, either in reality or in representation, and goes on to initiate a world-wide enquiry into the place of flowers in secular life and religious ritual from ancient Egypt to modern times. He links the use of flowers to the rise of advanced systems of agriculture, the growth of social stratification and the spread of luxury goods, looking at the history of aesthetic horticulture in Europe and Asia. Other themes that emerge are the role of written texts in building up a culture of flowers; the importance of trade and communications in disseminating and transforming attitudes to flowers; the rejection on puritanical grounds of flowers and their artistic representation; and the multiplicity of meanings which flowers possess." "A particular feature of the book is its analysis of the role of flowers in the Far East and of the aesthetic and political implications of flowers in China during the cultural revolution. The conclusion returns to earlier themes of long-term developments in cultural history, treating uses of flowers in the context of theology and ideology as well as of processes of production and systems of 'class'." "Written from a broad temporal and geographical perspective, this wide-ranging book will appeal not only to anthropologists and social historians but also to anyone interested in flowers and their symbolic function across the centuries."--Jacket
The East in the West
by
Jack Goody
( Book )
27 editions published between
1996
and 2013 in 4 languages and held by 806 WorldCat member libraries worldwide
The East in the West reassesses Western views of Asia. Traditionally many European historians and theorists have seen the societies of the East as 'static' or 'backward'. Jack Goody challenges these assumptions, beginning with the notion of a special Western rationality which enabled 'us' and not 'them' to modernise. He then turns to book-keeping, which several social and economic historians have seen as intrinsic to capitalism, arguing that there was in fact little difference between East and West in terms of mercantile activity. Other factors said to inhibit the East's development, such as the family and forms of labour, have also been greatly exaggerated. This Eurocentrism both fails to explain the current achievements of the East, and misunderstands Western history. The East in the West starts to redress the balance, and so marks a fundamental shift in our view of Western and Eastern history and society. -- Publisher description from http://www.cambridge.org (Oct. 14, 2011)
more
fewer
Audience Level
0

1
Kids
General
Special
Audience level: 0.53 (from 0.06 for Art culina ... to 1.00 for Jack Goody ...)
Related Identities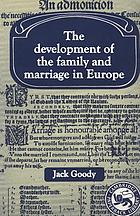 Alternative Names
Goody, J.

Goody, J. 1919-

Goody, J. R. 1919-

Goody, Jack

Goody, Jack R.

Goody, Jack R. 1919-

Goody, Jack Rankine.

Goody, Jack Rankine 1919-

Goody, John R. 1919-

Goody , John Rankine

Goody John Rankine 1919-....

Jack Goody antropologo britannico

Jack Goody britischer Ethnologie, Anthropologe und Medientheoretiker

Rankine-Goody, J 1919-

Rankine Goody, Jack 1919-

Rankine-Goody, John 1919-

Гуди, Джек

ג'ק גודי

جاك غودي، 1919-

グッディ, ジャック

グディ, J

Languages
Covers