Seligman, Martin E. P.
Most widely held works about Martin E. P Seligman
more
fewer
Most widely held works by Martin E. P Seligman
Learned optimism
by
Martin E. P Seligman
( Book )
94 editions published between
1990
and 2014 in 14 languages and held by 3,659 WorldCat member libraries worldwide
Known as the father of the new science of positive psychology, Martin E.P. Seligman draws on more than twenty years of clinical research to demonstrate how optimism enchances the quality of life, and how anyone can learn to practice it
Authentic happiness : using the new positive psychology to realize your potential for lasting fulfillment
by
Martin E. P Seligman
( Book )
92 editions published between
2002
and 2014 in 12 languages and held by 2,481 WorldCat member libraries worldwide
Publisher description: Positive Psychology focuses on strengths rather than weaknesses, asserting that happiness is not the result of good genes or luck. Seligman teaches readers that happiness can be cultivated by identifying and using many of the strengths and traits that they already possess -- including kindness, originality, humor, optimism, and generosity. By frequently calling upon their "signature strengths" in all the crucial realms of life, readers will not only develop natural buffers against misfortune and the experience of negative emotion, they will move their lives up to a new, more positive plane. Drawing on groundbreaking psychological research, Seligman shows how Positive Psychology is shifting the profession's paradigm away from its narrow-minded focus on pathology, victimology, and mental illness to positive emotion, virtue and strength, and positive institutions. Seligman provides the Signature Strengths Survey along with a variety of brief tests that can be used to measure how much positive emotion readers experience, in order to help determine what their highest strengths are
Character strengths and virtues a handbook and classification
by
Christopher Peterson
( )
19 editions published in
2004
in
English
and held by 2,220 WorldCat member libraries worldwide
This groundbreaking handbook of character strengths and virtues is the first progress report from a prestigious group of researchers who have undertaken the systematic classification and measurement of widely valued positive traits. They approach good character in terms of separate strengths- authenticity, persistence, kindness, gratitude, hope, humor, and so on- each of which exists in degrees
What you can change and what you can't : the complete guide to successful self-improvement
by
Martin E. P Seligman
( Book )
39 editions published between
1993
and 2014 in 5 languages and held by 2,210 WorldCat member libraries worldwide
This book] analyzes authoritative scientific research on treatments for alcoholism, anxiety, weight loss, anger, depression, and a range of phobias and obsessions to discover what is the most effective way to address each condition. It describes what does not work, and pinpoints the techniques and therapies that do work best for each condition, discussing why they work and how they can be used to make long-lasting change
The optimistic child
by
Martin E. P Seligman
( Book )
15 editions published between
1995
and 2011 in
English
and
Undetermined
and held by 1,918 WorldCat member libraries worldwide
The Optimistic Child offers parents and teachers the tools developed in this study to teach children of all ages life skills that transform helplessness into mastery and bolster genuine self-esteem. Learning the skills of optimism not only reduces the risk of depression but boosts school performance, improves physical health, and provides children with the self-reliance they need as they approach the teenage years and adulthood
Flourish : a visionary new understanding of happiness and well-being
by
Martin E. P Seligman
( Book )
26 editions published between
2011
and 2014 in 4 languages and held by 1,400 WorldCat member libraries worldwide
In this book the author presents his concept of what well-being really is and explains the four pillars of well-being (meaning and purpose, positive emotions, relationships, and accomplishment), placing emphasis on meaning and purpose as the most important for achieving a life of fulfillment. Traditionally, the goal of psychology has been to relieve human suffering, but the goal of the Positive Psychology movement, which the author has led for fifteen years, is different. It is about actually raising the bar for the human condition. It builds on the doctor's work on optimism, motivation, and character to show how to get the most out of life, unveiling a new theory of what makes a good life for individuals, for communities, and for nations. In an evolution of thought and practice, it refines what Positive Psychology is all about. While certainly a part of well-being, happiness alone doesn't give life meaning. The author now asks, What is it that enables you to cultivate your talents, to build deep, lasting relationships with others, to feel pleasure, and to contribute meaningfully to the world? In a word, what is it that allows you to flourish? "Well-being" takes the stage front and center, and Happiness (or Positive Emotion) becomes one of the five pillars of Positive Psychology, along with Engagement, Relationships, Meaning, and Accomplishment, or PERMA, the permanent building blocks for a life of profound fulfillment. Thought-provoking in its implications for education, economics, therapy, medicine, and public policy (the very fabric of society), the book tells inspiring stories of Positive Psychology in action, including how the entire U.S. Army is now trained in emotional resilience; how innovative schools can educate for fulfillment in life and not just for workplace success; and how corporations can improve performance at the same time as they raise employee well-being. With interactive exercises to help readers explore their own attitudes and aims, this book is a watershed in the understanding of happiness as well as a tool for getting the most out of life
Learned helplessness : a theory for the age of personal control
by
Christopher Peterson
( Book )
15 editions published between
1993
and 1995 in
English
and held by 817 WorldCat member libraries worldwide
When experience with uncontrollable events gives rise to the expectation that events in the future will also elude control, disruptions in motivation, emotion, and learning may ensue. "Learned helplessness" refers to the problems that arise in the wake of uncontrollability. First described in the 1960's among laboratory animals, learned helplessness has since been applied to a variety of human problems entailing inappropriate passivity and demoralization. While learned helplessness is best known as an explanation of depression, studies with both people and animals have mapped out the cognitive and biological aspects. The present volume summarizes and integrates the theory, research, and application of learned helplessness. Each line of work is evaluated critically in terms of what is and is not known, and future directions are sketched
Abnormal psychology
by
David L Rosenhan
( Book )
31 editions published between
1984
and 2007 in
English
and
Spanish
and held by 773 WorldCat member libraries worldwide
Incorporates new findings and attitudes as well as new research on the outcome of specific psychotherapies for certain disorders
Ethnopolitical warfare : causes, consequences, and possible solutions
( Book )
16 editions published between
2000
and 2009 in
English
and held by 716 WorldCat member libraries worldwide
Examines international cases to understand what causes a society's ethnic conflicts to escalate or de-escalate. This book contains examinations of the political and historical antecedents to conflict around the world, combining them with psychological analyses of group identity and intergroup conflict. In examining the escalation of ethnic conflict, the chapters highlight the critical role of group identification, stressing how group identification becomes enmeshed with threatened economic resources, violent political subcultures, and media manipulation of collective fear. (PsycINFO Database Record (c) 2004 APA, all rights reserved)
more
fewer
Audience Level
0

1
Kids
General
Special
Audience level: 0.35 (from 0.13 for Flourish ... to 1.00 for Papers, ...)
Related Identities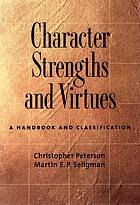 Alternative Names
Seligman, Martin.

Seligman Martin 1942-....

Seligman, Martin E. 1942-

Seligman, Martin E. P.

Seligman, Martin Elias Peter.

Seligman, Martin G.

סליגמן, מרטין

セリグマン, M. E. P

セリグマン, マーティン E. P

Languages
Covers