Mahan, Gerald D.
Most widely held works by Gerald D Mahan
Many-particle physics
by
Gerald D Mahan
( Book )
69 editions published between
1980
and 2014 in
English
and
Undetermined
and held by 1,213 WorldCat member libraries worldwide
This textbook is for a course in advanced solid-state theory. It is aimed at graduate students in their third or fourth year of study who wish to learn the advanced techniques of solid-state theoretical physics. The method of Green's functions is introduced at the beginning and used throughout. Indeed, it could be considered a book on practical applications of Green's functions, although I prefer to call it a book on physics. The method of Green's functions has been used by many theorists to derive equations which, when solved, provide an accurate numerical description of many processes in solids and quantum fluids. In this book I attempt to summarize many of these theories in order to show how Green's functions are used to solve real problems. My goal, in writing each section, is to describe calculations which can be compared with experiments and to provide these comparisons whenever available. The student is expected to have a background in quantum mechanics at the level acquired from a graduate course using the textbook by either L.I. Schiff, A.S. Davydov, or I. Landau and E.M. Lifshiftz. Similarly, a prior course in solid-state physics is expected, since the reader is assumed to know concepts such as Brillouin zones and energy band theory. Each chapter has problems which are an important part of the lesson; the problems often provide physical insights which are not in the text. Sometimes the answers to the problems are provided, but usually not
A guide to physics problems
by
Sidney B Cahn
( )
6 editions published between
1997
and 2004 in
English
and held by 712 WorldCat member libraries worldwide
This text features 182 challenging problems with detailed solutions, textbook references, clear illustrations, and an easy-to-use layout
A guide to physics problems
by
Sidney B Cahn
( Book )
21 editions published between
1994
and 2008 in
English
and held by 567 WorldCat member libraries worldwide
Thermodynamics and Statistical Physics: Introductory Thermodynamics: Why Bother? Space Station Pressure. Heat and Work: Cylinder with Massive Piston. Spring Cylinder. Ideal Gas and Classical Statistics: Poison Distribution in Ideal Gas. Polarization of Ideal Gas. Nonideal Gas: Heat Capacities. Return of Heat Capacities. Mixtures and Phase Separation: Entropy of Mixing. Leaky Balloon. Quantum Statistics: Fermi Energy of a 1D Electron Gas. Two-Dimensional Fermi Gas. Fluctuations: Magnetization Fluctuation. Gas Fluctuations. Applications to Solid State: Thermal expansion and Heat Capacity. Schottky Defects. Quantum Mechanics: One-Dimensional Potentials: Shallow Square Well I. Shallow Square Well II. Harmonic Oscillator: Given a Gaussian. Harmonic Oscillator ABC's. Angular Momentum and Spin: Given Another Eigenfunction. Algebra of Angular Momentum. Variational Caluculations: Anharmonic Oscillator. Linear Potential I. Perturbation Theory: Momentum Perturbation. WKB: Bouncing Ball. Scattering Theory: Step-Down Potential. General: Spherical Box with Hole. Appendices: 154 Additional Problems
Quantum mechanics in a nutshell
by
Gerald D Mahan
( Book )
17 editions published between
2009
and 2013 in
English
and held by 412 WorldCat member libraries worldwide
"Covering the fundamentals as well as many special topics of current interest, this is the most concise, up-to-date, and accessible graduate-level textbook on quantum mechanics available. Written by Gerald Mahan, a distinguished research physicist and author of an acclaimed textbook on many-particle physics, Quantum Mechanics in a Nutshell is the distillation of many years' teaching experience." "Quantum Mechanics in a Nutshell expertly addresses traditional and modern topics, including perturbation theory, WKBJ, variational methods, angular momentum, the Dirac equation, many-particle wave functions, Casimir Force, and Bell's Theorem. And it treats many topics - such as the interactions between photons and electrons, scattering theory, and density functional theory - in exceptional depth."--Jacket
Condensed matter in a nutshell
by
Gerald D Mahan
( Book )
17 editions published between
2010
and 2013 in
English
and held by 363 WorldCat member libraries worldwide
An introduction to the area of condensed matter in a nutshell. This textbook covers the standard topics, including crystal structures, energy bands, phonons, optical properties, ferroelectricity, superconductivity, and magnetism
Local density theory of polarizability
by
Gerald D Mahan
( Book )
13 editions published between
1990
and 2013 in
English
and held by 300 WorldCat member libraries worldwide
During the past decade the theoretical physics community has learned how to evaluate accurately polarizabilities and susceptibilities for many-electron systems such as atoms, solids, and liquids. The most accurate numerical technique employs a method often called the Time-Dependent Local Density Approximation, which is abbreviated TDLDA. The present volume is a review of recent research on the theory of po larizabilities and susceptibilities. Both authors have been doing these cal culations. However, this review surveys the entire field, summarizing the research of many contributors. The application of an external field, either ac or de, will induce a dipole moment which can be calculated and compared with experiment. For mod erately strong fields, both linear and nonlinear processes contribute to the moment. We cover topics such as polarizability, hyperpolarizability, pho toionization, phonons, and piezoelectricity. Density functional theory in the Local Density Approximation (LDA) has been shown to be a very accurate method for calculating ground state prop erties of electronic system. For static external fields, the induced moments are properties of the ground state. Then the calculation of the polarizability · is very accurate. For ac fields, the moment is not part of the ground state. However, the TDLDA methods are still very accurate
Superionic conductors : [proceedings]
by
Gerald D Mahan
( Book )
18 editions published in
1976
in
English
and held by 288 WorldCat member libraries worldwide
A hundred and eighty five chemists, physicists, and engineers met in Schenectady, New York, for the three days May 10-12, 1976, to discuss the subject of Superionic Conductors. This International Conference was held at the Research and Development Center of the General Electric Company. The subject of the Conference was fast ion transport in solids. These materials have potential application in new types of batteries, fuel cells, and sensors. Some like beta alumina are under active development in nov'el new systems. Their study has also become a popular area of scientific investigation. One objective of the Conference was to provide a forum for interdisciplinary communication between chemists, physicists, and engineers. The Conference was an attempt to bring these groups together, in order to listen to each others problems and progress. We began organizing the Conference in the spring of 1975. It was suggested to General Electric managers Drs. Craig S. Tedmon, Jr. and Roland W. Schmitt. They provided immediate and enthusiastic support. They also provided the advice, staff, and backup which were necessary at all points in the planning and duration of the Conference. We were also pleased that they could participate in the Conference: Dr. Tedmon welcomed the participants and officially opened the Conference, and Dr. Schmitt gave the after banquet address. We thank them. Additional and invaluable help, and advice, were also provided by Drs. D. Chatterji, J.B. Bush, G.W. Ludwig, and J.B. Comly. We were joined on the program committee by Drs
Applied mathematics
by
Gerald D Mahan
( Book )
9 editions published between
2001
and 2002 in
English
and held by 188 WorldCat member libraries worldwide
This is a textbook for a two-semester graduate course in Mathematical Methods in Physics. Most universities give this course, which is often taught jointly with the Engineering or Mathematics Departments. General topics include: group theory, linear equations, matrices, series, functions of complex variables, conformal mapping, special functions, and partial differential equations. Each chapter has numerous homework problems. The section on transforms includes those on Fourier and Laplace, as well as the modern topic of wavelets. The chapters on partial differential equations include: Laplace's, Poisson's, Helmholtz, diffusion, and wave equations. Problems are treated in one, two, and three dimensions
A guide to physics problems
by
Sidney B Cahn
( )
2 editions published in
2004
in
English
and held by 17 WorldCat member libraries worldwide
more
fewer
Audience Level
0

1
Kids
General
Special
Audience level: 0.49 (from 0.07 for A guide to ... to 0.98 for A guide to ...)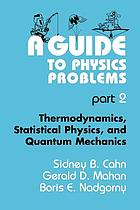 Covers
Alternative Names
Mahan, G. 1937-

Mahan, G. D.

Mahan, G. D. 1937-

Mahan, Gerald 1937-

Mahan, Gerald D.

Mahan, Gerald Dennis 1937-

Languages