Gertler, Mark
Most widely held works by Mark Gertler
International dimensions of monetary policy
( Book )
13 editions published between
2009
and 2010 in
English
and held by 208 WorldCat member libraries worldwide
"United States monetary policy has traditionally been modeled under the assumption that the domestic economy is immune to international factors. Such an assumption is increasingly unrealistic in the age of integrated capital markets, tightened links between national economies, and reduced trading costs. International Dimensions of Monetary Policy brings together fresh research to address the repercussions of the continuing evolution toward globalization for the conduct of monetary policy." "In this comprehensive book, the authors examine the real and potential effects of increased openness and exposure to international economic dynamics from a variety of perspectives. Their findings reveal that central banks continue to influence decisively domestic economic outcomes - even inflation - suggesting that international factors may have a limited role in national performance. International Dimensions of Monetary Policy will lead the way in analyzing monetary policy measures in complex economies."--Jacket
Markups, gaps, and the welfare costs of business fluctuations
by
Jordi Galí
( Book )
37 editions published between
2002
and 2005 in
English
and held by 118 WorldCat member libraries worldwide
Abstract: In this paper we present a simple, theory-based measure of the variations in aggregate economic efficiency associated with business fluctuations. We decompose this indicator, which we refer to as 'the gap', into two constituent parts: a price markup and a wage markup, and show that the latter accounts for the bulk of the fluctuations in our gap measure. Finally, we derive a measure of the welfare costs of business cycles that is directly related to our gap variable, and which takes into account explicitly the existence of a varying aggregate inefficiency. When applied to postwar U.S. data, for plausible parametrizations, our measure suggests welfare losses of fluctuations that are of a higher order of magnitude than those derived by Lucas (1987). It also suggests that the major postwar recessions involved substantial efficiency costs
Monetary policy rules in practice : some international evidence
by
Richard H Clarida
( Book )
27 editions published in
1997
in
English
and
Undetermined
and held by 114 WorldCat member libraries worldwide
Abstract: This paper reports estimates of monetary policy reaction functions for two sets of" countries: the G3 (Germany, Japan, and the U.S.) and the E3 (UK, France that since 1979 each of the G3 central banks has pursued an implicit form of inflation targeting which may account for the broad success of monetary policy in those countries over this time" period. The evidence also suggests that these central banks have been forward looking: they" respond to anticipated inflation as opposed to lagged inflation. As for the E3 emergence of the influenced by German" monetary policy. Further, using the Bundesbank's policy rule as a benchmark time of the EMS collapse, interest rates in each of the E3 countries were much higher than" domestic macroeconomic conditions warranted. Taken all together, the results lend support to" the view that some form of inflation targeting may under certain circumstances be superior to" fixing exchange rates, as a means to gain a nominal anchor for monetary policy."
Monetary policy rules and macroeconomic stability : evidence and some theory
by
Richard H Clarida
( Book )
24 editions published between
1998
and 1999 in
English
and
German
and held by 109 WorldCat member libraries worldwide
We estimate a forward-looking monetary policy reaction function for the postwar US economy, pre- and post-October 1979. Our results point to substantial differences in the estimated rule across periods. In particular, interest rate policy in the Volcker-Greenspan period appears to have been much more sensitive to changes in expected inflation than in the pre-Volcker period. We then compare some of the implications of the estimated rules for equilibrium properties of inflation and output, using a simple macroeconomic model. The pre-Volcker rule is shown to be consistent with the possibility of persistent, self-fulfilling fluctuations in inflation and output. In contrast, the Volcker-Greenspan rule is stabilizing
European inflation dynamics
by
Jordi Galí
( Book )
28 editions published between
2000
and 2001 in
English
and held by 100 WorldCat member libraries worldwide
We provide evidence on the fit of the New Phillips Curve (NPQ for the Euro area over the period 1970-1998, and use it as a tool to compare the characteristics of European inflation dynamics with those observed in the U.S. We also analyze the factors underlying inflation inertia by examining the cyclical behavior of marginal costs, as well as that of its two main components, namely, labor productivity and real wages. Some of the findings can be summarized as follows: (a) the NPC fits Euro area data very well, possibly better than U.S. data, (b) the degree of price stickiness implied by the estimates is substantial, but in line with survey evidence and U.S. estimates, (c) inflation dynamics in the Euro area appear to have a stronger forward- looking component (i.e., less inertia) than in the U.S., (d) labor market frictions, as manifested in the behavior of the wage markup, appear to have played a key role in shaping the behavior of marginal costs and, consequently, inflation in Europe
The science of monetary policy : a new Keynesian perspective
by
Richard H Clarida
( Book )
24 editions published in
1999
in
English
and held by 97 WorldCat member libraries worldwide
This paper reviews the recent literature on monetary policy rules. We exploit the monetary policy design problem within a simple baseline theoretical framework. We then consider the implications of adding various real world complications. Among other things, we show that the optimal policy implicitly incorporates inflation targeting. We also characterize the gains from making a credible commitment to fight inflation. In contrast to conventional wisdom, we show that gains from commitment may emerge even if the central bank is not trying to inadvisedly push output above its natural level. We also consider the implications of frictions such as imperfect information
Inflation dynamics : a structural econometric analysis
by
Jordi Galí
( Book )
23 editions published between
1998
and 2000 in
English
and held by 89 WorldCat member libraries worldwide
We develop and estimate a structural model of inflation that allows for a fraction of firms that use a backward looking rule to set prices. The model nests the purely forward looking New Keynesian Phillips curve as a particular case. We use measures of arginal cost as the relevant determinant of inflation, as the theory suggests, instead of an ad-hoc output gap. Real marginal costs are a significant and quantitatively important determinant of inflation. Backward looking price setting, while statistically significant, is not quantitatively important. Thus, we conclude that the New Keynesian Phillips curve provides a good first approximation to the dynamics of inflation
The financial accelerator and the flight to quality
by
Ben Bernanke
( Book )
19 editions published between
1994
and 1995 in
English
and held by 86 WorldCat member libraries worldwide
Adverse shocks to the economy may be amplified by worsening credit-market conditions-- the financial 'accelerator'. Theoretically, we interpret the financial accelerator as resulting from endogenous changes over the business cycle in the agency costs of lending. An implication of the theory is that, at the onset of a recession, borrowers facing high agency costs should receive a relatively lower share of credit extended (the flight to quality) and hence should account for a proportionally greater part of the decline in economic activity. We review the evidence for these predictions and present new evidence drawn from a panel of large and small manufacturing firms
more
fewer
Audience Level
0

1
Kids
General
Special
Audience level: 0.64 (from 0.02 for Internatio ... to 0.79 for Markups, g ...)
Related Identities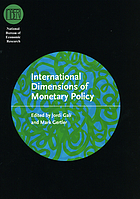 Alternative Names
Gertler, M.

Gertler, Mark L.

Gertler, Mark Lionel

Mark Gertler Amerikaans econoom

Mark Gertler amerikansk ekonom

Mark Gertler amerikansk økonom

Mark Gertler economista estadounidense

Mark Gertler économiste américain

Mark Gertler US-amerikanischer Wirtschaftswissenschaftler und Hochschullehrer

Гертлер, Марк Лайонел

马克·格特勒

Languages
Covers