Orthodox Eastern Church
Most widely held works about Orthodox Eastern Church
more
fewer
Most widely held works by Orthodox Eastern Church
The Akathistos hymn
by
Suomen ortodoksinen kirkko
( )
3 editions published in
1957
in
Greek, Ancient
and held by 96 WorldCat member libraries worldwide
The Hymns of the Pentecostarium
by
Suomen ortodoksinen kirkko
( )
3 editions published in
1960
in
Greek, Ancient
and held by 94 WorldCat member libraries worldwide
The Hymns of the Hirmologium
by
Suomen ortodoksinen kirkko
( )
3 editions published in
1952
in
Greek, Modern
and held by 92 WorldCat member libraries worldwide
Euchologium sinaiticum; texte slave avec sources grecques et traduction française
by
Suomen ortodoksinen kirkko
( Book )
8 editions published between
1950
and 1976 in 4 languages and held by 52 WorldCat member libraries worldwide
Prayer book with rites and prayers. Incomplete (the beginning and end are missing). Without inscriptions. Ornamented headings and initials. 23 lines per leaf. Two leaves originally belonging to this manuscript are now located in the Publ. biblioteka (Leningrad) inventoried as No. 2. They were brought into that collection from the private collection of Porfiriĭ Uspenskiĭ
Hirmologium Athoum
by
Suomen ortodoksinen kirkko
( )
1 edition published in
1938
in
Greek, Modern
and held by 45 WorldCat member libraries worldwide
more
fewer
Audience Level
0

1
Kids
General
Special
Audience level: 0.52 (from 0.02 for Encounter ... to 0.89 for La divine ...)
Associated Subjects
Anglican Communion
Anglo-Catholicism
Asceticism
Asceticism--Orthodox Eastern Church
Bishops
Byzantine Empire
Canon law--Eastern churches
Catholic Church
Christianity
Christian union
Christian union conversations
Christian union--Orthodox Eastern Church
Church
Church history--Middle Ages, 600-1500
Church music--Orthodox Eastern Church
Church of the East
Controversial literature
Controversial literature--Protestant authors
Ecclesiastical law
Evangelicalism
Exposition of the Orthodox faith (John, of Damascus, Saint)
Hymns, Greek
Interfaith relations
John,--of Damascus, Saint
Liturgics
Manuscripts, Greek
Manuscripts, Syriac
Monastic and religious life
Monophysites
Music
Music, Byzantine
Mystagogia (Maximus, Confessor, Saint)
Mystical union
Mysticism
Mysticism--Orthodox Eastern Church
Orthodox Eastern Church
Orthodoxos Ekklēsia tēs Hellados
Philosophical theology
Popes--Primacy
Protestant churches
Russia
Sermons, Greek
Sermons, Medieval
Spiritual life--Orthodox Eastern Church
Syria
Syrian Orthodox Church
Theodoret,--Bishop of Cyrrhus
Theological anthropology--Christianity
Theology, Doctrinal
United States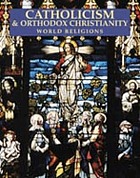 Alternative Names
Austrumu Pareizticīgā baznīca

B"lgarskata C"rkva

Biserica Ortodoxă

Biserica Ortodoxă Finlandeză

BPC.

Bulgarian Orthodox Church

Bułgarska prawosławna cerkiew

Ceartchreidmheachas

Cerkiew prawosławna

Csa Urtudsa

Cexa cristiana ortodosa

Chiesa ortodossa comunione di Chiese cristiane autocefale

Chiesa Ortudossa

Chnh Thống gio Đng phương

Den ortodokse kirke

Den ortodokse kirke kristent kirkesamfunn

Dra ortodoks

Deŧikk Ortođoks

Eaglais Cheartchreidmheach na Fionlainn

Eastern Orthodox Church

Eastersk-Ortodokse Tsjerke

Ecclesia Orthodoxe

Ecclesiae Orthodoxae

Eglise de Grece

Eglise D'orient

glise orientale orthodoxe

glise orthodoxe

glise orthodoxe de Finlande

Eglise orthodoxe orientale

glises orthodoxes

gllse ortodoxe de Finlande

Eglwys Uniongred Ddwyreiniol

Eigreija Ortodoxa

Eliza ortodoxoa

Esglsia Ortodoxa

Fiangonana Ortodoksa

Finli︠a︡ndsʹka pravoslavna t︠s︡erkva

Finli︠a︡ndskai︠a︡ pravoslavnai︠a︡ t︠s︡erkov

Finn ortodox egyhz

Finnish Orthodox Church

Finska ortodoxa kyrkan

Finska pravoslavna crkva

Finske ortodokse kirke

Fiński Kościł Prawosławny

Fiński Prawosławny Kościł Autonomiczny

Gereja Ortodoks

Gereja Ortodoks Timur

Greek Church

Grja Ortodoks

Holy Orthodox Catholic Apostolic Church

Holy Orthodox Church

Holy Orthodox Eastern Catholic and Apostolic Church

Iglesia Ortodoksa

Iglesia ortodoxa comunidad cristiana, cuya antigedad, tradicionalmente, se remonta a Jess y a los doce apstoles

Iglesia Ortodoxa de Finlandia

Igreja Ortodoxa

Igrexa Ortodoxa

Ilesia Ortodoxa

Iliz Ortodoks

Kanīsah al-Sharqīyah

Kanīsat al-Masīḥ al-Sharqīyah al-Urthudhuksīyah

Kisha ortodokse

Kristen Otodos

igeusk

Oosters-Orthodoxe Karke

oosters-orthodoxe Kerk

Oriental Church, Orthodox

Orthodoksa Inlisya

Orthodox church of Finland.

Orthodox Eastern Church

Orthodox Eastern Church (Finland)

Orthodox Eastern Church, Finnish

Orthodoxe Kirche Finnlands

Orthodoxe Kirchen christliche Kirchen des byzantinischen Ritus

Orthodoxi Chille

Orthodoxos Katholikē Ekklēsia

Orthodoxos Katholikē kai Anatolikē Ekklēsia

orthodoxy

Ortodoks Kilisesi

Ortodoks kristendom

Ortodoksa kirkjan

Ortodoksalaš girku

Ortodoksine hristanuskond

Ortodoksinen kirkko

ortodoksismo

Ortodoksiye

Ortodokslıq

ortodox keresztnysg

Ortodoxa kyrkor

Ortodoxia

Ostkirche

Phinlandikē Orthodoxē Ekklēsia

Pravoslav

Pravoslavje

Pravoslavlje

Pravoslvna cirkev

Pravoslavna crkva

Pravoslavnai︠a︡ t︠s︡erkovʹ Finli︠a︡ndii

Pravoslavnai︠a︡ vostochnai︠a︡ t︠s︡erkovʹ

Pravoslavnai︠a︡ vostochnai︠a︡ t︠s︡erkvʹ v

Rtttrnaarkirkjan

Simbahang Ortodokso

Sinirangan nga Singbahan Ortodoxo

Stačiatėkībe

Stačiatikybė

Suomen Ortodoksinen Kirkko.

Şərq Pravoslav Kilsəsi

Tang Chng-ku

Tung cheng chiao

Ορθόδοξη Εκκλησία

Ορθόδοξον Εγκλεσία

Φινλανδική Ορθόδοξη Εκκλησία

праваслаўе

Православи

Православие

православие одна из ветвей христианства

Православиѥ

Православна церьков

православна црква

Православна църква

Православная церковь Финляндии

Православон дин

православ'я

православље

Танле тын

Финска православна црква

Фінляндська православна церква

Ուղղափառություն

נצרות אורתודוקסית

ارتودوكسيه شرقيه

أرثوذكسية شرقية

راسخُ الا عتقاد کلیسا

.كنيسة الشرقية الارثوذكسية

لیندا آرتھوڈکس چرچ

پراۋوسلاۋىيە دىنى

کلیسای ارتدکس شرقی

கிழக்கு மரபுவழி திருச்சபை

പൗരസ്ത്യ ഓർത്തഡോക്സ് സഭ

නැගෙනහිර ඕර්තඩොක්ස් සභාව

อีสเทิร์นออร์ทอดอกซ์

ອອກໂຕດົກ

მართლმადიდებლობა

동방 정교회

东正教

正教会

Languages
Covers