Katok, A. B.
Most widely held works about A. B Katok
Most widely held works by A. B Katok
Handbook of dynamical systems
by
A. B Katok
( )
26 editions published between
2002
and 2014 in
English
and held by 679 WorldCat member libraries worldwide
Volumes 1A and 1B. These volumes give a comprehensive survey of dynamics written by specialists in the various subfields of dynamical systems. The presentation attains coherence through a major introductory survey by the editors that organizes the entire subject, and by ample cross-references between individual surveys. The volumes are a valuable resource for dynamicists seeking to acquaint themselves with other specialties in the field, and to mathematicians active in other branches of mathematics who wish to learn about contemporary ideas and results dynamics. Assuming only general mathematical knowledge the surveys lead the reader towards the current state of research in dynamics. Volume 1B will appear 2005
Introduction to the modern theory of dynamical systems
by
A. B Katok
( Book )
21 editions published between
1995
and 2010 in
English
and
Portuguese
and held by 648 WorldCat member libraries worldwide
The book is aimed at students and researchers in mathematics at all levels from advanced undergraduate up. Scientists and engineers working in applied dynamics, nonlinear science, and chaos will also find many fresh insights in this concrete and clear presentation. It contains more than four hundred systematic exercises
Rigidity in higher rank Abelian group actions
by
A. B Katok
( )
24 editions published in
2011
in
English
and held by 641 WorldCat member libraries worldwide
"This self-contained monograph presents rigidity theory for a large class of dynamical systems, differentiable higher rank hyperbolic and partially hyperbolic actions. This first volume describes the subject in detail and develops the principal methods presently used in various aspects of the rigidity theory. Part I serves as an exposition and preparation, including a large collection of examples that are difficult to find in the existing literature. Part II focuses on cocycle rigidity, which serves as a model for rigidity phenomena as well as a useful tool for studying them. The book is an ideal reference for applied mathematicians and scientists working in dynamical systems and a useful introduction for graduate students interested in entering the field. Its wealth of examples also makes it excellent supplementary reading for any introductory course in dynamical systems"--
A first course in dynamics : with a panorama of recent developments
by
Boris Hasselblatt
( Book )
17 editions published between
2002
and 2010 in
English
and held by 426 WorldCat member libraries worldwide
"The theory of dynamical systems is a major mathematical discipline closely intertwined with all main areas of mathematics. It has greatly stimulated research in many sciences and given rise to the vast new area variously called applied dynamics, nonlinear science, or chaos theory. This introduction for senior undergraduate and beginning graduate students of mathematics, physics, and engineering combines mathematical rigor with copious examples of important applications. It covers the central topological and probabilistic notions in dynamics ranging from Newtonian mechanics to coding theory. Readers need not be familiar with manifolds or measure theory; the only prerequisite is a basic undergraduate analysis course
Harmonic Maps, Conservation Laws and Moving Frames
by
Béla Bollobás
( )
3 editions published in
2002
in
English
and held by 372 WorldCat member libraries worldwide
Annotation This accessible introduction to harmonic map theory and its analytical aspects, covers recent developments in the regularity theory of weakly harmonic maps. The book begins by introducing these concepts, stressing the interplay between geometry, the role of symmetries and weak solutions. It then presents a guided tour into the theory of completely integrable systems for harmonic maps, followed by two chapters devoted to recent results on the regularity of weak solutions. A presentation of "exotic" functional spaces from the theory of harmonic analysis is given and these tools are then used for proving regularity results. The importance of conservation laws is stressed and the concept of a "Coulomb moving frame" is explained in detail. The book ends with further applications and illustrations of Coulomb moving frames to the theory of surfaces
Lectures on surfaces : (almost) everything you wanted to know about them
by
A. B Katok
( Book )
16 editions published in
2008
in
English
and held by 368 WorldCat member libraries worldwide
"Surfaces are among the most common and easily visualized mathematical objects, and their study brings into focus fundamental ideas, concepts, and methods from geometry, topology, complex analysis, Morse theory, and group theory. At the same time, many of those notions appear in a technically simpler and more graphic form than in their general "natural" settings. The first, primarily expository, chapter introduces many of the principal actors -- the round sphere, flat torus, Möbius strip, Klein bottle, elliptic plane, etc.--as well as various methods of describing surfaces, beginning with the traditional representation by equations in three-dimensional space, proceeding to parametric representation, and also introducing the less intuitive, but central for our purposes, representation as factor spaces. It concludes with a preliminary discussion of the metric geometry of surfaces, and the associated isometry groups. Subsequent chapters introduce fundamental mathematical structures--topological, combinatorial (piecewise linear), smooth, Riemannian (metric), and complex--in the specific context of surfaces. The focal point of the book is the Euler characteristic, which appears in many different guises and ties together concepts from combinatorics, algebraic topology, Morse theory, ordinary differential equations, and Riemannian geometry. The repeated appearance of the Euler characteristic provides both a unifying theme and a powerful illustration of the notion of an invariant in all those theories. The assumed background is the standard calculus sequence, some linear algebra, and rudiments of ODE and real analysis. All notions are introduced and discussed, and virtually all results proved, based on this background."--Page 4 of cover
Typical dynamics of volume preserving homeomorphisms
by
Steve Alpern
( )
3 editions published in
2001
in
English
and held by 356 WorldCat member libraries worldwide
This 2000 book provides a self-contained introduction to typical properties of homeomorphisms. Examples of properties of homeomorphisms considered include transitivity, chaos and ergodicity. A key idea here is the interrelation between typical properties of volume preserving homeomorphisms and typical properties of volume preserving bijections of the underlying measure space. The authors make the first part of this book very concrete by considering volume preserving homeomorphisms of the unit n-dimensional cube, and they go on to prove fixed point theorems (Conley & ndash;Zehnder & ndash; Franks). This is done in a number of short self-contained chapters which would be suitable for an undergraduate analysis seminar or a graduate lecture course. Much of this work describes the work of the two authors, over the last twenty years, in extending to different settings and properties, the celebrated result of Oxtoby and Ulam that for volume homeomorphisms of the unit cube, ergodicity is a typical property
more
fewer
Audience Level
0

1
Kids
General
Special
Audience level: 0.55 (from 0.06 for Typical dy ... to 0.92 for Introducti ...)
Related Identities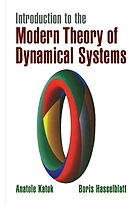 Covers
Alternative Names
Anatole Katok Amerikaans wiskundige

Anatole Katok amerikansk matematikar

Anatole Katok amerikansk matematiker

Anatole Katok matematician american

Anatole Katok matemático ruso

Anatole Katok mathématicien américain

Anatole Katok US-amerikanischer Mathematiker

Katok, A.

Katok, A. 1944-

Katok, A. 1944-2018

Katok, A.B.

Katok, A. B. 1944-

Katok, A. B. 1944-2018

Katok, Anatole.

Katok, Anatole 1944-

Katok, Anatole B. 1944-

Katok, Anatole B. 1944-2018

Katok, Anatole Borisovich.

Katok, Anatoliĭ Borisovich

Katok, Anatoliĭ Borisovich, 1944-

Katok, Anatolij Borisovič 1944-

Katok, Anatolij Borisovič 1944-2018

Katok, Anatolij Borisovich 1944-

Katok, Anatolij Borisovich 1944-2018

Анатолій Борисович Каток Американський математик російського єврейського походження

Каток, Анатолий Борисович американский математик российского еврейского происхождения

Каток, Анатолий Борисович американский математик российского происхождения

安纳托利·卡托克 美国数学家

Languages