Georgi, Howard
Most widely held works about Howard Georgi
Most widely held works by Howard Georgi
The physics of waves
by
Howard Georgi
( Book )
12 editions published between
1933
and 1993 in
English
and held by 294 WorldCat member libraries worldwide
Andrew Pickering interviews conducted for his book CONSTRUCTING QUARKS
by
Andrew Pickering
( )
in
English
and held by 1 WorldCat member library worldwide
Consists of interviews with thirty-six particle physicists, conducted as background material for his book CONSTRUCTING QUARKS: A SOCIOLOGICAL HISTORY OF PARTICLE PHYSICS, published in 1984. Pickering sought to document the founding and growth of research traditions structured around the quark concept, therefore, almost all interviews focused upon the interviewee's overall research career rather than narrowly defined historical episodes. They cover the period from 1964 when the quark model was formulated to 1980 when quark theories had come to dominate research practice in high-energy physics. More specific topics include J/psi color models, Fairbank's fractional charges, and the Price magnetic monopoole. Participants include: Henry Abarbanel, Luis W. Alvarez, Barry Barish, A. O. Barut, John Bell, James Bjorken, Elliott D. Bloom, Gordon Feldman, Geoffrey Chew, Sidney Coleman, A. De Rujula, Sid Drell, John Ellis, P.G.O. Freund, Erwin Gabathuler, Mary Gaillard, H. Georgi, Gerson Goldhaber, Sheldon Glashow, Peter Higgs, Roman Jackiw, R. L. Jaffe, P. V. Langshoff, Ed Lofgren, Seymour Joseph Lindenbaum, Francis Eugene Low, Y. Nambu, Robert B. Palmer, and Hugh David Politzer, Charles Prescott, P. Buford Price, Chris Quigg, B. Richter, A. Salam, G. t'Hooft, and C. N. Yang
Memorial Minute for Norman Foster Ramsey
by
Gerald James Holton
( )
1 edition published in
2015
in
English
and held by 1 WorldCat member library worldwide
Memorial Minute for Harvard University by Howard Georgi, Gerald Holton, and Roy Glauber, detailing Norman Foster Ramsey's career including his time at Harvard University, his multitude of inventions, and speaking out again McCarthy
Selected talks from the International Conference on the History of Original Ideas and Basic Discoveries in Particle Physics
by NATO Advanced Research Workshop on the History of Original Ideas and Basic Discoveries in Particle Physics
( Recording )
1 edition published in
1994
in
English
and held by 1 WorldCat member library worldwide
Speakers include: Harvey B. Newman, "Welcome Address;" Murry Gell-Man, "From V-A to the Structure of the Fundamental Interactions;" T. Kinoshita, "Quantum Electrodynamics;" Victor Weisskopf, "The Early Days of QED;" G. 't Hooft, "Renormalization;" L.B. Okun, "Vacua and Vacuum: Physics of Nothing;" David Gross, "Asymptotic Freedom and Confinement in Quantum Chromodynamics;" J.G. Branson, "Gluons;" A. de Rujula, " Quantum Chromodynamics: Phenomenology;" O. Piccioni, "The Discovery of the Muon;" R. Dalitz, "The Theta-Tau Puzzle;" R. K. Adair, "Symmetry Breakdown in Meson Decays;" Ulrich Becker, "Vector Meson Production and Tests of QED;" Antonio Zichichi, "Foundations of Sequential Heavy Lepton Searches;" Martin Perl, "The Tau Lepton;" S.C.C. Ting, "The J Particle;" Gerson Goldhaber, "Charmonium and Charm Mesons;" Daniel Kaplan, "The Upsilon Family;" C. S. Wu, "Parity Violation;" Frederick Reines, "The Detection of Pauli's Neutrino;" V. Telegdi, "The Helicity of the Three Neutrinos;" Rene Turlay, "CP Violation;" Sheldon Glashow, "Quark Families and Flavor Changing Neutral Currents;" Cecelia Jarlskog, "CP Violation and Flavor Mixing;" G. A. Voss, "Electron Positron and Electron Proton Colliders;" R. Orava, "Linear Colliders;" A. Tollestrup, "Hadron Colliders;" A. H. Walenta, "Development and Applications of Multiwire Detectors;" H. Schopper, "Hadron Calorimeters;" T. Ypsilantis, "Development of Ring Imaging Cherenkov Counters for Particle Identification;" N. Samios, "Baryon Spectroscopy and the Omega-Minus;" J. Friedman, "Deep Inelastic Scattering and Quarks;" B. Aubert, "Neutral Currents;" P. Darriulat, "The W and Z Bosons;" H. Georgi, "Grand Unified Theories;" Kenneth Lane, "Technicolor;" Savas Dimopoulos, "Boson-Fermion Symmetry: Fundamentals;" Pierre Fayet, "R-Parity: Phenomenology of Supersymmetry;" Dmitrij Volkov, "Supergravity Before 1976;" D. Nanopoulos, "Unification and No-Scale Supergravity;" John H. Schwarz, "Superstrings;" David Goodstein, "Richard Feynman and the History of Superconductivity;" P.C.W. Chu, "High T Superconductivity;" Felix Boehm, "Neutrino Oscillations;" Bernard Sadoulet, "Neutrino Masses and Matter in the Universe;" Blas Cabera, "Search for Dark Matter, Monopoles, and WIMPS;" R. L. Mossbauer, "Gamma-Resonance Spectroscopy;" Nina Byers, "Contributions of Emmy Noether to Modern Physics;" and T.D. Lee, "Physics from Past to Future."
more
fewer
Audience Level
0

1
Kids
General
Special
Audience level: 0.60 (from 0.41 for Sacred cho ... to 1.00 for The Taylor ...)
Associated Subjects
Alvarez, Luis W.,
Anthems
Atmospheric physics
Bell, J. S
Bjorken, James D
Boundary layer (Meteorology)
Canada
Carbon dioxide
Chew, Geoffrey F
Choruses, Sacred (Mixed voices, 4 parts), Unaccompanied
Choruses, Sacred (Mixed voices), Unaccompanied
Choruses, Sacred (Mixed voices) with organ
Christmas music
Climatic changes
Climatology--Research
Clouds
Easter music
Ertel, Hans,
Gaillard, Mary K
Glashow, Sheldon L
Goldhaber, Gerson
High temperature superconductivity
Holton, Gerald James
Hooft, G. 't
International Association of Meteorology and Atmospheric Physics
Lie algebras
Lorenz, Edward N
Low, Francis E.--(Francis Eugene),
Magnetic monopoles
Magnificat (Music)
Masses
Max-Planck-Institut für Meteorologie
McCarthy, Joseph,
Meteorology
Nunc dimittis (Music)
Particles (Nuclear physics)
Pickering, Andrew,
Psalms (Music)--66th Psalm
Ramsey, Norman,
Richter, Burton,
Salam, Abdus,
Satellites
Scientists
Smagorinsky, J.--(Joseph)
S-matrix theory
United States
Universität Hamburg
Waves
Weak interactions (Nuclear physics)
Yang, Chen Ning,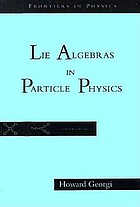 Alternative Names
Georgi, H.

Howard Georgi Amerikaans natuurkundige

Howard Georgi amerikansk fysikar

Howard Georgi amerikansk fysiker

Howard Georgi fisico statunitense

Howard Georgi physicien américain

Howard Georgi US-amerikanischer Physiker

Howard Mason Georgi

Говард Джорджі

هاوارد گئورگی فیزیک‌دان آمریکایی

하워드 조자이

ジョージアイ, H.

ハワード・ジョージ

哈沃德·喬吉

Languages
Covers