Gigerenzer, Gerd
Most widely held works about Gerd Gigerenzer
Most widely held works by Gerd Gigerenzer
Gut feelings : the intelligence of the unconscious
by
Gerd Gigerenzer
( Book )
26 editions published between
2007
and 2014 in 3 languages and held by 1,636 WorldCat member libraries worldwide
Gigerenzer is one of the researchers of behavioral intuition responsible for the science behind Malcolm Gladwell's bestseller Blink. Gladwell showed how snap decisions often yield better results than careful analysis. Now, Gigerenzer explains why intuition is such a powerful decision-making tool. Drawing on a decade of research, Gigerenzer demonstrates that gut feelings are actually the result of unconscious mental processes--processes that apply rules of thumb that we've derived from our environment and prior experiences. The value of these rules lies precisely in their difference from rational analysis--they take into account only the most useful bits of information rather than attempting to evaluate all possible factors. By examining various decisions we make, Gigerenzer shows how gut feelings not only lead to good practical decisions, but also underlie the moral choices that make our society function.--From publisher description
Calculated risks : how to know when numbers deceive you
by
Gerd Gigerenzer
( Book )
3 editions published in
2002
in
English
and held by 1,501 WorldCat member libraries worldwide
Gigerenzer explains that a major obstacle to our understanding of numbers is that we live with an illusion of certainty. Many of us believe that HIV tests, DNA fingerprinting, and the growing number of genetic tests are absolutely certain. But even DNA evidence can produce spurious matches. We cling to our illusion of certainty because the medical industry, insurance companies, investment advisers, and election campaigns have become purveyors of certainty, marketing it like a commodity. To avoid confusion, says Gigerenzer, we should rely on more understandable representations of risk, such as absolute risks. For example, it is said that a mammography screening reduces the risk of breast cancer by 25 percent. But in absolute risks, that means that out of every 1,000 women who do not participate in screening, 4 will die while out of 1,000 women who do, 3 will die. A 25 percent risk reduction sounds much more significant than a benefit that 1 out of 1,000 women will reap. This eye-opening book explains how we can overcome our ignorance of numbers and better understand the risks we may be taking with our money, our health, and our lives
The Empire of chance : how probability changed science and everyday life
by
Gerd Gigerenzer
( Book )
38 editions published between
1989
and 2000 in
English
and held by 883 WorldCat member libraries worldwide
The Empire of Chance tells how quantitative ideas of chance transformed the natural and social sciences, as well as daily life over the last three centuries. A continuous narrative connects the earliest application of probability and statistics in gambling and insurance to the most recent forays into law, medicine, polling and baseball. Separate chapters explore the theoretical and methodological impact in biology, physics and psychology. Themes recur - determinism, inference, causality, free will, evidence, the shifting meaning of probability - but in dramatically different disciplinary and historical contexts. In contrast to the literature on the mathematical development of probability and statistics, this book centres on how these technical innovations remade our conceptions of nature, mind and society. Written by an interdisciplinary team of historians and philosophers, this readable, lucid account keeps technical material to an absolute minimum. It is aimed not only at specialists in the history and philosophy of science, but also at the general reader and scholars in other disciplines
Risk savvy : how to make good decisions
by
Gerd Gigerenzer
( Book )
32 editions published between
2013
and 2016 in 5 languages and held by 805 WorldCat member libraries worldwide
"An eye-opening look at the ways we misjudge risk every day and a guide to making better decisions with our money, health, and personal lives. In the age of Big Data we often believe that our predictions about the future are better than ever before. But as risk expert Gerd Gigerenzer shows, the surprising truth is that in the real world, we often get better results by using simple rules and considering less information. In Risk Savvy, Gigerenzer reveals that most of us, including doctors, lawyers, financial advisers, and elected officials, misunderstand statistics much more often than we think, leaving us not only misinformed, but vulnerable to exploitation. Yet there is hope. Anyone can learn to make better decisions for their health, finances, family, and business without needing to consult an expert or a super computer, and Gigerenzer shows us how. Risk Savvy is an insightful and easy-to-understand remedy to our collective information overload and an essential guide to making smart, confident decisions in the face of uncertainty"
Simple heuristics that make us smart
by
Gerd Gigerenzer
( Book )
28 editions published between
1999
and 2002 in
English
and
Chinese
and held by 699 WorldCat member libraries worldwide
Fast and frugal heuristics - simple rules for making decisions with realistic mental resources - are presented here. Developing computational models of heuristics shows how fast and frugal heuristics can yield adaptive decisions
Bounded rationality : the adaptive toolbox
by
Reinhard Selten
( Book )
27 editions published between
2001
and 2002 in
English
and
Undetermined
and held by 579 WorldCat member libraries worldwide
In a complex and uncertain world, humans and animals make decisions under the constraints of limited knowledge, resources, and time. Yet models of rational decision making in economics, cognitive science, biology, and other fields largely ignore these real constraints and instead assume agents with perfect information and unlimited time. About forty years ago, this view was challenged with the notion of "bounded rationality." Today, bounded rationality has become a fashionable term used for disparate views of reasoning. This book promotes bounded rationality as the key to understanding how real people make decisions. Using the concept of an "adaptive toolbox," a repertoire of fast and frugal rules for decision making under uncertainty, it attempts to impose more order and coherence on the idea of bounded rationality. The contributors view bounded rationality neither as optimization under constraints nor as the study of people's reasoning fallacies. The strategies in the adaptive toolbox dispense with optimization and, for the most part, with calculations of probabilities and utilities. The book extends the concept of bounded rationality from cognitive tools to emotions; it analyzes social norms, imitation, and other cultural tools as rational strategies; and it shows how smart heuristics can exploit the structure of environments
Adaptive thinking : rationality in the real world
by
Gerd Gigerenzer
( Book )
36 editions published between
2000
and 2011 in
English
and held by 506 WorldCat member libraries worldwide
"Where do new ideas come from? What is social intelligence? How can innumeracy be turned into insight? Why do social scientists perform mindless statistical rituals? This new book addresses these questions as it attempts to rethink rationality as adaptive thinking: to understand how minds cope with their environments, both ecological and social. Together, these collected papers develop the idea that human thinking - from scientific creativity to simply understanding what a positive HIV test means - "happens" partly outside the mind."
Rationality for mortals : how people cope with uncertainty
by
Gerd Gigerenzer
( Book )
19 editions published between
2008
and 2010 in
English
and held by 452 WorldCat member libraries worldwide
Gerd Gigerenzer's work examines the rationality of individuals not from the perspective of logic or probability, but from the point of view of adaptation to the real world of human behaviour and interaction with the environment. Seen from this perspective, human behaviour is more rational than it might otherwise appear
Cognition as intuitive statistics
by
Gerd Gigerenzer
( Book )
14 editions published between
1987
and 2016 in
English
and held by 363 WorldCat member libraries worldwide
Das Einmaleins der Skepsis : über den richtigen Umgang mit Zahlen und Risiken
by
Gerd Gigerenzer
( Book )
30 editions published between
2002
and 2016 in 3 languages and held by 353 WorldCat member libraries worldwide
At the beginning of the twentieth century, H.G. Wells predicted that statistical thinking would be as necessary for citizenship in a technological world as the ability to read and write. But in the twenty-first century, we are often overwhelmed by a baffling array of percentages and probabilities as we try to navigate in a world dominated by statistics. Cognitive scientist Gerd Gigerenzer says that because we haven't learned statistical thinking, we don't understand risk and uncertainty. In order to assess risk -- everything from the risk of an automobile accident to the certainty or uncertainty of some common medical screening tests -- we need a basic understanding of statistics. Astonishingly, doctors and lawyers don't understand risk any better than anyone else. Gigerenzer reports a study in which doctors were told the results of breast cancer screenings and then were asked to explain the risks of contracting breast cancer to a woman who received a positive result from a screening. The actual risk was small because the test gives many false positives. But nearly every physician in the study overstated the risk. Yet many people will have to make important health decisions based on such information and the interpretation of that information by their doctors. Gigerenzer explains that a major obstacle to our understanding of numbers is that we live with an illusion of certainty. Many of us believe that HIV tests, DNA fingerprinting, and the growing number of genetic tests are absolutely certain. But even DNA evidence can produce spurious matches. We cling to our illusion of certainty because the medical industry, insurance companies, investment advisers, and election campaigns have become purveyors of certainty, marketing it like a commodity. To avoid confusion, says Gigerenzer, we should rely on more understandable representations of risk, such as absolute risks. For example, it is said that a mammography screening reduces the risk of breast cancer by 25 percent. But in absolute risks, that means that out of every 1,000 women who do not participate in screening, 4 will die; while out of 1,000 women who do, 3 will die. A 25 percent risk reduction sounds much more significant than a benefit that 1 out of 1,000 women will reap. This eye-opening book explains how we can overcome our ignorance of numbers and better understand the risks we may be taking with our money, our health, and our lives
more
fewer
Audience Level
0

1
Kids
General
Special
Audience level: 0.31 (from 0.04 for Better doc ... to 0.90 for Bauchentsc ...)
Related Identities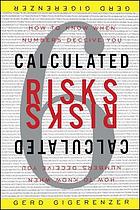 Alternative Names
Gerd Gigerenzer deutscher Kognitionspsychologe

Gerd Gigerenzer Duits psycholoog

Gerd Gigerenzer German psychologist

Gi Geo Len Cheo, Ge Leu Teu 1947-

Gigerenzer, G.

Gigerenzer, G. 1947-

Gigerenzer, G. (Gerd)

Kigŏrench'ŏ, KeRŭt'ŭ 1947-

기거렌처, 게르트 1947-

ギーゲレンツァー, ゲルト

Languages
Covers