Prothero, Donald R.
Most widely held works by Donald R Prothero
Evolution : what the fossils say and why it matters
by
Donald R Prothero
( Book )
12 editions published between
2006
and 2007 in
English
and held by 1,195 WorldCat member libraries worldwide
"Over the past twenty years, paleontologists have made tremendous fossil discoveries, including fossils that mark the growth of whales, manatees, and seals from land mammals and the origins of elephants, horses, and rhinos. Today there exists an amazing diversity of fossil humans, suggesting we walked upright long before we acquired large brains, and new evidence from molecules that enable scientists to decipher the tree of life as never before. The fossil record is now one of the strongest lines of evidence for evolution, and yet it continues to come under attack by present-day creationists and advocates of Intelligent Design for not supporting the theory of biological evolution. With this engaging and richly illustrated book, leading paleontologist Donald R. Prothero sets the record straight." "Prothero weaves an entertaining though intellectually rigorous history out of the transitional forms and series that dot the fossil record. Beginning with a brief discussion of the nature of science and the "monkey business of creation-ism," Prothero tackles subjects ranging from flood geology and rock dating to neo-Darwinism and macroevolution. He covers the ingredients of the primordial soup, the effects of communal living, invertebrate transitions, the development of the backbone, the reign of the dinosaurs, the mammalian explosion, and the leap from early primates to Homo sapiens, Prothero pays particular attention to the recent discovery of "missing links" that complete the fossil timeline and the controversy among contemporary scientists over the mechanisms of evolution."--Jacket
Abominable science! : origins of the Yeti, Nessie, and other famous cryptids
by
Daniel Loxton
( Book )
6 editions published between
2012
and 2015 in
English
and held by 1,139 WorldCat member libraries worldwide
Throughout our history, humans have been captivated by mythic beasts and legendary creatures. Tales of Bigfoot, the Yeti, and the Loch Ness monster are part of our collective experience. Now comes a book from two dedicated investigators that explores and elucidates the fascinating world of cryptozoology. Daniel Loxton and Donald R. Prothero have written an entertaining, educational, and definitive text on cryptids, presenting the arguments both for and against their existence and systematically challenging the pseudoscience that perpetuates their myths. After examining the nature of science and pseudoscience and their relation to cryptozoology, Loxton and Prothero take on Bigfoot; the Yeti, or Abominable Snowman, and its cross-cultural incarnations; the Loch Ness monster and its highly publicized sightings; the evolution of the Great Sea Serpent; and Mokele Mbembe, or the Congo dinosaur. They conclude with an analysis of the psychology behind the persistent belief in paranormal phenomena, identifying the major players in cryptozoology, discussing the character of its subculture, and considering the challenge it poses to clear and critical thinking in our increasingly complex world
The story of life in 25 fossils : tales of intrepid fossil hunters and the wonders of evolution
by
Donald R Prothero
( Book )
7 editions published between
2014
and 2015 in
English
and held by 720 WorldCat member libraries worldwide
Every fossil tells a story. Prothero recounts the adventures behind the discovery of twenty-five famous, beautifully preserved fossils and explains their significance within the larger fossil record, creating a riveting history of life on our planet
Catastrophes! : earthquakes, tsunamis, tornadoes, and other earth-shattering disasters
by
Donald R Prothero
( Book )
9 editions published in
2011
in
English
and held by 717 WorldCat member libraries worldwide
Devastating natural disasters have profoundly shaped human history, leaving us with a respect for the mighty power of the Earth, and a humbling view of our future. The author, a paleontologist and a geologist tells the harrowing human stories behind these catastrophic events. He describes in detail some of the most important natural disasters in history: the New Madrid, Missouri, earthquakes of 1811-1812 that caused church bells to ring in Boston; the 2004 Indian Ocean tsunami that killed more than 230,000 people; the massive volcanic eruptions of Krakatau, Mount Tambora, Mount Vesuvius, Mount St. Helens, and Nevado del Ruiz. His explanations of the forces that caused these disasters accompany accounts of terrifying human experiences and a staggering loss of human life. Floods that wash out whole regions, earthquakes that level a single country, hurricanes that destroy everything in their path, all are here to remind us of how little control we have over the natural world. Photographs and eyewitness accounts recall the devastation wrought by these events, and the people that are caught up in the Earth's relentless forces
Reality check : how science deniers threaten our future
by
Donald R Prothero
( Book )
8 editions published in
2013
in
English
and held by 636 WorldCat member libraries worldwide
The battles over evolution, climate change, childhood vaccinations, and the causes of AIDS, alternative medicine, oil shortages, population growth, and the place of science in our country, all are reaching a fevered pitch. Many people and institutions have exerted enormous efforts to misrepresent or flatly deny demonstrable scientific reality to protect their nonscientific ideology, their power, or their bottom line. To shed light on this darkness, the author explains the scientific process and why society has come to rely on science not only to provide a better life but also to reach verifiable truths no other method can obtain. He describes how major scientific ideas that are accepted by the entire scientific community (evolution, anthropogenic global warming, vaccination, the HIV cause of AIDS, and others) have been attacked with totally unscientific arguments and methods. He argues that science deniers pose a serious threat to society, as their attempts to subvert the truth have resulted in widespread scientific ignorance, increased risk of global catastrophes, and deaths due to the spread of diseases that could have been prevented
After the dinosaurs : the age of mammals
by
Donald R Prothero
( Book )
6 editions published in
2006
in
English
and held by 620 WorldCat member libraries worldwide
"Their story is part of a larger story of a world emerging from the greenhouse conditions of the Mesozoic, warming up dramatically about 55 million years ago, and then cooling rapidly so the 33 million years ago the glacial ice returned. During this time, the Earth's vegetation went through equally dramatic changes, from tropical jungles in Montana and forests at the poles, to grasslands and savannas across the entire world. Life in the sea also underwent striking evolution reflecting global climate change, including the emergence of such creatures as giant sharks, seals, sea lions, dolphins, and whales." "After the Dinosaurs is a book for everyone who has an abiding fascination with the remarkable life of the past."--Jacket
Evolution of the earth
by
Robert H Dott
( Book )
32 editions published between
1994
and 2010 in
English
and held by 533 WorldCat member libraries worldwide
Evolution of the Earth reveals the logical framework of geology, shows relations of the science to the totality of human knowledge, and gives some idea of what it is to be a participant in the discipline. In keeping with the preference for a "How do we know?" rather than "What do we know?" approach, the authors stress what assumptions are made by earth historians, what kinds of evidence (and tools for gathering that evidence), and what processes of reasoning and limitations of hypotheses are involved in reconstructing and interpreting the past. Each chapter begins with a list of highlights entitled "Major Concepts". Many chapters have a summary timeline that puts the entire sequence of events into a quick visual reference frame. The use of dioramas and reconstructions of extinct animals and plants has been greatly expanded, so that students can get a more vivid concept of typical life in any part of the geologic past. In many places, the authors have supplied a full page of color photos of classic fossils from each period to improve the visual recognition of the organisms that give life its distinctive history. The areas of hottest controversy, such as mass extinctions, dinosaur endothermy, the origin of life, and controversies over late Proterozoic tectonics and glaciation, have been given separate sections so that students can appreciate the different sides of the debates
Bringing fossils to life : an introduction to paleobiology
by
Donald R Prothero
( Book )
27 editions published between
1997
and 2013 in
English
and held by 505 WorldCat member libraries worldwide
"The leading textbook in its field, this work applies paleobiological principles to the fossil record while detailing the evolutionary history of major plant and animal phyla. It incorporates current research from biology, ecology, and population genetics. Written for biology and geology undergrads, the text bridges the gap between purely theoretical paleobiology and solely descriptive invertebrate paleobiology books, emphasizing the cataloguing of live organisms over dead objects. This third edition revises art and research throughout, expands the coverage of invertebrates, includes a discussion of new methodologies, and adds a chapter on the origin and early evolution of life."--Provided by publisher
more
fewer
Audience Level
0

1
Kids
General
Special
Audience level: 0.32 (from 0.10 for Greenhouse ... to 0.60 for Sedimentar ...)
Related Identities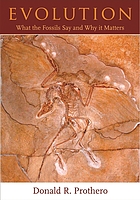 Alternative Names
Donald Prothero American paleontologist, geologist, and author

Donald Prothero Amerikaans paleontoloog

Prothero, Donald 1954-

Prothero, Donald R.

Prothero, Donald Ross 1954-

프로세로, 도널드 R

Languages
Covers