Dopyera, John E.
Most widely held works about John E Dopyera
Most widely held works by John E Dopyera
Becoming a teacher of young children
by
Margaret Lay-Dopyera
( Book )
15 editions published between
1900
and 1993 in
English
and
Undetermined
and held by 902 WorldCat member libraries worldwide
The history & artistry of National resonator instruments
by
Bob Brozman
( Book )
3 editions published between
1993
and 1998 in
English
and held by 50 WorldCat member libraries worldwide
These beautiful instruments have long been a favorite with musicians. This book is a history, source book and owner's manual for players and fans which covers the facts and figures necessary for serious collectors. In addition to many black and white historical photos, there is also a color section highlighting models. The book covers the company's full history, specific styles and models of all instruments, Hawaiian, blues, and jazz artists who have used Nationals, a history of their advertising, set-up and maintenance, and much more. Appendixes include serial numbers for all instruments, a company chronology and a Hawaiian Artist Discography
Analysis of early childhood programs : a search for comparative dimensions
by
Margaret Lay-Dopyera
( Book )
5 editions published between
1970
and 1972 in
English
and held by 13 WorldCat member libraries worldwide
To help educators obtain more specific comparative data on preschool programs, this paper develops some common constructs for the objective assessment of any program. The constructs proposed are: (1) density, the total amount of sensory stimulation encountered within a given time span; (2) variety, the extent to which the program provides encounters to diverse stimuli/situations; (3) complexity, the extent to which children encounter stimuli/situations in their natural complex state as compared with encountering prepared simplified versions; (4) sequence, provision for future encounters and/or emphasis given to previous experience; (5) regularity, the extent to which a pattern of encounters recurs on a daily or weekly basis; (6) emergence, extent to which new materials are introduced as the program progresses and/or which expectations for use of materials and interactions are altered during the program; (7) uniformity, extent to which children within a program have similar encounters; (8) contrast; (9) pacing; (10) scope, and (11) controllability. The consideration of dimensions would facilitate the combination of various aspects of several programs to produce programs more closely tailored to a child's assessed personological characteristics or stage of development. (Author/AJ)
What's Open About Open Education? Some Strategies and Results
by
John E Dopyera
( Book )
1 edition published in
1972
in
English
and held by 1 WorldCat member library worldwide
The author contends that the openness of a program can be determined by the opportunities which are provided for certain behaviors, activities, and events to occur. Even though the specific content of the open education programs may vary, the degrees of freedom for behaving or the relative presence of opportunity for diverse involvement do not. The paper describes procedures and research undertaken to measure this facet of openness by means of a program structure index and a specific version of the procedure, the Open Program Structure Index (opsi). The concern of the general procedure is to characterize the extent to which it is possible for a specified behavior, activity, or event to occur in a program setting, and illustrations of the use of this procedure are included. In the Open Program Structure Index, 15 specific items are used as the behavior and activity criteria, and the program is specified as it occurs on a typical day. Ratings are made for each criterion used and for each time period described. The procedure has been used to index openness in several school and early childhood programs and appears to be metrically adequate. Indications are that opsi can be used to index a full range of programs reliably and validly, and that it is also adaptable for rating the components of a program. (Mbm)
Assessing the Micro-Environments of Individual Preschool Children. Final Report
by
John E Dopyera
( Book )
1 edition published in
1969
in
English
and held by 1 WorldCat member library worldwide
The work completed to date on the development and validation of a procedure for assessing the micro-environments of preschool children is summarized. It was speculated that the lack of evidence that compensatory programs facilitate developmental changes in children might be due to actual lack of influence by the programs, to the subtlety of the influence, and/or the inappropriateness of the conceptual and analytical approaches to the data. The development and validation of the procedure was guided by two sets of hypotheses: that adequately reliable and meaningful factors would emerge from a factor analysis of the micro-environment assessment data, and that the factors would relate to post-test and change criteria, respectively. The children were observed in their natural program environments and the data derived was reduced through factor analysis to individual child environment summary scores. Multiple regression analysis was performed on this data and the above hypotheses were supported. Appendices include the observation recording sheet and data on the intercorrelations and/or factor loadings of 33 environment items, 21 predictor variables, and 8 criteria variables. (Pr)
Assessing the Program Environments of Head Start and Other Pre-SchoolChildren: A Survey of Procedures. Addendum to Final Report
by
John E Dopyera
( Book )
1 edition published in
1969
in
English
and held by 1 WorldCat member library worldwide
The objective of this undertaking has been to identify procedures and perspectives which have potential for assessing program environments of preschool age children, analyze the procedures relative to program components abstracted from known preschool programs, and discuss the results of this analysis in terms of its relevance for future program environment assessment. More specifically, the work described in this report consisted of completing the following tasks: (1) searching and identifying materials, I.E. program documentation procedures, written descriptions of programs, other materials on environments which might be useful; (2) analyzing the procedures for methodological and substantive similarities and differences and developing a perspective on assessment; (3) analyzing programs for their components and the development of a criterion list of program components - as well as elaboration of the concept of program environment; (4) cross-comparison of the procedures with the criterion list for determining the program documentation capacity of existent procedures; (5) examining the results of this work in terms of implications for program assessment and for future development of procedures for program assessment. Many of the rating forms and scales discussed are included in the appendices. (Author/MS)
more
fewer
Audience Level
0

1
Kids
General
Special
Audience level: 0.37 (from 0.35 for Becoming a ... to 0.97 for Instructor ...)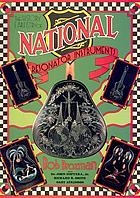 Covers
Alternative Names
Dopyera, John E.

Ján Dopjera slovensko-americký vynálezca, podnikateľ a výrobca strunových hudobných nástrojov

Ján Dopjera slovenský vynálezce

John Dopyera

John Dopyera Slovak inventor

Допера, Джон

Ян Доп'єра

Ջոն Դոպերա

Languages