Vančura, Vladislav 1891-1942
Most widely held works about Vladislav Vančura
more
fewer
Most widely held works by Vladislav Vančura
Summer of caprice
by
Vladislav Vančura
( Book )
92 editions published between
1926
and 2013 in 6 languages and held by 239 WorldCat member libraries worldwide
Mistr slova a milovník české řeči s humorem vypráví, jak potulný kouzelník a jeho pomocnice na tři dni a tři noci přerušili lenivý tok léta v lázeňskěm městečku a v neustálé vzrušení uváděli čtyři z jeho obyvatelů: kanovníka, majora, plavčíka a jeho ženu
Markéta Lazarová
by
Vladislav Vančura
( Book )
77 editions published between
1931
and 2013 in 7 languages and held by 223 WorldCat member libraries worldwide
Tragický příběh loupežnické milenky je zároveň kolektivním dramatem o záhubě rozvětvené rodiny šlechtických lupičů, odehrávajícím se v mladoboleslavském kraji "za času nepokojů, kdy král usiloval o bezpečnost silnic, maje ukrutné potíže se šlechtici, kteří si vedli doslova zlodějsky, a co je horší, kteří prolévali krev málem se chechtajíce". Román, v němž se plně rozvíjí Vančurův básnický jazyk, který na jedné straně upomíná na řeč starých biblí a náboženských spisů středověkých, na druhé na obhroublý, svrchovaně názorný a emotivní jazyk lidový (B. Václavek), ukazuje, že cizácký útlak učinil sice z mnohých českých šlechticů hrdlořezy a lapky, neoslabil však jejich základní vlastnosti - smysl pro opravdové rytířství, neuvěřitelnou statečnost, rodovou soudržnost a obětavost. To vše kontrastuje v díle s chladnou bezcitností, úskočností a cynismem královských placených žoldáků
Obrazy z dějín národa Českého; verná vypravování o životě, skutcích válečných i duchu vzdělanosti
by
Vladislav Vančura
( Book )
79 editions published between
1939
and 2013 in 4 languages and held by 186 WorldCat member libraries worldwide
Beletristické líčení našich národních dějin založené na historickém materiálu, který dodali prof. dr. V. Husa, dr. J. Charvát a dr. J. Pachta. Vančura psal "své dílo právě v těžké době národa, za Hitlera a nacismu. Mluví v něm proto i autorovo srdce, ano to na prvním místě. Tak vznikla epopej národa těžce zkoušeného, ale tím horoucněji básníkem milovaného. Tím také Vančurovy "Obrazy" vždy zůstanou: přímo pomníkem nejkrásnější služby národu. Ale je to ovšem dílo básníkovo, jenž podle toho i vybírá, hodnotí a vypravuje dějiny národa." (Zd. Nejedlý.) - I. díl zachycuje nejstarší období našich dějin, až po dobu Přemyslovců
The end of the old times
by
Vladislav Vančura
( Book )
59 editions published between
1934
and 2013 in 3 languages and held by 184 WorldCat member libraries worldwide
Tři řeky
by
Vladislav Vančura
( Book )
53 editions published between
1936
and 1985 in 5 languages and held by 172 WorldCat member libraries worldwide
V románu, který patří k význačným dílům Vančurovým, je zobrazen růst selského chlapce, studenta filosofie Jana Kostky v revolucionáře. Nevyhraněný snílek, tíhnoucí k chudým a k socialismu, je vržen první světovou válkou do Ruska, prožívá Říjnovou revoluci a za ní poznává nezbytnost činu, vzpoury, boje. Sbližuje se se socialistickým agitátorem Fomkou, spolu s ním prožívá boje s bílými a získán pro věc revoluce se vrací domů
Pekař Jan Marhoul
by
Vladislav Vančura
( Book )
55 editions published between
1924
and 1984 in 6 languages and held by 161 WorldCat member libraries worldwide
Životní příběhy prosťáčka-pekařského mistra na maloměstě, nepolepšitelného dobráka, který neustále doplácí na svou důvěřivost. Osudy Marhoulovy nejsou však jen příběhy jedince ubíjeného prostředím malého města, ale zároveň románem o bratrství chudých
Utĕk do Budína
by
Vladislav Vančura
( Book )
43 editions published between
1932
and 1982 in 5 languages and held by 128 WorldCat member libraries worldwide
V románě, který vyšel poprvé v r. 1932 a který rozvíjí milostný příběh pražské studentky, jež se dovede vzepřít předsudkům své rodiny, ubrání svou lásku a uteče s milencem, synem slovenského statkáře do Budína, nastavil autor
Pole orná a válečná : román
by
Vladislav Vančura
( Book )
44 editions published between
1925
and 1972 in 3 languages and held by 127 WorldCat member libraries worldwide
Protiválečny epos v próze s formálním podtitulem román (Veliký epos, epický mýtus který opomíjí psychologii. F.X. Šalda), v němž jeden z předních českých meziválečnych autorů rozvíjí obrovský panoramatický obraz války
Rodina Horvatova
by
Vladislav Vančura
( Book )
24 editions published between
1938
and 1989 in 3 languages and held by 107 WorldCat member libraries worldwide
Na osudech členů jihočeského statkářského rodu z doby těsně před vypuknutím první světové války zachytil autor ohlasy rakouské buržoasní politiky, jak se projevovala v počínání a charakterovém vývoji příslušníků nejrůznějších třída vrstev české společnosti venkovské i velkoměstské. Román je první částí zamýšleného generačního cyklu "Koně a vůz" a vyšel po prvé r. 1938. Další díly již napsány nebyly, neboť autor pak až do své smrti (1942 za heydrichiády)pracoval na "Obrazech z dějin národa českého"
Rozmarné léto Capricious summer
( Visual )
1 edition published in
2006
in
Czech
and held by 104 WorldCat member libraries worldwide
Three friends meet up with each other at a second-class resort talking about problems of getting older, when an acrobat and his blonde assistant, Anna, show up. The men find Anna very attractive and try to charm her
more
fewer
Audience Level
0

1
Kids
General
Special
Audience level: 0.72 (from 0.08 for Kubula und ... to 0.97 for Tvorchestv ...)
Related Identities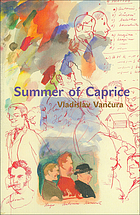 Alternative Names
Vanchura, Vladislav 1891-1942

Vančura, V. 1891-1942

Vančura, Vladimír 1891-1942

Vancura, Vladislav 1891-1942

Vančura, Vladislavs 1891-1942

Vancura, Vladyslav 1891-1942

Vančura, Władisław 1891-1942

Vančura, Władysław.

Vančura, Władysław 1891-1942

Vladislav Vancura

Languages
Covers