Lorenz, Edward N.
Most widely held works about Edward N Lorenz
more
fewer
Most widely held works by Edward N Lorenz
The essence of chaos
by
Edward N Lorenz
( Book )
68 editions published between
1993
and 2008 in 5 languages and held by 879 WorldCat member libraries worldwide
Chaos Surrounds us. Seemingly random events - the flapping of a flag, a storm-driven wave striking the shore, a pinball's path - often appear to have no order, no rational pattern. Explicating the theory of chaos and the consequences of its principal findings - that actual, precise rules may govern such apparently random behavior - has been a major part of the work of Edward N. Lorenz. In The Essence of Chaos, Lorenz presents to the general reader the features of this "new science," with its far-reaching implications for much of modern life, from weather prediction to philosophy, and he describes its considerable impact on emerging scientific fields. Unlike the phenomena dealt with in relativity theory and quantum mechanics, systems that are now described as "chaotic" can be observed without telescopes or microscopes. They range from the simplest happenings, such as the falling of a leaf, to the most complex processes, like the fluctuations of climate. Each process that qualifies, however, has certain quantifiable characteristics: how it unfolds depends very sensitively upon its present state, so that, even though it is not random, it seems to be. Lorenz uses examples from everyday life, and simple calculations, to show how the essential nature of chaotic systems can be understood. In order to expedite this task, he has constructed a mathematical model of a board sliding down a ski slope as his primary illustrative example. With this model as his base, he explains various chaotic phenomena, including some associated concepts such as strange attractors and bifurcations. As a meteorologist, Lorenz initially became interested in the field of chaos because of its implications for weather forecasting. In a chapter ranging through the history of weather prediction and meteorology to a brief picture of our current understanding of climate, he introduces many of the researchers who conceived the experiments and theories, and he describes his own initial encounter with chaos. A further discussion invites readers to make their own chaos. Still others debate the nature of randomness and its relationship to chaotic systems, and describe three related fields of scientific thought: nonlinearity, complexity, and fractality. Appendixes present the first publication of Lorenz's seminal paper, "Does the Flap of a Butterfly's Wing in Brazil Set Off a Tornado in Texas?"; the mathematical equations from which the copious illustrations were derived; and a glossary
Fractals : animated discussion
( Visual )
6 editions published between
1990
and 2003 in
English
and held by 40 WorldCat member libraries worldwide
The Mandelbrot set and the Lorenz attractor are turned into visible objects as their discoverers, Benoît Mandelbrot and Edward Lorenz, discuss the background history and details of their work
Chaos
by
Steven H Strogatz
( Visual )
1 edition published in
1990
in
English
and held by 22 WorldCat member libraries worldwide
Explores a revolutionary new science that is learning how to analyze, and derive benefit from, a universe of chaos. Through computers and new mathematics and physics, scientists are making surprising sense out of some very chaotic behavior in nature. In fact, many scientists now believe that turbulent processes like weather, waterfalls, and irregular heartbeats have a hidden and highly-ordered structure, a reversal of Newton's long-accepted vision of a clockwork universe unfolding with perfect and always predictable precision
Empirical orthogonal functions and statistical weather prediction
by
Edward N Lorenz
( Book )
5 editions published in
1956
in
English
and held by 16 WorldCat member libraries worldwide
A "statistical forecasting" formula may be established by determining, from a given sample of data, the linear combination of a set of predictors which forms the best approximation to a given predictand. The dynamical basis for prediction- by such formulas is discussed. Statistical formulas have a greater probability of verifying well, when applied to new data, if the number of predictors is small, relative to the number of independent observations of each predictor. When the desired predictors consist of a continuous field of some physical quantity, the field may be analyzed into a sum of orthogonal functions of space ( Y's ), whose coefficients ( Q's ) are orthogonal functions of time. A small number of Q's with large variances may then be used as predictors. Empirical orthogonal functions ( Y's and Q's ) may also be determined when the data are heterogeneous. The procedure for determining Y's and Q's is routine, and has been programmed for automatic computation. The sea-level pressure field over the United States and southern Canada, as represented by observations at 64 stations, has been analyzed into Y's and Q's . Eight Y's and Q's specify 91 per cent of the variance of the pressure field. In predicting the pressure field from the pressure field on the previous day, nothing appears to be gained by using more than a small number of Q's as predictors or predictands. The possible use of empirical orthogonal functions in nonlinear statistical forecasting, and in dynamic forecasting, is discussed
Physics of climate
by
José Pinto Peixoto
( Book )
5 editions published between
1992
and 1995 in
English
and held by 13 WorldCat member libraries worldwide
Using the tools that have breathed new life into the earth sciences, such as satellite observations and new mathematical models made possible by computers, Physics of Climate demonstrates how environmental phenomena worldwide interact as a single, unified system. Solidly grounded in three decades of exhaustive joint research, this superb work is the most modern survey of the earth as a physical system
Chaos: the new science
( Visual )
1 edition published in
2015
in
English
and held by 11 WorldCat member libraries worldwide
A butterfly flutters its fragile wings in Texas and the seemingly imperceptible turbulence sets in motion a cascade of effects that culminates in a typhoon in Indonesia. It seems unreal. But the realisation of the butterfly effect as it has been called, is one of the astonishing results of the new science of Chaos. Traditionally science has been focused on seeking out and defining the predictable laws that govern all our lives. Chaos is about using the immense number crunching power of super computers to seek out the patterns hidden away in what up till now has been totally unpredictable. This astounding, award-winning documentary lays bare the mystery of this remarkable new science
more
fewer
Audience Level
0

1
Kids
General
Special
Audience level: 0.31 (from 0.03 for Elegant ch ... to 1.00 for Records, ...)
Related Identities
Associated Subjects
Adiabatic demagnetization
Angular momentum
Atmosphere
Atmospheric circulation
Atmospheric circulation--Mathematical models
Atmospheric physics
Bartels, Julius,
Boundary layer (Meteorology)
Chaotic behavior in systems
Chaotic behavior in systems--Mathematics
Charney, Jule G
China
China--Hong Kong
Climatic changes
Climatology
Computer graphics--Mathematics
Criminals
Dynamic meteorology
Dynamics
Emura, Tetsuji,
Ertel, Hans,
Flows (Differentiable dynamical systems)
Fractals
French language--Study and teaching
Geometry
Lorenz, Edward N
Lorenz equations
Lyapunov exponents
Mandelbrot, Benoit B
Mandelbrot sets
Mathematics--Data processing
Mathematics--Study and teaching--Audio-visual aids
Meteorology
Microtonal music
Military meteorology
Motion pictures, Chinese
Murder
Music
Nonlinear theories
Numerical weather forecasting
Orchestral music--Scores
Police
Quantum chaos
Quantum theory
Radiation--Measurement
Satellites
Space and time
Starr, Victor P
Statistical weather forecasting
Weather forecasting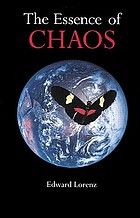 Alternative Names
Eduardus Norton Lorenz

Edvard Norton Lorenz

Edward Lorenz

Edward Lorenz Amerikaans wiskundige

Edward Lorenz amerikansk matematikar

Edward Lorenz amerikansk matematiker

Edward Lorenz matematyk amerykański

Edward Lorenz mathématicien américain

Edward N. Lorenz US-amerikanischer Meteorologe

Edward Norton Lorenz American mathematician and meteorologist

Edward Norton Lorenz amerikansk matematiker

Edward Norton Lorenz matematico statunitense

Lorenc, È. N.

Lorenz, E. 1917-2008

Lorenz, E. N.

Lorenz, Ed 1917-2008

Lorenz, Edward.

Lorenz Edward 1917-2008

Lorenz, Edward N.

Lorenz, Edward N. 1917-2008

Lorenz, Edward Norton

Lorenz Edward Norton 1917-2008

Едвард Лоренц

Едвард Лоренц американський математик

Едуард Нортън Лоренц

Лоренц, Эдвард Нортон

אדוארד לורנץ

ادوارد لورنتس ریاضی‌دان آمریکایی

إدوارد نورتون لورنتز

로렌츠, 에드워드 1917-2008

로렌츠, 에드워드 N. 1917-2008

에드워드 로렌츠

エドワード・ローレンツ

ローレンツ

愛德華·諾頓·勞侖次

洛伦茨, E.N.

Languages
Covers