Mishkin, Frederic S.
Most widely held works by Frederic S Mishkin
The economics of money, banking, and financial markets
by
Frederic S Mishkin
( Book )
250 editions published between
1986
and 2016 in 4 languages and held by 3,167 WorldCat member libraries worldwide
The Economics of Money, Banking, and Financial Markets represents the most extensive revision to date of this market-leading textbook. Drawing from his service as Executive Vice President and Director of Research at the Federal Reserve Bank of New York, Mishkin provides fresh, thoroughly updated coverage of and many new insights into the monetary policy process, the operation of the Federal Reserve, the regulation and supervision of the financial system, and the internationalization of financial markets. He provides an applications-oriented perspective with numerous applications and special topic boxes that increase students' interest by showing them how to apply theory to the real world. In addition, Mishkin provides a careful, step-by-step development of models, an approach found in the best principles of economic textbooks, that makes it easier for students to learn. Over 400 end-of-chapter problems aid in reinforcing the essential chapter content
A rational expectations approach to macroeconometrics testing policy ineffectiveness and efficient-markets models
by
Frederic S Mishkin
( )
23 editions published between
1983
and 1985 in
English
and
Undetermined
and held by 1,602 WorldCat member libraries worldwide
A Rational Expectations Approach to Macroeconometrics pursues a rational expectations approach to the estimation of a class of models widely discussed in the macroeconomics and finance literature: those which emphasize the effects from unanticipated, rather than anticipated, movements in variables. In this volume, Fredrick S. Mishkin first theoretically develops and discusses a unified econometric treatment of these models and then shows how to estimate them with an annotated computer program
Prudential supervision what works and what doesn't
by
Frederic S Mishkin
( )
12 editions published between
2000
and 2001 in
English
and held by 1,456 WorldCat member libraries worldwide
Since banking systems play a crucial role in maintaining the overall health of the economy, the adverse effects of poorly supervised systems may be quite severe. Without some form of vigilant external oversight, banking systems could fall prey to excessive risk taking, moral hazard, and corruption. Prudential supervision provides that oversight, using government regulation and monitoring to ensure the soundness of the banking system and, by extension, the economy at large. The contributors to this thoughtful volume examine the current state of prudential supervision, focusing on fundamental is
Financial markets and institutions
by
Frederic S Mishkin
( Book )
101 editions published between
1995
and 2015 in 4 languages and held by 1,078 WorldCat member libraries worldwide
In Financial Markets and Institutions, best-selling authors Mishkin and Eakins provide a practical introduction to prepare students for today's changing landscape of financial markets and institutions. A unifying framework uses a few core principles to organize students' thinking then examines the models as real-world scenarios from a practitioner's perspective. By analyzing these applications, students develop the critical-thinking and problem-solving skills necessary to respond to challenging situations in their future careers
The next great globalization : how disadvantaged nations can harness their financial systems to get rich
by
Frederic S Mishkin
( Book )
16 editions published between
2006
and 2008 in
English
and held by 756 WorldCat member libraries worldwide
Many prominent critics regard the international financial system as the dark side of globalization, threatening disadvantaged nations near and far. But in "The Next Great Globalization," eminent economist Frederic Mishkin argues the opposite: that financial globalization today is essential for poor nations to become rich. Mishkin argues that an effectively managed financial globalization promises benefits on the scale of the hugely successful trade and information globalizations of the nineteenth and twentieth centuries. This financial revolution can lift developing nations out of squalor and increase the wealth and stability of emerging and industrialized nations alike. By presenting an unprecedented picture of the potential benefits of financial globalization, and by showing in clear and hard-headed terms how these gains can be realized, Mishkin provides a hopeful vision of the next phase of globalization
External evaluation of IMF economic research activities report
( )
3 editions published in
2000
in
English
and held by 696 WorldCat member libraries worldwide
This report, commissioned by the Executive Board, was prepared by a committee of academic economists. The report assesses the appropriateness of current research activities, the quality and added value of the IMF's economic research and its utility in the IMF among its member countries and within the wider economics community. This publication also includes responses to the report by the IMF's staff, Managing Director, and Executive Board
Monetary policy strategy
by
Frederic S Mishkin
( Book )
15 editions published between
2007
and 2011 in
English
and
Macedonian
and held by 639 WorldCat member libraries worldwide
Presenting a view of monetary policy from the perspectives of both scholar and practitioner, this title describes Mishkin's work over the last 10 years, offering published papers, new introductory material and an overview of what has been learned about monetary policy strategy over the last 30 years
Monnaie, banque et marchés financiers
by
Frederic S Mishkin
( Book )
15 editions published between
2004
and 2014 in
French
and held by 462 WorldCat member libraries worldwide
"Best-seller incontournable, le livre de Frederic Mishkin présente une analyse économique des systèmes financiers au sein desquels les banques centrales conduisent la politique monétaire de leurs pays. Il expose également les fonctions économiques des banques commerciales et des autres intermédiaires financiers, dans une perspective nationale et internationale. L'ouvrage doit son succès à deux qualités essentielles : L'auteur propose un cadre d'analyse unifié s'appuyant sur un petit nombre de principes économiques fondamentaux, exposés en termes simples. La pédagogie remarquable repose sur une formalisation mathématique simplifiée et s'accompagne systématiquement de tableaux et de schémas explicatifs. L'édition francophone a fait l'objet d'un impressionnant travail d'adaptation. Elle analyse avec précision le fonctionnement des institutions européennes, les outils de la politique monétaire dans l'Union, le système bancaire français, les conflits UE-autorités nationales, l'harmonisation de la réglementation prudentielle dans le marché unique, etc. Outre une actualisation rigoureuse des données, la nouvelle édition propose : Un chapitre complet sur la crise qui a commencé en 2007. Il approfondit l'analyse des crises financières et introduit le système bancaire parallèle et le rôle de la titrisation dans l'éclatement de la bulle immobilière. Un nouveau chapitre sur les produits dérives, qui permet de comprendre le fonctionnement de ces produits dont le développement rapide joue un grand rôle dans la finance contemporaine. Les mesures non conventionnelles de politique monétaire prises par la BCE au cours de la crise, qui sont comparées à celles introduites par la Fed et la Banque d'Angleterre. Une présentation plus détaillée du taux de change et des régimes et stratégies de politique monétaire. Grâce à quelque 400 questions et problèmes de fin de chapitre, le lecteur pourra tester ses connaissances et les mettre en pratique, notamment en analysant des informations économiques et financières accessibles sur Internet."--P. 4 de la couv
International experiences with different monetary policy regimes
by
Frederic S Mishkin
( Book )
23 editions published between
1998
and 2000 in
English
and held by 150 WorldCat member libraries worldwide
Abstract: This paper examines the international experiences with four basic types of monetary policy regimes: 1) exchange-rate targeting, 2) monetary targeting, 3) inflation targeting, and 4) monetary policy with an implicit but not an explicit nominal anchor. The basic theme that emerges from this analysis is that transparency and accountability are crucial to constraining discretionary monetary policy so that it produces desirable long-run outcomes. Because the devil is in the details in achieving transparency and accountability, what strategy will work best in a country depends on its political, cultural and economic institutions and its past history
more
fewer
Audience Level
0

1
Kids
General
Special
Audience level: 0.59 (from 0.37 for External e ... to 0.94 for Monetary p ...)
Associated Subjects
Anti-inflationary policies
Australia
Bacino, Geoffrey S.,
Bank management
Banks and banking
Banks and banking--Government policy
Board of Governors of the Federal Reserve System (U.S.)
Canada
Capital market
Capital movements
Comparative economics
Conlin, Linda Mysliwy,
Consumption (Economics)--Mathematical models
Developing countries
Durable goods, Consumer
East Asia
Econometrics
Economic indicators
Economics--Research--Evaluation
Export-Import Bank of the United States.--Board of Directors
Finance
Financial crises
Financial institutions
Fisher effect (Economics)
Foreign exchange rates
Globalization
Grandmaison, Jacques Joseph,
Inflation (Finance)
Inflation (Finance)--Econometric models
Interest rates
International finance
International Monetary Fund
Latin America
Lenders of last resort
Liquidity (Economics)
Macroeconomics
Mishkin, Frederic S
Monetary policy
Monetary policy--Econometric models
Money
Money market
Moy, Edmund Chuck,
Rational expectations (Economic theory)
Research--Evaluation
Risk management
Southeast Asia
Supply and demand--Mathematical models
United States
United States.--Federal Housing Finance Board
United States Mint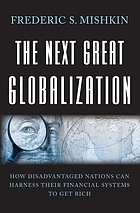 Alternative Names
Mishkin, F. S.

Mishkin, F. S. 1951-

Mishkin, F. Stanley

Mishkin, Fred

Mishkin, Frederic.

Mishkin, Frederic 1951-

Mishkin, Frederic S.

Mishkin, Frederic Stanley 1951-

Mishkin, Frederick S. 1951-

Mishkin, Rick

Mishkinn, Frederic S. 1951-

Мишкин, Фредерик С.

Languages
Covers